The Republican National Committee had a big mix-up Monday when it urged readers to get out and vote in the New Jersey special election for Senate on Tuesday -- an election that's not taking place until Wednesday.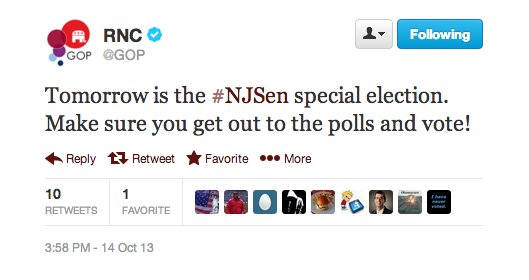 The tweet was quickly deleted after many pointed out the error. The RNC then tweeted about the correct day to vote, Wednesday:
Newark Mayor Cory Booker (D) is facing off against Republican Steve Lonegan for the seat of the late Sen. Frank Lautenberg, who died in June 2013.
RNC Press Secretary Kirsten Kukowski gave the following statement to HuffPost:
It's sad to see Huffington Post's breaking news standard is the RNC making an honest mistake while urging voters to do their civic duty and vote in the upcoming New Jersey election.
BEFORE YOU GO
PHOTO GALLERY
Conservatives Pointing Fingers