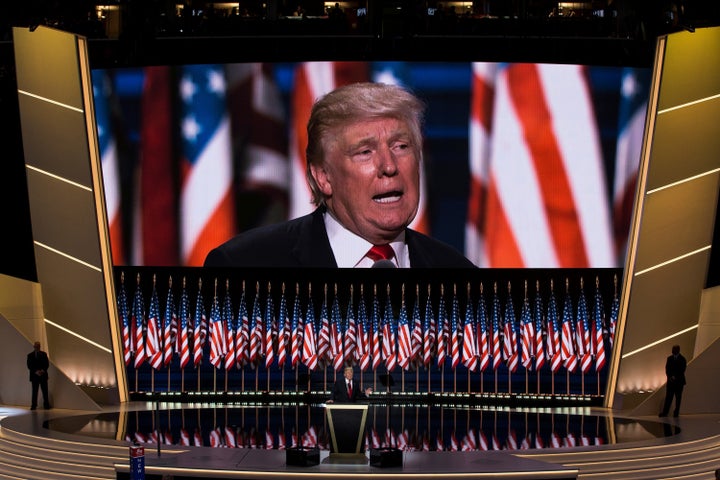 About half of Americans polled said they're less likely to vote for GOP nominee Donald Trump based on what they saw or read about the RNC. Only 36 percent said they're more likely to vote for Trump.
That gives the event an overall net -15 point effect, marking the first time a convention has left a negative impression in a Gallup poll on the subject.
By contrast, 41 percent of Americans said the Democratic National Convention made them less likely to support Democratic nominee Hillary Clinton, while 45 percent said it made them more likely to do so, resulting in a net +4 point effect.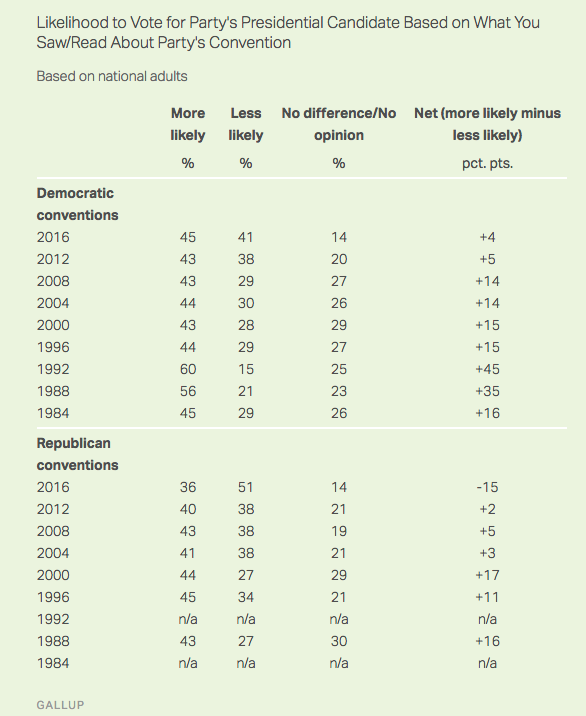 There's good reason to be cautious about survey questions that ask respondents to ponder how an event will affect their vote. For one thing, people generally aren't great at gauging how they make decisions. Partisans may also tell pollsters the conventions made them more likely to support their party's candidate and less likely to support the opponent, even though their minds were already firmly made up.
That latter point holds especially true for the past few elections. Over time, conventions' ratings have become increasingly polarized along party lines.
"In recent election years, supporters of each party have been more inclined to react positively to their own party's convention, but also much more likely to react negatively to the other party's convention," Gallup's Jeffrey M. Jones writes. "Fewer now say the other party's convention made no difference to their vote or offer no opinion at all."
Democratic and Republican respondents alike were generally pleased with their party's conventions, although Democrats were somewhat more so. Democrats and independents who lean Democratic said the DNC made them more likely to support Clinton by a 72-point margin, while Republicans and Republican-leaning independents said the RNC left them more in favor of Trump by a 60-point margin.
Gallup used live telephone interviews on July 23-24 and July 29-30 to sample approximately 1,000 adults each, reaching both landlines and cell phones. 
Calling all HuffPost superfans!
Sign up for membership to become a founding member and help shape HuffPost's next chapter
BEFORE YOU GO
PHOTO GALLERY
Best Photos From The Democratic National Convention