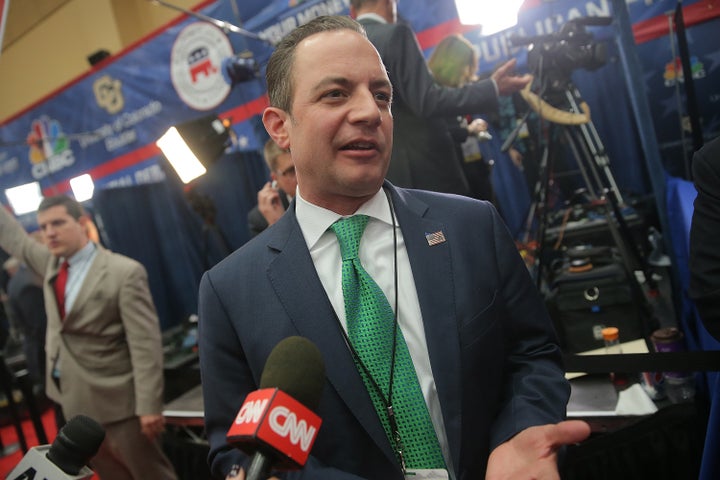 WASHINGTON -- In the wake of the 2012 election, the Republican National Committee penned a 100-page "autopsy" report that included, among a bevy of other recommendations, how to repair the party's standing with Latino voters that it badly failed to win over with former presidential nominee Mitt Romney. It's now looking like that report might need an autopsy as well.
On Sunday, representatives of nearly every 2016 Republican presidential campaign met in Virginia to discuss changes to the debate process after frustrations boiled over with the RNC over last week's primary debate hosted by CNBC in Boulder, Colorado. The meeting followed news that the RNC suspended its partnership with NBC News due to grievances with CNBC moderators.
The 2016 campaigns didn't find much agreement on Sunday, with the exception of an affirmation of Fox News as a future debate host. According to The Washington Post, however, former Florida Gov. Jeb Bush's campaign lobbied to reinstate the only GOP debate set to air on a Spanish-language TV network -- Telemundo.
Bush campaign manager Danny Diaz recommended that Telemundo be reinstated after being dropped along with NBC. But the campaign of businessman Donald Trump, represented by manager Corey Lewandowski, threatened to boycott a debate if the Spanish-language network that Trump has clashed with was granted one. 
Telemundo, which is owned by NBCUniversal, is the second-largest Spanish-language network. Univision, the largest Spanish-language network, is not hosting a GOP debate. It will, however, hold a candidate forum in partnership with The Washington Post.
Reinstating the Telemundo debate would be a wise move for a party looking to make inroads with Latino voters, a crucial and growing demographic that swung heavily toward Barack Obama in 2012. A debate on Spanish-language TV not only makes sense, it was recommended by the party itself in the wake of the 2012 election.
From the RNC's "Growth and Opportunity" autopsy report:
The RNC must put significant effort and resources into reaching out to Hispanic media and news outlets. This needs to be a high-level presence on all Latino media. The RNC must rebuild an updated, working list of Hispanic surrogates, not just RNC staff, to help carry and sell our message to the Hispanic community. 
Of course, the RNC has other ways of engaging with Spanish-language outlets on a daily basis. But if the party does decide to freeze out Telemundo, it would be akin to shooting oneself in the foot -- Republicans would lose a primetime opportunity to engage with Latino voters at a time when primary debates are setting records with tens of millions of new viewers.
Representatives from Telemundo did not immediately return a request for comment.
CORRECTION: An earlier version of this story incorrectly stated that Univision was shut out of the Republican debates. 
Calling all HuffPost superfans!
Sign up for membership to become a founding member and help shape HuffPost's next chapter