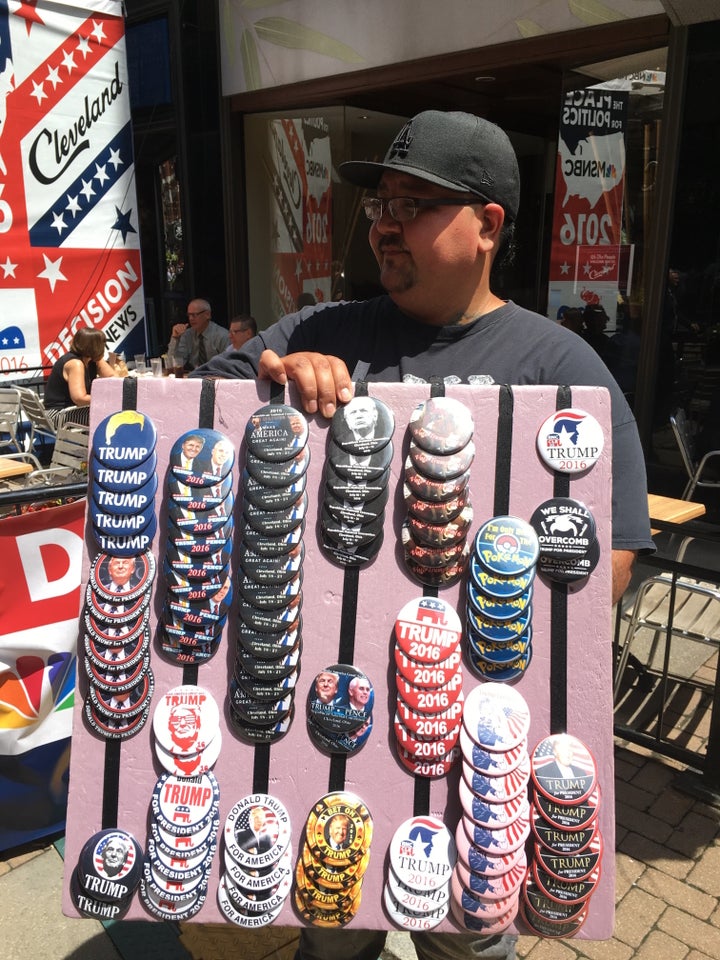 CLEVELAND ― There are a lot of Donald Trump fans gathered here for the Republican National Convention, but if there's one person who truly gets the Republican presidential nominee, it isn't a keynote speaker, it isn't a GOP operative mulling about the CNN Grill, and it sure isn't a delegate clad in a sparkly vest festooned with elephant brooches: it's a guy who isn't even voting for Trump.
Juan Valdez ― yes, like the coffee guy ― is one of the dozens, if not hundreds, of street vendors hawking merchandise on the streets of downtown Cleveland, hoping to capitalize on the political fervor and Trump fandom of the tens of thousands of people who've descended on the city for the quadrennial GOP gathering.  
"I was actually going for Bernie Sanders, but he didn't make the cut," Valdez told The Huffington Post, "and I've still got bills to pay."
To pay those bills, Valdez is selling Trump buttons: one features a silhouette of the GOP candidate's famous hairdo, another has Trump's face affixed to a poker chip surrounded by the words "BET ON TRUMP," and a third Rosie the Riveter with the words "TRUMP CAN DO IT" over the iconic World War II image. Valdez is particularly fond of several buttons he claims to have made himself: one that reads "I'M ONLY HERE FOR THE POKEMON" and another that says "WE SHALL OVERCOMB" above Trump's hair.
This isn't Valdez's first rodeo: He says he followed Barack Obama around during his 2008 and 2012 campaigns selling merchandise and spent most of this cycle selling pins at "as many Bernie Sanders events as I could," but was forced to find a new candidate to trail. The Republican nominee could only admire his willingness to cast political beliefs aside for the purposes of making a buck.
"Politics is the new sport, and that's why I'm in the middle of it," says Valdez, who added he'll probably write in Sanders when he votes in his home state of Colorado.
Few things define political conventions quite like the flair: After the balloon drop, these national events are a blur of colorful signs, iridescent outerwear and ― we're looking at you, Texas delegation ― heinous, state-themed uniforms. For every one camera that was trained on the stage at the Quicken Loans Arena on Monday and Tuesday night, another was trolling the floor for b-roll of a person in a distinctively bejeweled boater hat.
In interviews, the purveyors of that flair didn't necessarily share the delegates' enthusiasm for Trump and the Republican Party.
One vendor, who was selling Trump whoopee cushions ("Make America TOOT Again"), didn't think his political leanings needed to be clarified. "Can't you tell?" he said. "I want to sit on his face."
On Euclid Avenue, a man from Massachusetts who asked that his name not be printed was selling a number of eye-catching Trump items, including buttons that read "TRUMP 2016: FINALLY SOMEONE WITH BALLS" and "HOT CHICKS FOR TRUMP." However, he didn't share the enthusiasm expressed in his wares.
"Him and Reagan, don't like them that much," he said of Trump.
Asked what he thought of Mike Pence, Trump's running mate, the man was surprised: "Oh, so that's who he chose!?!"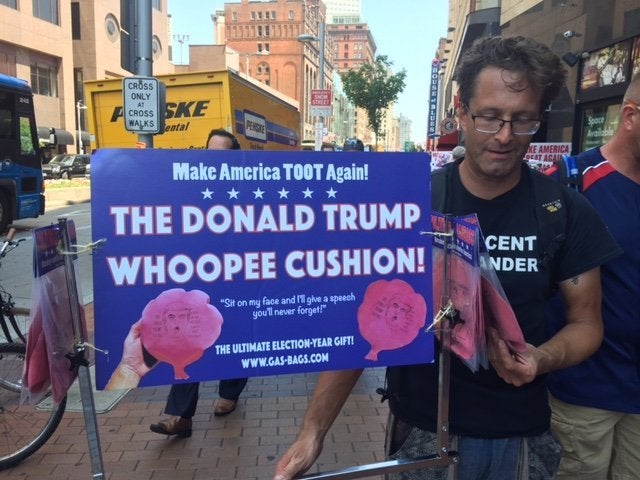 Tim Moore, from just outside Cleveland, said that he's been to "every Trump rally," and is "a big fan" of the candidate. So does that mean he's voting for Trump?
"I don't like [Trump] at all," he quickly clarified. "I like his money, though. I'm a big fan of his money."
Alex, a button vendor who also hailed from outside Cleveland and who asked that his last name not be used, told HuffPost he only sold merchandise at Trump rallies. So, was he a Trump supporter? "Nah," he replied. Alex added that he probably won't vote this November.
They aren't all opportunists and agnostics, however.
Mary Puckett, a vivacious woman from Atlanta, with a close-cropped bleached hairdo roughly the same hue as the "BOMB THE HELL OUT OF ISIS" buttons for sale at her stand on Euclid Avenue, said it was her first time selling merchandise at a convention.
"My spirit of entrepreneurship has been awakened in me by the last eight years of Obama," she told HuffPost. "He is an embarrassment to the United States of America, starting from his first State of the Union to the Cinco de Mayo dress that Michelle [Obama] wore and decorating the White House for gay marriage."
Puckett supported Ben Carson in the primary, but tells HuffPost she's now aboard the Trump train.
Sam Stein contributed reporting.
Calling all HuffPost superfans!
Sign up for membership to become a founding member and help shape HuffPost's next chapter