Republicans are seizing upon the growing scandal enveloping the Department of Veterans Affairs to attack President Barack Obama and vulnerable Democratic candidates ahead of the November elections.
The Republican National Committee announced Wednesday it was launching robocalls and a "Twitter campaign" urging Americans to call their representatives and demand an independent investigation into allegations that patients died while waiting for care.
"Five years ago, President Obama said there was a problem at the VA and that he would fix it," RNC Chairman Reince Priebus said in a statement. "But reports in recent months show that he failed to act and that the problems were far worse than many imagined. This is why the RNC will continue to demand accountability from the Obama administration, and we think Democrats should join in that effort. This shouldn't be a partisan issue."
The campaign will target Sens. Mark Begich (D-Alaska), Mark Udall (D-Colo.), Mary Landrieu (D-La.), Kay Hagan (D-N.C.), Tom Udall (D-N.M), Jeff Merkley (D-Ore.), and Mark Warner (D-Va.). It also includes Reps. Bruce Braley (D-Iowa), Gary Peters (D-Mich.), and Rick Weiland (D-S.D.), who are all running for Senate.
The White House has pledged to hold the department accountable pending an internal review of the agency's problems, and the VA Inspector General's Office has also launched its own investigation.
Although it is unclear who would conduct a separate inquiry into the matter, another panel would surely ratchet up pressure against an administration that is already facing several House inquiries over the Benghazi terror attacks and the IRS targeting scandal.
The House on Wednesday overwhelmingly passed a bill granting Secretary Eric Shinseki the authority to fire career employees as a way to hold officials accountable in the wake of the scandal.
Senate Democrats say the legislation deserves more debate while the investigation proceeds, but Republicans are already beginning to point to their inaction in key Senate races.
Crossroads GPS, the right-wing group founded by Karl Rove, is spending $450,000 on a new televison ad slamming Sen. Mark Begich (D-Alaska), who sits on the Veterans Affairs Committee, for not doing more in response to the scandal. And a web video produced by Rep. Tom Cotton's (R-Ark.) Senate campaign is accusing Sen. Mark Pryor (D-Ark.) of doing "nothing" on the matter.
As Sen. Richard Burr (R-N.C) found, however, Republicans do risk overreaching on the matter. Veterans groups tore into the ranking member of the Senate Committee on Veterans Affairs, accusing him of a "monumental cheap shot" this week after he posted an open letter in which he scolded veterans service groups for being insufficiently critical of Shinseki.
Democrats said the new GOP campaign would similarly backfire with voters come November.
"This is an incredibly important issue to all Americans regardless of political party and Republicans attempting to score political points on the back of our veterans will pay a political price with voters," said Justin Barasky, a spokesman for the Democratic Senatorial Campaign Committee.
UPDATE: 5:30 p.m. -- House Veterans Affairs Committee Chairman Jeff Miller (R-Fla.) on Wednesday urged lawmakers to refrain from turning the scandal into a "political football."
"I wouldn't use anything like that politically," he said of the Crossroads ad on CNN. "I will tell you this, I have tried since I have been chairman of this committee to work with both sides of the aisle. My ranking member [Mike Michaud (D-Maine)] receive briefings together. We have worked together on the subpoenas that the committee has in fact passed only two because we have been waiting for the Department to do what they are supposed to do. But this is a bipartisan issue, we are talking about Americans, people who have worn the uniform. It should not be a political football. And we on the House side have not done that."
Before You Go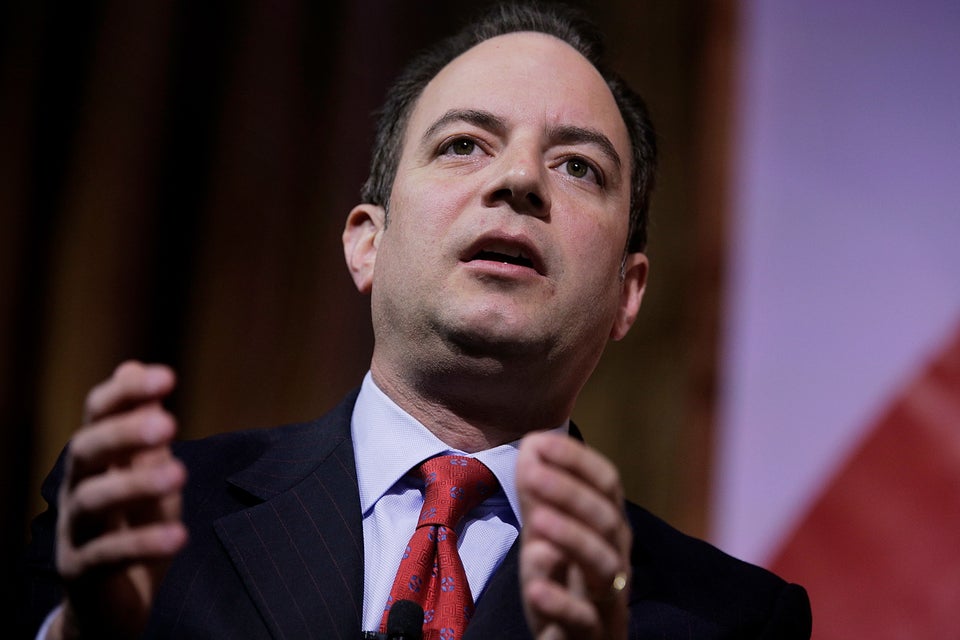 Reince Priebus
Popular in the Community