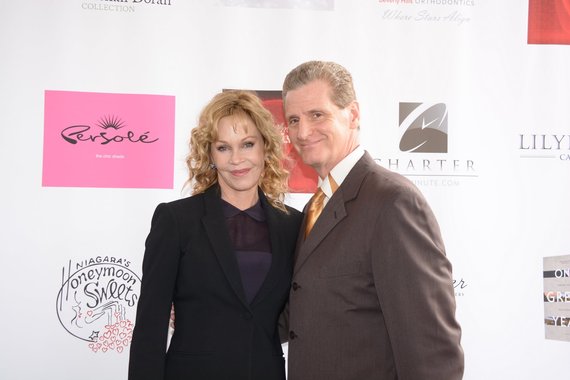 Photo:Hollywood Beauty Awards Timeless Beauty Award Winner Melanie Griffith and Roger Neal
Photo Credit: Neal Public Relations
On February 28th, the RNSH 21st Annual Oscar Suite, put on by Roger Neal, will be taking place at the world famous Hollywood Museum, which houses the largest display of celebrity memorabilia in the world. The event will be attended by A-List celebrities, past Oscar winners, and nominees:
OSCAR WINNER George Chakiris, OSCAR WINNER Cuba Gooding Jr., OSCAR WINNER Faye Dunaway, OSCAR NOMINATED Film Star June Squibb, OSCAR WINNER Margaret O'Brien ,Three Time Oscar Nominee Diane Ladd, Barbara Eden, Jason Ritter, Tyler Ritter, Carly Ritter, Dr. Drew , Carrie Ann Inaba (Dancing with The Stars), Tippi Hedren , Gary Busey, Holly Robinson Peete, Renee Lawless (STAR OF HAVE AND HAVE NOTS) Victoria Rowell ( YOUNG & THE RESTLESS), Asian Film Star from China Candy Wang, FILM PRODUCER/DIRECTOR FROM TAWAIN Alice Wang , Milena Govich (MTV, FINDING CARTER), Linda Thompson, Janice Dickinson, Lotte Verbeek (STARRED IN THE FAULT IN OUR STARS) Loni Love (HOST OF THE REAL), Ruth Connell ( SUPERNATURAL) , Sheryl Lee Ralph, Tracey Bregman (Young & The Restless), Katherine Kelly Lang ( The Bold & The Beautiful) , Patrika Darbo( Days of Our Lives), SUPERMODEL Eugenia Kuzmina, Mark Steines (Host of Home & Family), CNN'S Areva Martin, Phil Morris, Charlene Tilton , Shari Belafonte ( General Hospital ) , 2 TIME OSCAR NOMINEE Carol Connors, Kevin Dobson, Khrystyne Haje, Erin Murphy, Sheree J. Wilson, Clarence Gilyard, Terra Jole ( Little Women of LA), Carolyn Hennesey, Amy Yasbeck, Vivica A. Fox, Michael Jai White, Karen Kramer & Katherine Kramer, producer Arne List and more
The event will feature cuisine by Presidential Chef Kurt Erhlich, who has worked under President's Reagan, Ford, and Nixon. The presidential chef will be coordinating with Lorimar Winery to offer hors d'oeuvres, wine and champagne. The evening will be complete with chocolates by Glamour Bombonier and confections by Mary's Cake Shop.
Designer to the English Royal Family, Esther Eyere will be displaying her one-of-a-kind Oscar collection at the event as will handbag designers' Timmy Woods and Marcelo Calabrese, couturier Olga Blanc, and Pam Fischer.
Datang International Entertainment and Desert Rock Entertainment will be in the suite with famed producer/ director from Taiwan Alice Wang, who appeared on the cover of Be Who You Are Magazine last month, and famed Asia film star Candy Wang who is most known in the states for her leading role in Dangerous Liaisons but is a powerhouse actor renown through the Asian diaspora.
With Roger Neal's camp pulling in the best of the best from around the globe to celebrate this year's Oscars, the event may very well give the Governor's Ball, the official dinner and soiree of the Academy Awards, a run for its money.
Every Year, the RNHS honors achievements in the film industry with the ICON Award. This year, at the Oscar Viewing Dinner George Chakiris who won his Oscar in 1961 for West Side Story and Margaret O'Brien who won her Oscar for Meet Me St. Louis in 1944 will both be given ICON awards.
The event will raise money for the John Ritter Foundation for Aortic Health.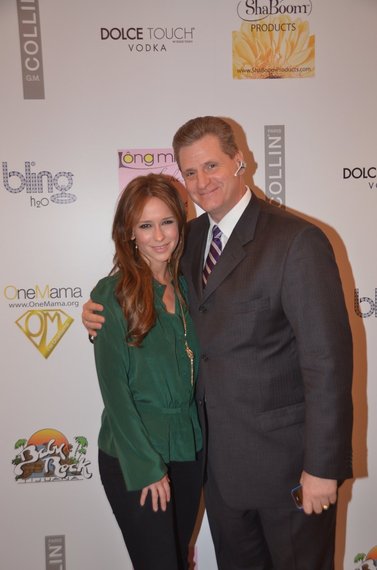 Photo: Jennifer Love Hewitt and Roger Neal
Photo Credit: Neal Public Relations
Popular in the Community