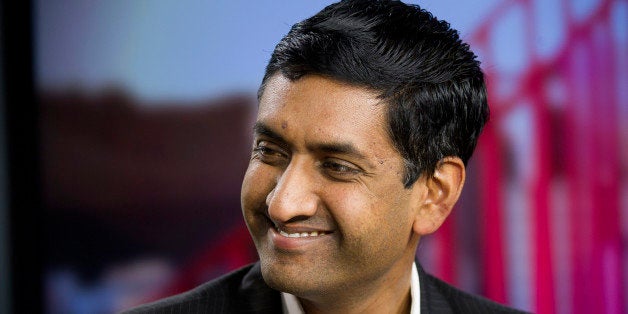 WASHINGTON -- Democratic attorney and former Obama administration official Ro Khanna had seemingly everything he needed to unseat Rep. Mike Honda (D) in California's 17th District: gobs of cash from technology CEOs, some of the president's top campaign alumni, innovative voter identification data and a compelling professional background.
And yet, Khanna ultimately conceded Friday that he wouldn't be able to unseat the seven-term congressman, illustrating an irony of this election: One of the rare victories progressive groups can point to is the defeat of a fellow Democrat.
Campaign contributions from technology leaders such as Facebook's Sheryl Sandberg, Yahoo's Marissa Mayer, Google's Eric Schmidt, libertarian venture capitalist Peter Thiel, angel investor Marc Andreessen and Napster founder Sean Parker made it clear the industry thought Khanna would be a better standard-bearer than Honda for their concerns in Congress.
"If Khanna had been successful, it would have been open season. The technology industry would have flooded [future races] to take out numerous progressive voices in the state," said Neil Sroka, the communications director for Democracy for America, a progressive group that directed funds toward Honda's campaign. It also received support from labor unions as well as MoveOn.org, the Sierra Club and Planned Parenthood.
Sroka, who used an expletive before "satisfying" to describe how he felt about Honda's victory, said the incumbent's win helps his group's case that Democrats don't need to obscure their progressive values to win.
"Ro Khanna thought he could go in armed with money from CEOs and tech industry executives and dupe people into supporting him because he had a 'D' next to his name, but voters could see through that," he hypothesized.
Khanna, of course, has offered a different narrative for why he lost. In an interview with the San Jose Mercury News, the candidate pointed to low turnout among independents and younger voters and questioned whether he could have knocked on more doors. He also wondered if he should have saved more of his money for the general election rather than spending so much in the state's nonpartisan top-two primary, in which he came in second.
Bill Whalen, a research fellow at Stanford University's Hoover Institution, agreed that low turnout hurt Khanna, but also argued that the technology titans "took a hit in this election."
"The idea of transferring technology into a political race, it didn't work," Whalen explained. "You may admire Marissa Mayer and Sheryl Sandberg, but I'm not sure that voters take their marching orders from those people. You may trust an athlete to endorse sneakers, but I'm not sure we're looking to tech leaders for how to cast our votes."
It doesn't seem the industry has figured out how to advance its priorities without upsetting the Democratic establishment. Khanna's failure to unseat Honda dovetails with the as-yet-unsuccessful efforts of the immigration reform group FWD.us, launched by Silicon Valley leaders in an effort to get Congress to pass a comprehensive bill on the issue. Khanna's comment in the race's sole debate that he would be open to taking a "piecemeal" approach to increasing visas for high-skilled immigrants, without a path to citizenship for those who are undocumented, provided more fodder for the progressive groups who accused him of being a "Republican-lite" candidate.
Ultimately, Khanna, who compared his campaign to a startup, encountered the challenge that the vast majority of startups do: They are destined to fail, even with lots of early investor cash.
"You cannot buy grass roots. You cannot buy it this year, and you can't buy it next year," he said. "This district and our democracy are not for sale."
Calling all HuffPost superfans!
Sign up for membership to become a founding member and help shape HuffPost's next chapter
BEFORE YOU GO
PHOTO GALLERY
2014 Election Results: Winners & Losers