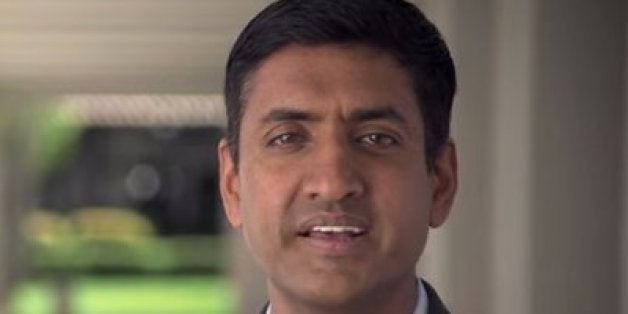 A Democratic House candidate who has consistently voiced opposition to super PAC spending that supports his opponent now has a super PAC of his own.
Attorney Ro Khanna, a former trade official in President Barack Obama's administration, had asked Rep. Mike Honda (D-Calif.) in January to co-sign a "people's pledge" to keep outside spending out of their race in California's 17th Congressional District.
Yet a Khanna donor filed with the Federal Election Commission last week to form a new super PAC, Californians for Innovation, to back Khanna.
Ash Chopra, a former Goldman Sachs employee who now works for Merrill Lynch, is listed as the super PAC's treasurer. Chopra and his wife each gave $2,600 to Khanna's campaign in 2013, before the primary election. He was also part of a host committee for a Khanna fundraiser.
Before the June 4 nonpartisan primary, Khanna's campaign denounced mailers that were sent by a labor-backed outside expenditure group and accused him of planning to outsource jobs. The group also funded mailers propping up Republican anesthesiologist Vanila Singh, in an apparent attempt to get voters who opposed Honda to vote for Singh instead of Khanna. Honda beat Khanna by 20 percentage points in the primary, and the two advanced to the general election.
"This PAC's divisive strategy exemplifies the poison that outside groups inject into our political process, and it's why Ro asked Rep. Honda to sign Senator Warren's 'People's Pledge' last year," a Khanna release read in June. "Unfortunately, the Congressman refused to stand with Ro against super PACs and secretive outside groups and now he is refusing to denounce, or even acknowledge, his close supporters' racially coded messages."
Honda's campaign accused Khanna of hypocrisy Monday, though candidates are legally barred from coordinating with independent expenditure committees spending on their behalf.
"It's clear that Khanna and his closest supporters will try anything to save his failing campaign: from courting the Tea Party to do mailers attacking Congressman Honda, to creating a Super PAC to go beyond the legal limits his millionaire and billionaire donors are bound by," Honda for Congress campaign manager Doug Greven said in a statement Monday.
Khanna campaign spokesman Tyler Law denied any knowledge of the new super PAC Monday in a statement sent to The Huffington Post.
"We know nothing about this Super PAC," Law wrote in an email. "We do know that Ro repeatedly asked Congressman Honda to sign Elizabeth Warren's 'People's Pledge,' to keep outside money out of this congressional race. Congressman Honda refused. Ro also asked him to denounce racist campaign mailings sent by a Super PAC on his behalf just before the primary. Congressman Honda refused. If there's any hypocrisy here, it's on the part of Congressman Honda."
The expensive contest between Honda and Khanna in the Silicon Valley-area district with an Asian-American majority has attracted attention because of its big-name tech donors who have given to Khanna, such as Yahoo CEO Marissa Meyer, PayPal co-founder Peter Thiel, Facebook Chief Operating Officer Sheryl Sandberg and Napster co-founder Sean Parker. Labor, environmental and women's groups have, for the most part, endorsed Honda's campaign.
At the end of June, Honda's campaign had over $1 million in the bank while Khanna had about $629,000 on hand.
REAL LIFE. REAL NEWS. REAL VOICES.
Help us tell more of the stories that matter from voices that too often remain unheard.
BEFORE YOU GO
PHOTO GALLERY
113th Congress Facts