This is pretty crappy video but we wanted to put it out anyway.On the 9th of this month at around 8:20 AM, there was a road rage incident that started near Geneva Elementary School, 700 W. 400 N.The victim claimed that the driver of a white 4-door, older model Camry or Accord boxed him, got of his car and kicked the victims car door. The victim drove off and went home (near 500 N. 1000 W.). The suspect followed him there and when our victim approached the man, the man hit him with a machete, causing a large, deep gash on the side or our victims face. The suspect is described as a white male, 45-50, brown hair, heavy set wearing a black hat, black coat, blue shorts with yellow and white shoes.If anyone was in the area of the school or the victims home and saw anything please call us at, 801-229-7070. Please share!

Posted by Orem Police Department on Wednesday, December 16, 2015
A road-rage incident turned near deadly when one man jumped out of his car with a machete and slashed the other driver in his face, police in Utah said.
Newly released surveillance video capturing the brutal attack in Orem shows the at-large suspect pulling up behind the other driver -- who required at least 17 stitches in the Dec. 9 attack.
"He grabs the machete and pulls it out and swung at me," driver Jason Harper told Fox13 News. "It hit me right here in the face, but I ducked. Luckily I ducked a little bit, and he caught me on the side of the cheek."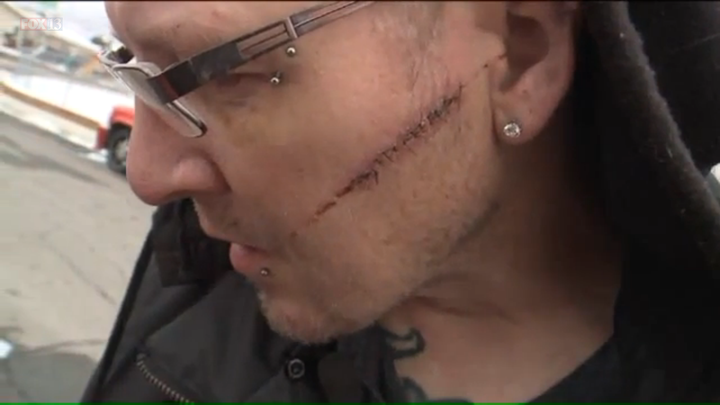 The attacker slashed the left side of the man's face,  from his ear to his mouth. 
Orem Police Department said the attack started just before 8.30 a.m. near Geneva Elementary School when the other driver boxed Harper in, got out of his car and "kicked the victims car door."
Harper said he drove off, but instead of the conflict ending there, the suspect followed him home.
Police described the suspect's vehicle as a white, four-door, older model Camry. The man was a heavy set white male in his late 40s with brown hair. He was wearing a black hat, black coat, blue shorts with yellow and white shoes.
Police acknowledged that the video is of poor quality but released it Wednesday in the hope that it may lead to an arrest.
"It's pretty brazen; it's pretty bold," Police Lt. Craig Martinez told KUTV of the attack. "We would like to find out who he is and put him where he needs to be."
Calling all HuffPost superfans!
Sign up for membership to become a founding member and help shape HuffPost's next chapter