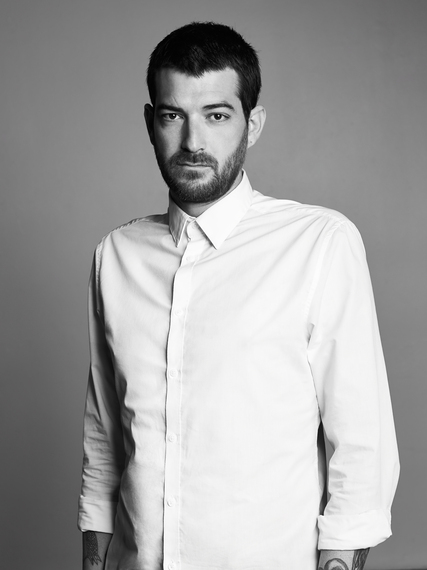 Design Miami is always a site to be seen. The who's who of the design world rubbing elbows with the who's who of the art world all coming together to celebrate one common ground, intriguing art and inspired design. This year, the design booth to behold belongs to Patrick Parrish gallery. This standout display features new collections from celebrated designers like Bec Brittain, Kristen Barron (KRIEST) and Brian Thoreen.
Brian Thoreen is known for creating architectural installations, furniture, and coveted design objects. His hands have worked in the fields of art, fashion and architecture - all which fuel his vision. He brings artistic sensibility to real world applications, always focussing on artisanal craftsmanship to maintian the virtue of his work. I caught up with Brian while he prepared for Miami to get his personal perspective on process and design.
Where are you from originally?
Where do you live and work?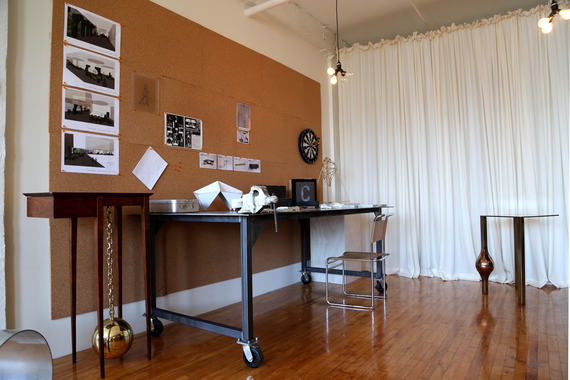 Where do you see yourself living and working in the future?
In the near term, I will be working part of the week out of a remote studio in the San Bernardino mountains to get a little closer to the source as well as setting up a new studio here in Los Angeles. Longer term a repurposed church or factory building in Berlin would be nice.
You really are ahead of the curve with your projects and pieces, how do you find constant inspiration?
I have a penchant for trouble I suppose. I like to experience things that keep me close to the edge, I feel that is a really fertile space creatively. Where there is the looming possibility of losing control, there is also immense creative potential.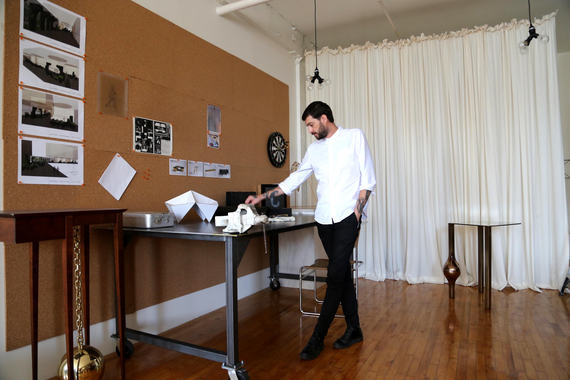 What other mediums influence your designs - Art? Fashion? Music?
More so art and music these days, though I believe that all creative enterprises spring from the same deep well no matter which umbrella they fall under. Mona-Ha and Death Metal get heavy rotation these days.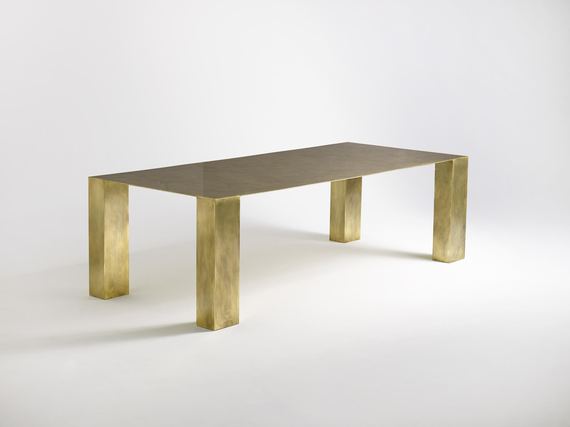 How long have you been a designer and what were you doing prior?
I've been designing in various capacities for 7 years. Before that I was working behind the curtain doing art fabrication for other artists.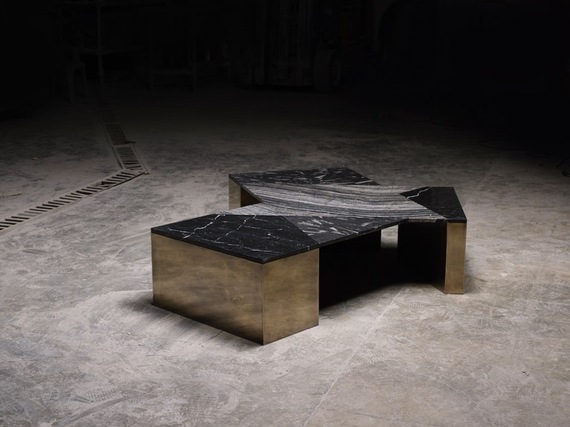 Name one of your favorite pieces in your newest collection?
The rubber credenza. Everyone seems to take pleasure in slipping their hand into those pulls. I enjoy watching people interact and getting a kick out of tactile quality of the rubber. Once you experience it you just want to keep touching it.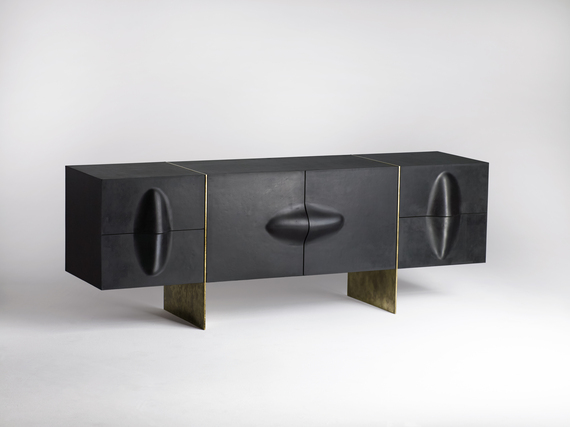 How many projects are you working on currently and what are they?
Right now I am working on an indoor/outdoor sculptural installation in the old Coca Cola building in downtown Los Angeles, a modernist bungalow in the Hollywood Hills, and my new collection. Plus getting ready for Design Miami where I am showing three works with Patrick Parrish Gallery.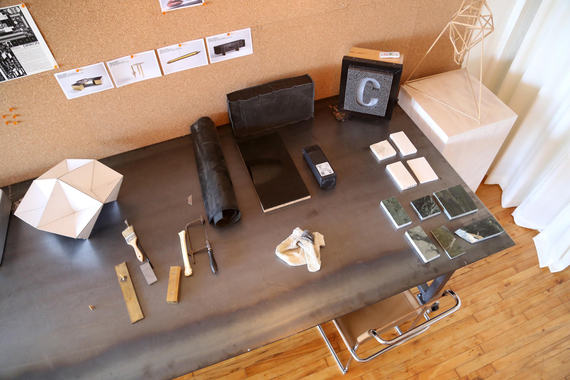 I have had a few great mentors over the years but these days it has been Jim Kovacich. He's an unbelievable soul and master craftsman of the European tradition. He taught me about the essential rigor of process, it is the single defining factor in making meaningful work. He functions with a different concept of time and is unrelenting about quality and poetry in the making of the work. He has been incredibly generous with his time with me, I am deeply grateful.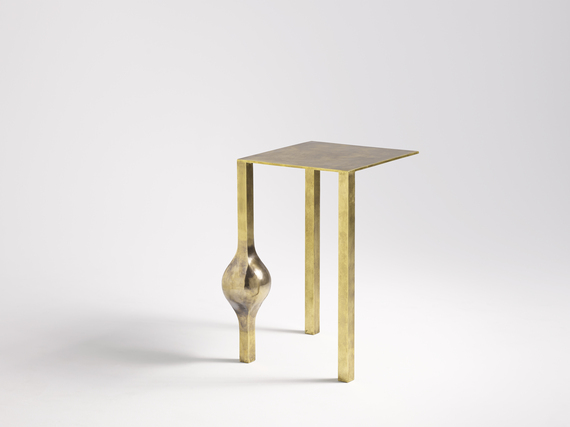 Challenges and rewards for the profession you are in?
Nearly everything in this life begins with an act of imagination. It is an intoxicating process to reimagine the world as it pleases you, and then will it into physical existence with extreme specificity, without compromise. The challenges are often strangely shrouded gifts, the face of which are hard to recognize except from a distance.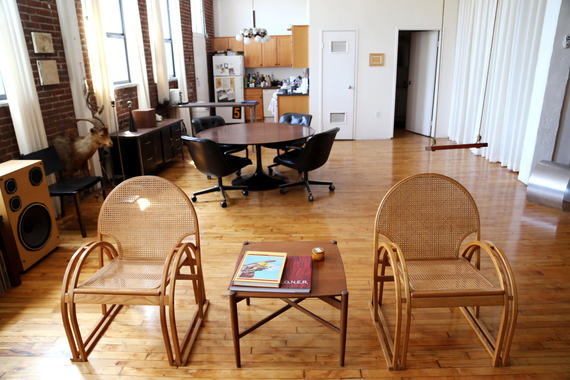 What advice would you give someone younger than you?
Take risks. Take huge risks. As big as possible and soon as possible. Both your life and your work will thrive if you do. Also, learn everything you can about everything that inspires you. Passion needs information to flourish.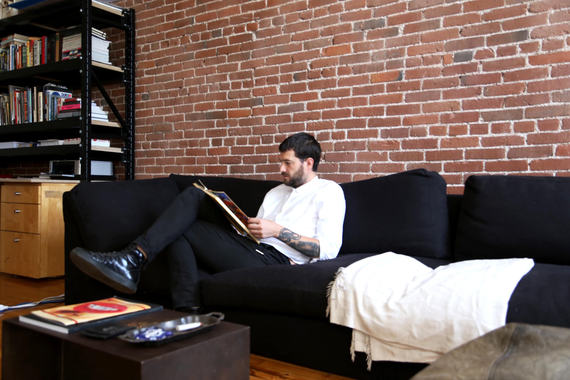 Where do you see yourself and your work heading?
Europe, Asia, growing in scale, shrinking in scale. I am really interested in finding new ways to present my work so we'll see where that takes us.
Do you enjoy designing objects more or spaces?
I am more interested in objects these days, and for my interiors work the spaces are really being anchored by the gravitational pull of the objects that populate them. I like to treat the spaces I design as groups or compositions of pieces and sculptural installations that define the space.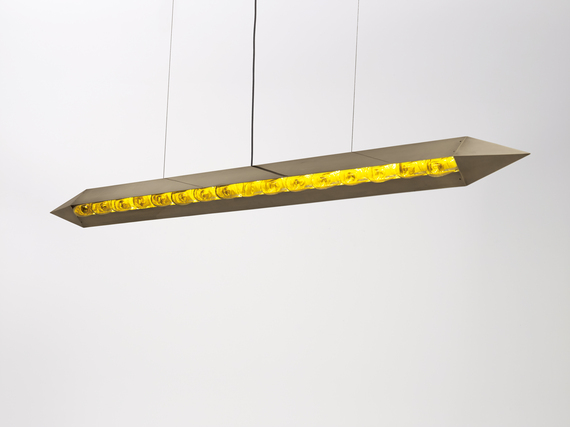 I like to collaborate with craftsmen and fabricators. Ultimately collaborating with a person or company that does traditional work in new ways in a medium I am less familiar with is appealing. Maybe a dishware collection with traditional Japanese ceramicists?
Anything we should know about for 2016?
Don't forget to take advantage of February 29th.