 The final leg of my Road Trip USA took me to New England and the Great Lakes. From St. Louis, I flew to Burlington, Vermont, and then stopped off in Portsmouth, New Hampshire, and at WGBH in Boston before giving talks in Cleveland and at the Rockford Public Library outside of Chicago. I'm finally back in Seattle to enjoy a week at home before packing up for Egypt. But first, here's my final Road Trip USA report:
Burlington, Vermont, nestled just below the border of Canada, is a charming town with a fittingly charming little airport. Its pedestrian-only main drag, Church Street, feels just like England. Everyone I met was astounded that this was my first visit to Vermont.
We did a two-hour pledge event in the afternoon at Vermont Public Television -- knowing that almost no one would phone in live, but that it could be rerun in prime time to get more attention (and more pledges). Then, after dinner with important supporters at Leunig's Bistro, Vermont travelers (along with plenty of traveling viewers from Canada -- Montreal is a short drive to the north) filled the Flynn Center for the Performing Arts for my talk.
Burlington's classic old theater was one of several I've visited on this trip that were saved from the wrecking ball in the 1980s by caring and visionary citizens. Each is now a treasured part of its community and a delight for visiting speakers like me to use.
My weather luck ran out in Vermont. With a big storm rolling in, we cancelled my Burlington hotel so that I could head directly after my talk three hours south to Portsmouth, New Hampshire -- assuring that I'd be in town to give tomorrow's talk. Even though it meant arriving at 2 a.m., it was a good move; a huge snowfall made driving treacherous the next morning.
My hosts at New Hampshire Public Television gave me a fine tour in the snow of their town, which dates proudly back to the 1600s. It looked like a Christmas card with colonial steeples, bleak old cemeteries, and towering piles of lobster pots flocked in snow.
I was concerned that, after all the work they did to put together the event, the weather might decimate attendance. But the people of New Hampshire are hardy, and that night, the theater was nearly full -- with only about a 10 percent no-show rate. I was all set to give my "European Travel Skills" talk. Then, luckily, just before show time, I noticed their promo slide on the screen saying "Travel as a Political Act." I rushed to the control booth, swapped out PowerPoint files, and busily changed my mindset for an entirely different talk. I'm glad I did...the talk went great.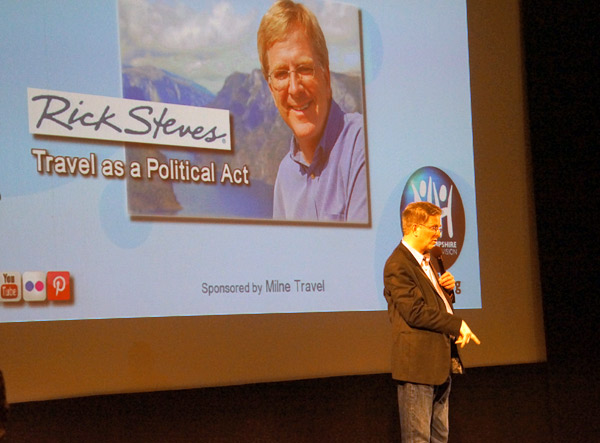 Preparing for my European Travel Skills talk in New Hampshire, I noticed that it was being billed as Travel as a Political Act instead -- giving me just enough time to swap out slideshows and switch gears.
That night, to beat more snow, we cancelled my Portsmouth hotel, and my next day's host picked me up and drove me through more midnight flurries to Boston.
The next day was my busiest yet. The morning was spent at WGBH (Boston's public television powerhouse) taping promo spots, including ones for a fundraiser to auction off two seats on one of our one-week city tours (any departure to London, Paris, Rome, or Istanbul). Then I rushed to the airport to catch my plane to Cleveland, where we taped five pledge breaks for WVIZ in two hours before hosting a thousand people for my European Travel Skills talk in Cleveland's Ohio Theatre.
Enjoying Cleveland's impressive skyline on the taxi ride into town, I passed Progressive Field, where a banner trumpeted the good news for Indians fans: "18 days until the first game of the baseball season!" My cabbie couldn't stop talking about Cleveland's Horseshoe Casino. She couldn't believe I'd missed it. "You can gamble and have your food brought right to your machine. And there's a shopping mall right there!"
That night, in the same city where a local DJ first coined the term "rock and roll," I had so much fun with the crowd. During the Q&A period, one spry, elderly gentleman from Hamburg marched up to the stage, saying I must do more on northern Germany, and gave me his card. Later, during autograph time, a woman made her plunging neckline a little deeper and asked for my John Hancock on her chest -- the highlight of my Sharpie's day. I was given a fun little ornamental guitar and reminded that the next time I visit, I have to make more time for the city -- including its beloved Rock and Roll Hall of Fame and Museum.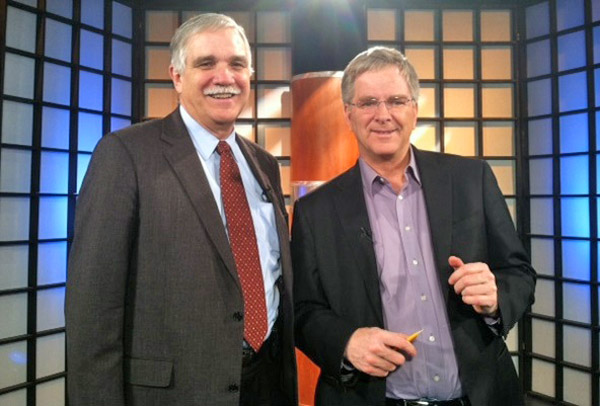 Kent Geist, at WVIZ/Ideastream in Cleveland, Ohio, is one of many dedicated public television personalities I shared the airwaves with on my Road Trip USA.
Cleveland's climate has a unique "lake effect" from Lake Eerie. While the weather was mild and sunny a few miles away, moisture and cold air rolling off the lake brought snow as I flew to Chicago for my final talk of this tour.
This is a vast and varied country. Visiting 12 cities in the last 12 days has been both exhilarating and exhausting. Thinking back on all the great people I worked with, and all the audiences who gobbled up my ideas about travel, I'll conclude that it was time very well spent. To all who attended a talk or helped support their hardworking local public television station during this Road Trip USA, thank you very much. And happy travels.
Related