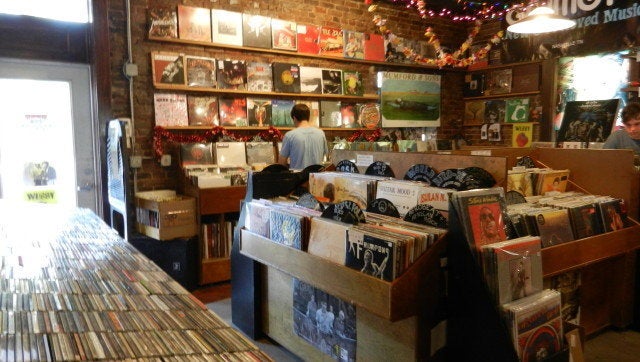 I've often wondered if there is a genetic predisposition for wanderlust. Our older son, now a college senior, seemed to emerge from the womb with a guidebook in his hand -- preferably to some obscure location like Rarotonga or Saint Pierre and Miquelon, the pair of islands under French control off the Newfoundland coast where he still hankers to go.

But his younger brother, Gabe, has always cherished the nest. For him, home has been the citadel of his enthusiasms, the place where he can let loose on his electric guitar and smother his walls with vinyl record covers, from Buddy Guy to the Black Keys.

So I wasn't sure exactly how he'd react when I suggested that it might be fun to take a trip, just the two of us, in honor of his recent high school graduation. Gabe didn't bat an eyelash. "I want to go to Nashville," he said.

Intellectually, every parent knows that letting go is part of the deal, be it a first solo drive on the Interstate or pulling away from that freshman college dorm. Nevertheless, inviting your 18-year-old son to follow his muse on a road trip -- even though he refuses to let you friend him on Facebook -- is to enter uncharted emotional terrain. It is to knowingly leap head-first down the rabbit hole of teenage passions, wherever they may lead.

"P.S. Mom," Gabe announced on the flight to Tennessee. "I want my own beer when we go to a blues club. It's part of the experience."

The temperature was a peach-withering 104 degrees when we landed in Nashville, a fitting gateway for our 900-mile musical road trip, which would take us to Memphis, down Highway 61, the legendary blues route through the Mississippi Delta, and back. For Gabe, Nashville means only one thing: Third Man Records, Jack White's record company and store (he of The White Stripes, The Raconteurs, The Dead Weather and most recently a solo career). Gabe is a member of "The Vault," the record club for rabid Jack fans.

"Don't be weird, mom," he commanded as we approached Third Man's kitsch landmark, a stylized radio tower icon atop a fashionably black industrial building with De Stijl-like red and yellow doors.

As a rock star, White tends his image -- as music critic Adam Gold has observed -- "with the care of a Japanese garden." Because so many promotional videos have been shot at Third Man, Gabe was already a connoisseur, pointing out rarities under glass. "See that one on the right?" he said of a mini-turntable that plays 3-inch White Stripes records, as if referring to an exceptionally fine Egyptian scarab at the Metropolitan Museum. "There are only 400 of these in the world!"

Though Jack (as he is known in our house) was on tour in Europe, we inhabited his life anyway, having lunch at Marché Artisan Foods in East Nashville, reportedly his favorite brunch place, and dinner -- twice -- at Burger Up, where I decided, after some debate, to let Gabe split a beer with me. It turns out that Vault members are excellent travel consultants: They urged us to get tickets to a concert at the historic Ryman Auditorium, a marvel of intimacy, and turned us on to Yazoo Pale Ale.

As a musician, Gabe relishes the individuality of old-fashioned record stores, "by far more interesting than downloading MP3 albums off iTunes," he says. In advance of our trip, he promptly drew up a list of every major record store within a 300-mile radius - each one a candidate for Clutterers Anonymous. By the time we got to Goner Records in Memphis -- aptly named, in my opinion -- I began to identify with all the men who wait for hours outside the dressing rooms at Bloomingdales while their wives or girlfriends examine every ripple in the three-way mirror.

Nevertheless, the sight of turntable- and-headphone "listening stations" in record store corners reminded me of my own teenage years in Highland Park, Illinois in the early 60s, when I would rush to Grant & Grant, the local record store, every week to listen to '45s and pick up the latest Silver Dollar Survey, a list -- on actual paper -- of the Top 40 hits on WLS Radio in Chicago. Unlike Gabe, I had lousy taste: I knew the words to every Herman's Hermits song.

In 1967, my father took to Europe, including London, where I begged to see Carnaby Street, then in all its paisley glory, and visit the real Apple store, the one the Beatles opened on Baker Street. I remember buying a cardboard apple ring there (lord knows what it would fetch on eBay). To my 13-year-old eye, the ring went perfectly with my day-glo-striped mini-dress, my dangling blinking-eye earrings and my Mary Quant tights. In retrospect, Swinging London wasn't so far from Gabe's Nashville.
But our trip was different: For six nights, my son and I shared a hotel room -- the reason why God invented bathrobes. Over the miles, Gabe piloted us by GPS to far-flung barbecue joints (my choice) and blues clubs (his). His chief worry was whether his middle-aged mother would have the stamina for late-night music. I confess that more than once, especially when it was 103 degrees at sundown, I had fantasies about a leisurely glass of wine in the lobby of the Peabody Hotel instead of being deafened in a beer-soaked bar by a white blues singer in a tight t-shirt.
But in following Gabe's lead, I learned and saw things that, had I had my druthers, would have eluded me. I grudgingly agreed to re-jigger our itinerary for the twice-weekly tour of United Record Pressing in Nashville. It turned out to be utterly riveting: Not only did we learn how records are made, from tiny vinyl pellets to grooves in a finished album, but we watched operators work the same archaic machines -- they smelled like burning rubber -- that pressed every Motown single and has continued to churn out thousands of albums a day ever since.
The upstairs was a revelation: the 1960s frozen in time, including a party room with "pleather" sofas frequented by giants like Smokey Robinson and the Supremes. But that history had a sobering side: Hauntingly preserved down to the blonde wood paneling, the company's "Motown Suite" was an apartment created for visiting Motown artists and black record executives who weren't allowed in downtown hotels. "It did a better job at nailing authenticity than most high-budget museums," Gabe said later.
By the time Mississippi rolled around we'd established a road rhythm: I was responsible for us not getting into an accident and Gabe was in charge of the soundtrack (Paul Simon as we headed to Graceland, early B.B. King as we headed to the superb B.B. King Museum and Delta Interpretive Museum in Indianola).
If not exactly a buddy movie -- there were moments when I felt like the chauffeur to Gabe's Miss Daisy -- watching my son doze in the car, as he did as a baby, made me realize how much I have come to rely on his calm, steady presence, so different from my own too-frequent panic. I thought about the sound of his electric guitar emanating from his upstairs lair, and how, every night as I crawl into bed, I have to ask him to turn the amplifier down. I considered the melancholy quiet sure to envelop our household when he leaves for college.
In the Delta, where the state Blues Commission has erected over 150 markers of important sites, we went in search of three of Gabe's heroes -- Robert Johnson, Muddy Waters and B.B. King. In Robinsonville, a tiny hamlet outside Tunica, now a gambling center on the Mississippi River, we had the bizarre experience of following Casino Strip Boulevard past Harrah's to reach Abbay & Leatherman, the cotton plantation where Robert Johnson lived in a tenant shack as a boy in the 1920s, the original white-painted brick plantation office still standing.
We drove the hallowed byways, the red clay soil scattered over the two-lane blacktop, stopping at Clarksdale juke joints and the Delta Blues Museum, its centerpiece a restored version of Muddy Waters's wood-plank cabin from nearby Stovall. In Indianola, where weeds now poke through the sidewalk, we stood on the corner of Church Street, once a hopping hub on Saturday night after a hard week in the fields -- and where a teenage B.B. King had played.
We listened to Robert Johnson as we headed east down Highway 82 toward Greenwood, past catfish farms and the occasional McMansion. A faint wisp of moon hovered over the soybean fields. Our destination was the Little Zion church, where Johnson, one of the most influential and revered blues musicians of all time, lies in a humble cemetery alive with dragonflies and twisted vines. Both Johnson's life and his death are the stuff of lore; he died in 1938 at age 27 with some suggesting he was poisoned by a jealous husband.
We walked through tall grasses, reading worn headstones embedded in the cracked earth. "There was something distinctly southern about the overgrown feel, with all manner of insects buzzing around our heads," Gabe recalled later. Unlike more tourist-friendly stops, he noted, the significant feature -- Robert Johnson's grave -- wasn't clearly marked. "We had to search for it," he said. "And this made it feel more special."
If I had intended to impart a life lesson, I couldn't have done better than the one he found himself. Years from now, I hope he will carry it and maybe a few of our 900 miles with him -- an indelible groove, like a well-played record.
PHOTO GALLERY
Our Musical Roadtrip
REAL LIFE. REAL NEWS. REAL VOICES.
Help us tell more of the stories that matter from voices that too often remain unheard.