If you happen to be in the market for a new car, and that car happens to be from a European carmaker, you can get a free trip. Seriously. What's the catch? Ahem, none.
Buy a new vehicle, get a free vacation. A handful of European automobile makers including Mercedes, Volvo and BMW offer this sweet deal. Too bad I'm not actually in the market for a new car. But if you are, here's the deal on just one of them:
The Volvo Overseas Delivery Program gives U.S. car-buyers two complimentary tickets on Scandinavian Airlines (SAS) to Gothenburg, Sweden -- home of Volvo since the 1920s (although it has since been owned by Ford and now Geely of China) -- where you can pick up your new wheels right off the factory floor. Then take your Volvo for a spin 'round Sweden (or all of Europe really). The first night's hotel and 15 days of car insurance are covered. The rest is up to you! You are free to roam around wherever you can drive. When you return it to the factory, your new ride will be shipped back to the States for free. And through this program you even save about 8% off the price.
What to See and Do: Road Trip in West Sweden
Once safely strapped into your new vehicle, and after a fika (coffee and pastry break) in the Haga, Gothenburg's oldest (dating back to the 1600s) and most charming cobblestone area full of outdoor cafes, bistros and the largest cinnamon bun you will ever had, it's time to hit the open road. Watch out for Moose -- or at least "Moose crossing" signs.
Head up West Sweden's coast to its many islands and fishing villages. A must is a stop on the island of Klädesholmen, a place that has been involved with herring production and canning for centuries. Stay at the delightful Salt and Sill Hotel, (sill means herring in Swedish) home of an award-winning restaurant and Sweden's first floating hotel. Make sure you try the namesake herring board to get a taste of six different and delectable herring preparations.
After a peaceful night gently rocking to sleep in the floating hotel, jump back in your new car and head further up the rocky coast north towards Oslo. Spend a day or two in the picturesque seaside town of Fjällbacka, home to Ingrid Bergman's former holiday residence. Today, it's still full-on famous thanks to local author, Camilla Läckberg, whose crime novels are woven in and around the town. You can stay at the wonderfully refurbished Bryggan Fjällbacka right on the pier and simply enjoy a beer or ice cream in the sun on their huge outdoor patio.
Or leave your car here for the night and take the boat out to the remote Weather Islands (Väderöarnas), a couple hundred of Sweden's western-most islands. These windswept, granite rocks were the former home of sea pilots who helped navigate ships in and out of the harbor. Today, it's the home of the rustic and charming Väderöarnas Guesthouse and restaurant. Lovingly updated each year by its owners Mikael and Pia, the latest addition being a sauna with views of the sea. The unassuming wooden house has about 10 rooms with shared baths, plus deliciously prepared meals made with local Swedish meats and, of course, fish.
South Sweden & Malmö
Now, time to open it up and hit the E6 highway, which runs all the way up to Arctic top of Norway and south into Skåne (Scania in English; also simply South Sweden). A stop in seaside Båstad won't disappoint with its stylish outdoor cafes and boardwalk along the harbor. Head uphill to the Nivå 125 Båstad gallery and cafe for a simple lunch, which is dwarfed by the amazing views of the bay. And if you time it correctly, and come in July, you can score tickets for the invitingly accessible Swedish Open tennis tournament.
At the bottom tip of Sweden is internationally buzzing Malmö, the country's third-largest city. Spend a few days here walking its pedestrian lanes, meeting a local family for dinner and having a coffee or beer at Lilla Torg, a picture-perfect medieval square filled with alfresco bars and restaurants. For modern and local eats, try Bastard or Belle Epoque, both a bit on the trendy side with locally sourced dishes from charcuterie platters to Swedish-raised fish and meats.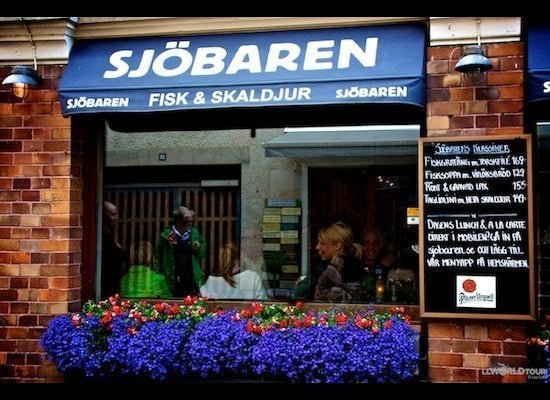 Road Trip Through West and South Sweden
To enter and possibly win your own Sweden trip (without even buying a car!):
Car + Vacation
Related