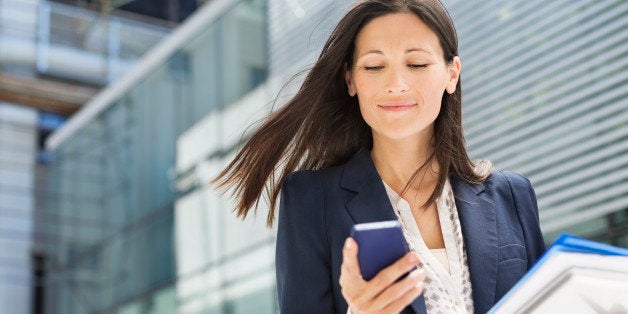 "The need for change bulldozed a road down the center of my mind."
-- Maya Angelou
"Ambition is a dream with a V8 engine."
-- Elvis Presley
As we herald in the new year, it is clear that the trajectory and geopolitical/economic landscape of entrepreneurship has noticeably changed. Social media and mobile technology, besides being the step-children of the Tech Revolution, have forever altered the playing field for women as both disruptive innovators and commentators on trends, best practices, and the continued blurring between one's persona in real time and one's digital avatar. In the coming year, these lines will continue to blur, allowing more women to better balance their cravings for humanity and technology when pursuing entrepreneurship, thought leadership, and digital relevance.
What's in store for us in 2014? What business, cultural and educational trends will contribute to the care and feeding of a female entrepreneur? The blogsphere is full of chatter about predictions for the coming year and it behooves us to adjust the signal/noise ratio and interpret the data, observations and infographics for ourselves. One's thought processes are predicated on one's Theory of Mind, past experiences and understanding of the current situation one finds himself/herself in. Using my NICE Philosophy (Nice, Informed, Competent, Entrepreneurship) based on my upcoming book, I would like to offer these four predictions I agree with:
1. Social entrepreneurship will continue to drive a growing portion of entrepreneurial endeavors.
Catherine Clifford wrote about this in October, when she illustrated how embedding a social consciousness and calling (i.e., civic engagement into one's business plan early on) helps with both the outcome and trajectory of one's mission.
S. Cris Edmond expounded on this in December when he asked, "What would employees say is your team's purpose? What would they say gets consistently measured, monitored, and rewarded? How are you refining your team's compelling and inspiring "reason for being" each day?"
2. The Tech Revolution will continue to intersect with the Entrepreneurial Revolution, spurring innovation in mobile technology arenas where women entrepreneurs can become true linchpins and contributors.
Megan Totka wrote of this in July, in her article that pointed out that our contributions in these arenas go beyond getting women more involved in STEM (science, technology, engineering, math). It's about leveraging the creation and use of Apps to promote global change; educationally, medically, socially and economically.
Colleen Taylor just wrote about the impact of having a different mindset and approach to the dearth of women in the technology sector, especially when it comes to coding and closing the gender gap.
3. Expanding one's digital footprint via social media will become a necessity, not a luxury.
The days of seeking actual customers and their endorsements of your entrepreneurial service/product can no longer be confined to actual storefronts or offices in real time. Digital storefronts have multiplied and continue to do so on social channels around the world. Everyone wants to virtually "hang a shingle" and entice customers to notice, partake and spread the word. It's time to leverage social media and its potential for synchronized Calls to Action (CTA) across platforms and continents, and its positive power to harness "group think" in a good way -- not like the Borg from Star Trek!
Valeria Maltoni wrote more about this and how "social currency affects behavior" in her recent blogpost in December.
James Moore wrote about the new dynamic duo for business in 2014 -- the entrepreneur and the social media/PR person who together, have "to be able to unite production with capital in order to produce a product that is beneficial and, most importantly, profitable."
4. Thought Leadership will become integral to the female entrepreneurship experience, and result in increased virtual mentorship, productivity and performance.
The Digital Age will see an exponential increase in Digital Citizenship for every age and stage, every geographical location and socio-economic status, and throughout the timeline and "funnel" of one's business plan. Project Based Learning (PBL) will reign supreme, as seen from the June article by serial entrepreneur Jeff Hoffman, who predicted the rise of online-educated entrepreneurs thanks to MOOCs, Udacity, Udemy, Coursera, and TED Talks, just to name a few.
But that's not all! I believe that 2014 will be the year of the female thought leader, whose virtual mentorship will impact on female entrepreneurship in real time and cyber time, as well as the book publishing business. Physical books will still matter, even in this Digital Age. There will be a resurgence in the printing of paper books, a newfound interest in female authors of entrepreneurial books and white papers, and a growing desire to learn practical, time saving, behavioral and collaborative methodologies to promote a better work/life balance by entrepreneurs and intrapreneurs alike:
• Like balancing humanity & technology and embedding social entrepreneurship into the DNA of every entrepreneurial blueprint (i.e., the NICE Initiative for Female Entrepreneurship, based on my book, The NICE Reboot).
• Like the crafting and honing of your legacy and story, based on Pamela Slim's new book, Body of Work.
• Like scaffolding and sharing best practices in your field through your own thought leadership, based on Denise Brosseau's new book, Are You Ready to Be a Thought Leader?
• Like redefining success and well-being in today's physically and emotionally grueling, fast-paced and increasingly fragmented society, based on Arianna Huffington's upcoming book Thrive.
It is 2014 and now's the time to stop thinking of entrepreneurship as a male domain, and an arena where social causes are viewed only as stepping stones for publicity seekers on social media. It is also way long past the time for women to be judged by what they do with social technology -- the content curation, content generation and distribution -- and thought leadership venues where they can truly add value and promote change.
Best wishes for a happy, healthy, profitable and meaningful new year. One where you make every day count, and count your accomplishments for each day with pride and a renewed sense of purpose!
Related