By Aaron Weiss for Roads To Olympia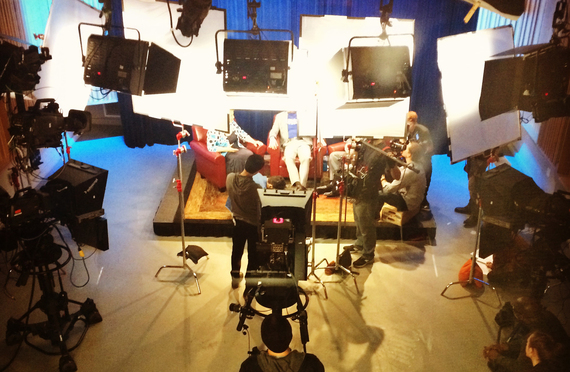 On the set of Roads To Olympia
The art of storytelling can be a very powerful tool. Will the combination of moviemaking and social activism change homophobia in Russia, women's oppression in Saudi Arabia, and income inequality in Brazil?
These three social issues are being tackled head on by Roads To Olympia, an independent film that sheds light on the discrimination people face due to their gender, sexual orientation, and social status. This narrative feature film chronicles the stories of three young athletes in pursuit of a shared dream: to compete in the 2016 Olympic Games.
The heart of the film is in its main characters, and the battles they face, not in the athletic arena, but in their everyday lives. Muna, a Saudi student with a desire to play football, lives in an Islamic country where women are considered indecent for participating in sports. She risks shaming her family and puts her life on the line in pursuit of her passion. Roma, embodies the ideal Olympic decathlete who fights to keep a double life hidden from his father, a politician supporting the anti-gay law, and a nation seeped in homophobia. Manuel, a Brazilian wrestler living in the slums of Rio de Janeiro, haunted by his criminal past, struggles to get his mother out of poverty by making it to the Games.


Manuel, Muna, and Roma
Over the coming months, this blog series will introduce the team behind the film, document the production's progress and profile various NGOs and social good organizations partnering with the filmmakers.
While conceiving the story of Roads to Olympia, Ramazan Nanayev, the film's writer and director, saw this as an opportunity to combine two of his great loves - filmmaking and sports. "Like sports, filmmaking requires strength, resilience, and dedication," said Nanayev, who himself was a collegiate wrestler and decathlete. "My athletic past has helped me shape the story I was telling and foster the mindset required to bring Roads to Olympia to life."
In addition to growing up as an athlete, the twenty-five year old Nanayev also witnessed first hand many of the struggles addressed in the film which helped provide the inspiration for the characters and their stories. "I was born into a Muslim family and over many years I have witnessed the unfair treatment of women in the culture," he said, "I stood by my best friend while he faced fear and doubt when coming out to his family, our friends, and teammates about his sexuality. My family struggled with financial uncertainty and poverty after the fall of USSR, which eventually lead to us moving to America."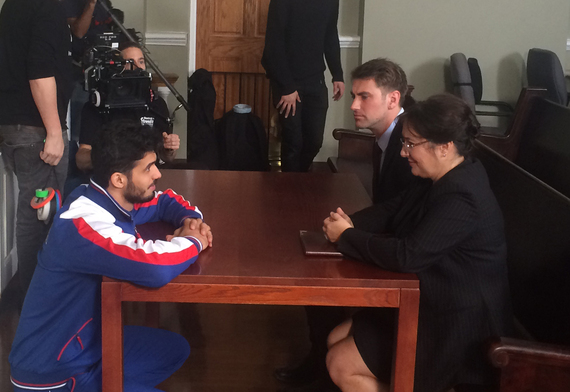 Ramazan Nanayev speaking to actors on set
Perhaps the most unique aspect of this film is that it tells the stories of three distinctly different characters on three different continents and in three different languages, making this a foreign film in its truest sense. Like other ensemble cast films that came before it such as The Hours, Crash, and Magnolia, Roads To Olympia brings three stories together with one main theme: Individuality in the face of repression.

There are many hurdles that stand before the filmmakers, but those challenges are not deterring Nanayev from carrying out his vision. "People told me this should have been your fifth feature film not your first, he admitted, "It's too ambitious. You're crazy. I agree, but I believe this story needs to be told now and I am going to do everything in my power to make it happen."

It takes more than one man to make a feature film. Producer, Katherine Randel, came on board the project last year after being introduced to Nanayev and being immediately impressed with Nanayev's passion, and the concept of these three stories being interwoven into one film. "When I first met Ramazan, I knew both he and this script were exceptional," recalled Randel, "I gave him some pointers on how to partner with various NGOs and Social Good Organizations as a way to capitalize on the opportunity the film was creating to inspire the audience to take action. I then decided to join the project as a producer because I wanted to give this film my all."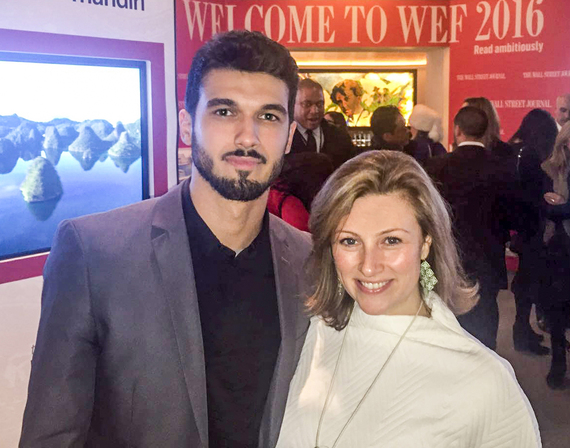 Ramazan Nanayev and Katherine Randel
Over the last year, Nanayev and Randel have been relentless in trying to guide this project from just an intriguing concept into what they both believe will be a powerful film. But there is still plenty of work on the horizon. In recent months, production of the Russian segment of the film, which shot in New York City, has wrapped. Due to The Russian LGBT Propaganda Law, a federal law "for the Purpose of Protecting Children from Information Advocating for a Denial of Traditional Family Values", it would have been illegal for the film to shoot in Moscow. As a result, several of the actors flew to New York from Russia to participate in the film.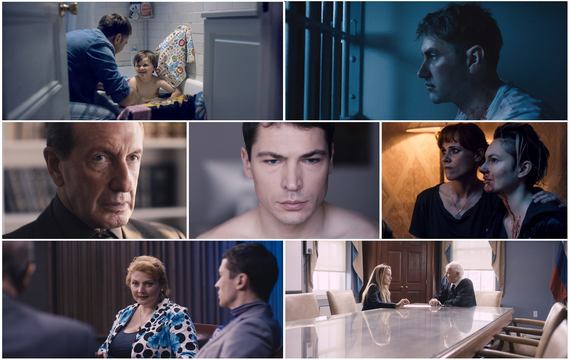 Preview of the Russian segment of Roads To Olympia
Now, the focus has turned to venturing out of the United States this spring to complete the film's remaining two segments. Filming of the Saudi portion of the film will take place in Amman, Jordan, a film friendly beacon in the Middle East. Jordan's film team will be helmed by Yanal Kassay, whose producer credits include the Oscar nominated and BAFTA winning, Theeb. The third and final leg of Roads to Olympia will be shot on location in Rio de Janeiro, Brazil, the host city for the 2016 Summer Olympics, with the production being lead by young producers Rodrigo Bitti and Eline Porto.
As is the case with many independent films, Randel acknowledges that perhaps the biggest hurdle that the production faces is a financial one."The most difficult thing for an independent filmmaker is financing," she said, "'like other startups, you are creating an enterprise, a new business. The difference however, is the difficulty of measuring the commodity produced. Selling storytelling to an investor is like selling magic beans."

The filmmakers are in the process of raising money to complete the Jordanian and Brazilian segments, as well as financing post-production costs. They have partnered with CrowdRise, the popular crowdfunding platform, to help achieve that goal. "We hope that by following the progress of the film through this blog, people will learn more about NGOs we are collaborating with and our efforts to amplify these social issues and encourage more followers to donate and help with this mission."
Nanayev understands that the path will be difficult. In the end, he believes it will all be worth it once Roads to Olympia is complete. "It's a sacrifice," he admits, "I think we're feeling it physically and mentally. Like marathon runners, there is this masochistic part to filmmaking. It is hard, but you just keep rolling because you have to and you kind of love it. You've got to love it or you simply won't last. It's an eventful journey, it's a rollercoaster, and it's a way of life. We're moving on with a purpose of telling stories to inspire solutions and action, that's what keeps us going."
Please click the donate button below to support the completion of this important film.

REAL LIFE. REAL NEWS. REAL VOICES.
Help us tell more of the stories that matter from voices that too often remain unheard.