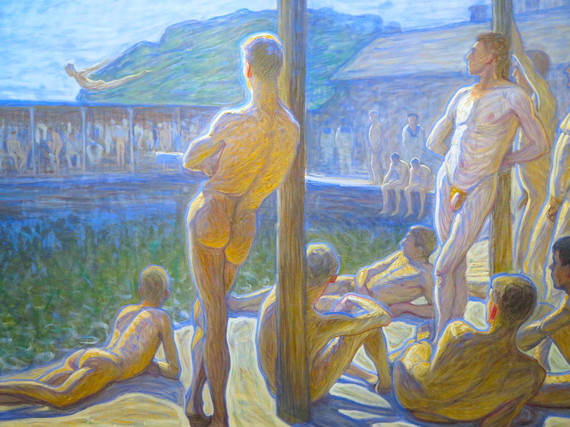 Camera in hand, Eugène Jansson roamed the Stockholm bathhouses in search of male models. The illustrious Swedish artist had a reputation for photographing nude athletes, particularly swimmers. Celebrated for his nocturnal cityscapes of his native Stockholm, as depicted from his home on the southern island of Sodermalm, Jansson began frequenting the bathhouses to photograph naked swimmers and weight lifters and, ultimately, to render them on canvas.
Jansson's most famous painting from this period is a massive canvas painted in 1907 called "The Naval Bath House," which has been recently restored to a place of honor at Thielska Galleriet. For years, after the discovery of Jansson's homosexuality in 1970, Jansson's painting of a group of nude men entranced by a naked diver was stored in the Thiel Gallery's warehouses. Now, Jansson's magnificent canvas, along with its contextual history, will remain on permanent view at the Thiel Gallery museum.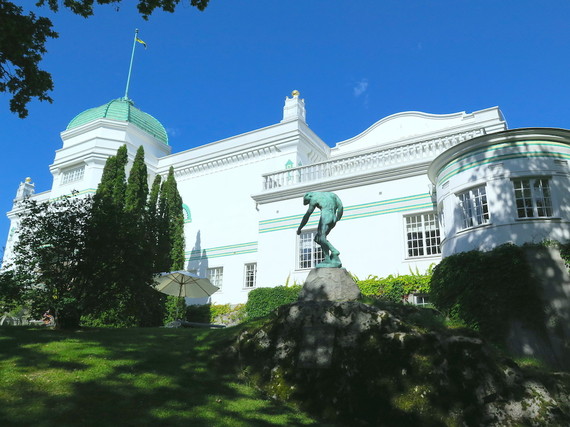 In a world where LGBTQ narratives have been scrubbed too often from the history books, it's always a pleasure to be reminded that we've always been here.
Located at the easternmost tip of the bucolic isle of Djurgården (beyond the familial attractions of Gröna Lund Tivoli and Skansen and ABBA: The Museum), deep in the forested and parkland realm of embassies and mansions of the ruling elite, you'll find one of the most prominent art museums in Sweden.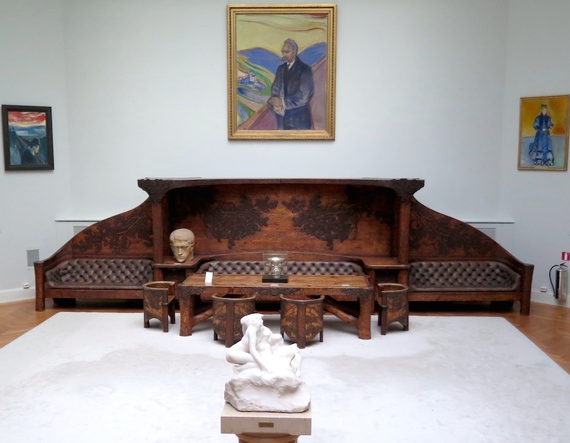 Built in 1907, the erstwhile mansion of banker and art patron Ernest Thiel was commissioned to house Thiel's family as well as his vast collection of art, which was subsequently opened to the public in 1926. Apart from Jansson, Thiel collected the works of Nordic artists such as Edvard Munch, Anders Zorn, and Vilhelm Hammershøi -- as well as several paintings by August Strindberg. Largely unaltered since Thiel's death, the Art Nouveau mansion and walled grounds crown a knoll above the shoreline at Blockhusudden in the royal park of Djurgården. In summer, you can arrive by boat via the M/S Ballerina.
One of the foremost authorities on Swedish art, Thiel Gallery Director Patrik Steorn wrote his doctoral dissertation on Jansson's studies of naked athletes. Curated by Steorn, the exhibition "Men at Water" merges the works of Jansson with those of Swedish artist Jan Hietala to create an interplay between two centuries and their respective homoerotic depictions of the naked male body in and around water.
According to Steorn, it is widely believed that Jansson found his long-term partner and lover Knut Nyman at the bathing houses of Stockholm -- and some historians conjecture that it is Nyman who is depicted in the lower right corner of Jansson's "The Naval Bath House." A carpenter by trade, Nyman's handiwork can be glimpsed at the far end of the mansion's exhibition gallery where an enormous high relief carved wood sofa has pride of place.
Separated in age by at least a decade, Jansson and Nyman shared a home -- although all of Jansson's personal papers and letters were destroyed upon his death by Jansson's brother, also homosexual, due to the illegality of homosexuality in Sweden until 1944.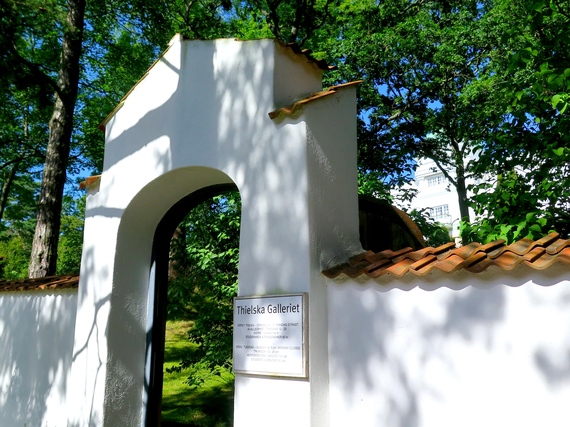 The aesthetic pleasures of an afternoon at the Thiel Gallery are nicely complemented by those of a more gustatory nature, thanks to Café Monika Ahlberg. The author of numerous cookbooks and the primary proponent of the Swedish slow-cooking renaissance, Ahlberg helms the kitchens of the Thiel Gallery's café, which features seasonal soups and sandwiches, freshly-baked breads, and homemade pastries.
For those seeking more of the best of LGBTQ Stockholm, Visit Stockholm hosts a blog called Gay & Lesbian Stockholm.
Popular in the Community