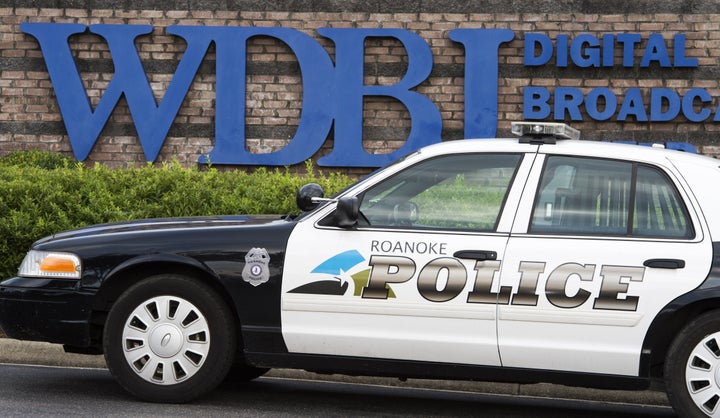 In the aftermath of a high-profile shooting, three things tend to happen: A crop of newly bereaved advocates renew the call for gun control legislation; support for such laws spikes briefly, if at all; and little change is actually effected.
Days after the fatal shooting of two journalists on live TV near Roanoke, Virginia, that pattern may be repeating.
"There needs to be some action that is taken out of an event like this -- out of an event like Sandy Hook, like Charleston, like Aurora, Colorado ... where these things just don't occur anymore," Chris Hurst, the boyfriend of slain reporter Alison Parker, told CNN on Thursday. Her father, Andy Parker, has vowed to become an advocate for increased gun control, saying he hopes he can prevent others from facing the same kind of loss he has.
In a HuffPost/YouGov poll conducted since the Wednesday morning shooting, 55 percent of Americans say gun control laws should be made stricter, 27 percent say they should remain the same and 12 percent say they should be eased. The level of support for gun control is as high as it's been in HuffPost/YouGov polls since the 2012 Sandy Hook school shooting -- which isn't surprising, given that many Americans were taking the survey with the latest tragedy fresh in their minds, if not actively playing out on their televisions. 
But that increase in support after the Newtown, Connecticut, massacre, proceeded to ebb away without bringing substantive changes in policy. Other recent shootings haven't produced any notable change in opinion at all.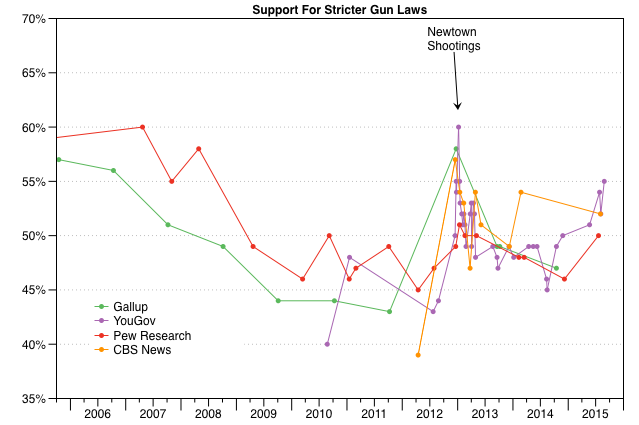 "I hope this time will be different for us," Virginia Gov. Terry McAuliffe (D), who's advocated unsuccessfully for gun control, told The New York Times. "It's like the hamster on the hamster wheel -- you just go round and round, something happens, everybody comes out and says, 'We need more gun restrictions,' and then it fades into the background."
The latest spike in support for such restrictions might not even be that much of a spike. The Economist/YouGov poll, which has seen a slight uptick in support all year, found backing for gun laws just 3 percentage points lower at the beginning of August than the HuffPost/YouGov poll found it after the shooting. CBS News, which asks a similar question, has found support for stricter gun laws hovering between 47 and 54 percent for the past two years.
There's also little change in responses to another question. In the latest HuffPost/YouGov poll, Americans said by a margin of 46 percent to 36 percent that shootings were more likely to be prevented by stricter gun control laws and enforcement than by more private citizens carrying guns for protection. Four HuffPost/YouGov surveys going back to 2012, taken both after high-profile shootings and at other times, found the percentage favoring stricter gun laws holding steady between 44 and 46 percent.
"The reaction has become sadly standardized," Don Haider-Merkel, a professor at the University of Kansas, told The Washington Post this week, adding that "proposals to restrict access to firearms tend to fade quickly."
Part of the difficulty for gun control advocates is that the debate falls increasingly along intractable partisan lines. As recently as 2007, Republicans and independents who leaned toward the GOP were evenly split on whether gun rights or gun control is more important. Since the beginning of Barack Obama's presidency, however, the GOP has swung dramatically toward valuing gun rights, which three-quarters of Republicans now see as taking precedence.
With Democrats remaining staunchly pro-gun control, the gulf between the parties in the latest HuffPost/YouGov poll is actually greater than the divide separating gun owners and non-gun owners. Gun owners are 46 points less likely to support stricter firearms laws than people who live in households where no one owns a gun, while Republicans are 53 points less likely than Democrats to back such laws.
Another long-standing problem for gun control advocates is that intensity tends to favor the other side. Staunch gun rights supporters may make up a small part of the electorate, but they're a powerful, easily mobilized voting bloc, with National Rifle Association backers ready to give an earful to politicians who propose new firearms laws. Greater gun control, on the other hand, tends to end up near the bottom of the list of issues that voters care about. Earlier this month, Democratic voters asked to name their top election priorities ranked gun policies dead last among eight issues.
"People will support this and they think it's a good idea, but they don't feel super deeply about it," Lanae Erickson Hatalsky of the centrist think tank Third Way told National Journal after an effort at passing new gun control laws failed in 2013. "They're not convinced that it will necessarily work and that it will work to change their own lives."
While 43 percent of Americans in the HuffPost/YouGov survey say stricter gun control laws would reduce the number of shootings in the U.S., another 47 percent believe they'd have no effect or would actually make things worse.
Still, many gun control supporters would like to see the issue spotlighted. Fifty-nine percent of Americans who want stricter gun laws say that presidential candidates haven't paid enough attention to gun-related issues this year, and just over half say the issue hasn't gotten enough traction in the media.
Even as support for gun control overall dissipates along with the horror in the months after a shooting, support for some specific restrictions also has remained high.
Universal background checks for gun sales, a policy that was overwhelmingly popular right after the Newtown massacre, still had 84 percent support at the beginning of this year, according to a study conducted by the Johns Hopkins Bloomberg School of Public Health. A majority of Americans likewise back policies like banning the sale of large-capacity magazines and semiautomatic assault weapons.
The HuffPost/YouGov poll consisted of 1,000 completed interviews conducted Aug. 26-28 among U.S. adults, using a sample selected from YouGov's opt-in online panel to match the demographics and other characteristics of the adult U.S. population.
The Huffington Post has teamed up with YouGov to conduct daily opinion polls. You can learn more about this project and take part in YouGov's nationally representative opinion polling. Data from all HuffPost/YouGov polls can be found here. More details on the polls' methodology are available here.
Most surveys report a margin of error that represents some, but not all, potential survey errors. YouGov's reports include a model-based margin of error, which rests on a specific set of statistical assumptions about the selected sample, rather than the standard methodology for random probability sampling. If these assumptions are wrong, the model-based margin of error may also be inaccurate. Click here for a more detailed explanation of the model-based margin of error.
Calling all HuffPost superfans!
Sign up for membership to become a founding member and help shape HuffPost's next chapter