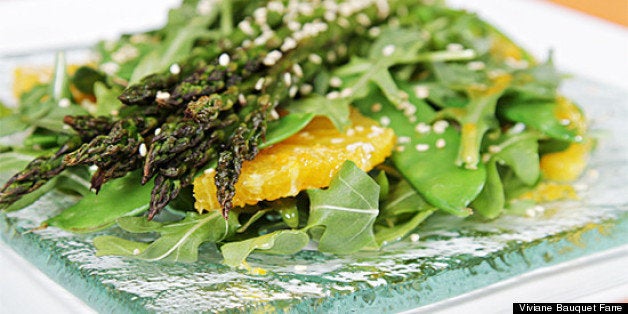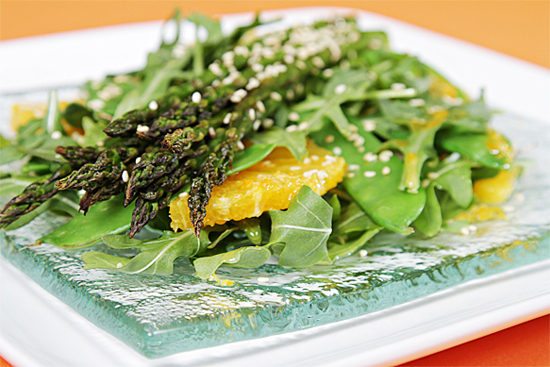 Every year, I look forward to asparagus season more than words can express. But this year something really special is about to happen: I'll be harvesting my own asparagus!
I planted an asparagus bed two years ago. I ordered asparagus crowns (roots), which look like octopuses with skinny legs, and dubiously planted them in a raised bed, following the instructions to the letter. I wasn't sure that they would come up, but not two weeks later, my baby asparagus were popping out of the ground with gusto.
But planting asparagus is a test of your patience. You have to wait two years before you can harvest any of the tender shoots. Well, my two years are up... and the first spears just poked out of the ground this past weekend!
Of course, my husband and I eat way more asparagus than I could plant, so I'll continue to get my fresh spears from one of our local farmers' markets and make today's exotic and massively flavorful salad as many times as I can before the season has passed.
Wine pairing: I highly recommend a Robola from Cephalonia (Greece) with this salad. The Robola from the Gentilini winery is particularly delectable. But any medium-bodied white wine with juicy acidity and mellow citrus notes would work, like an unoaked Arneis from Piedmont, a Silvaner from Franken (Germany) and, of course, a Riesling from Germany or Alsace.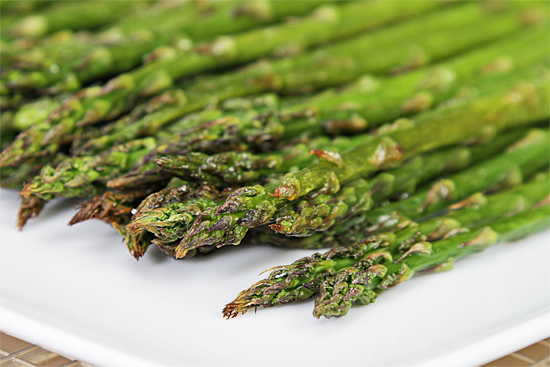 Roasted Asparagus Salad with Valencia Oranges and Ginger-Citrus Vinaigrette
serves 4
active time: 30 min
For the asparagus
1 lb (454gr) asparagus spears (1 bunch) - bottom of stems snapped off
1 tablespoon olive oil
sea salt to taste
For the vinaigrette
1 teaspoon finely grated fresh ginger (use microplane grater)
1 teaspoon finely grated orange zest (use microplane grater)
1 tablespoon brown rice vinegar
1 tablespoon lime juice
1/8 teaspoon ground cayenne
1/8 teaspoon sea salt
3 tablespoons olive oil
1 tablespoon toasted sesame oil
For the salad
1 teaspoon sea salt for blanching
1 cup snow peas (3 oz) (85gr) - stem end trimmed and left whole
1 large Valencia or navel orange
1 large handful (3 oz) (85gr) baby arugula
2 tablespoons sesame seeds - toasted (see cook's note)
Preheat the oven to 500ºF (260ºC).
Step 1: Move rack to the top of the oven. Spread the asparagus on a jelly roll pan. Brush with the olive oil and sprinkle with salt. Bake for 8 to 10 minutes (depending on their size) until the tips begin to brown. The stalks should still be bright green. Remove from pan and let cool to room temperature.
Step 2: In a small bowl, whisk ginger, zest, vinegar, lime juice, cayenne, salt, olive oil, and sesame oil until well blended. Set aside.
Step 3: Fill a large bowl with cold water and several ice cubes. Bring 1 quart of water to a boil. When the water is boiling, add the salt and snow peas. Boil for 2 minutes. The snow peas will turn bright green. Drain and transfer to the cold water bath. When the snow peas are chilled through, drain and spread on paper towels. Set aside.
Step 4: Peel the orange to its flesh and cut in half lengthwise. Remove the seeds, pith and threads in the center, and slice each half crosswise in 1/8″ thick slices. Set aside.
Step 5: Place the arugula leaves in the center of each plate. Tuck a few snow peas and orange slices between the leaves. Top with the roasted asparagus. Drizzle with the vinaigrette and sprinkle with the toasted sesame seeds. Serve immediately.
Cook's note: To toast the sesame seeds - Heat a small frying pan to medium-high heat. Add the sesame seeds and sauté for 2 to 3 minutes until light-golden, stirring or shaking the pan constantly. Transfer to a small bowl and set aside until ready to use.
Related