Most people are familiar with steak tartare, tuna tartare or even salmon tartare, but if raw meat isn't your favorite ingredient in a recipe, Chef Michael Voltaggio has a delicious alternative. The 'Top Chef' alum recently appeared on "Home Made Simple" and shared his recipe for a roasted bell pepper tartare that is as filling as it is delicious -- give it a try and get ready to fall in love with this vegetarian twist on an elegant favorite.
Roasted Bell Pepper Tartare with Crispy Cheese Points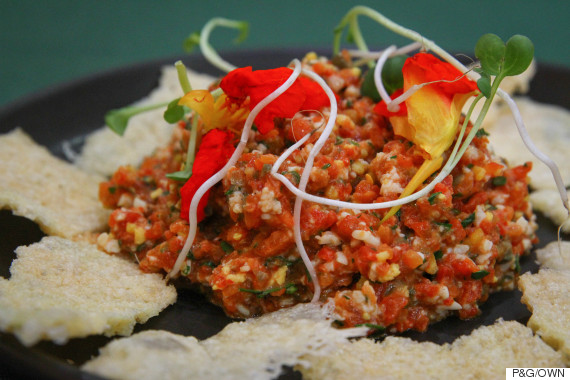 For the tartare
3 red bell peppers
2 tsp. capers, chopped
1 tsp. parsley, chopped
2 tsp. Dijon mustard
2 tsp. chives, shaved
1/2 tsp. mayonnaise
1 tsp. Worcestershire sauce
1 hardboiled egg, chopped
5 dashes hot sauce
1/4 tsp. salt
1/4 tsp. pepper
For the cheese points
2 c. Parmesan cheese, grated
Tartare: Roast the peppers directly on a gas stove (in the flame) until black on all sides.
Place in a bowl and cover with plastic wrap, leave for 15 minutes to allow peppers to steam. Remove from bowl and scrape off the charred skin. Open the peppers and remove the stem and seeds. Place peppers between paper towels or coffee filters and press gently to get rid of extra moisture. Allow peppers to cool and then press again to get rid of the remaining moisture.
Mince the peppers and place in a bowl.
When ready to serve, add remaining ingredients (excluding the cheese) and mix well. Season with salt and pepper, to taste.
Cheese points: Sprinkle 1 cup of cheese on an 8-inch round plate. Place in microwave and cook on high heat for 2 minutes or until cheese looks brown and toasted.
Carefully remove from microwave and immediately peel off of the plate with a paring knife. Allow the cheese to cool on a cooling rack until it hardens.
Repeat with second cup of cheese.
Once the cheese has cooled, break it into large pieces and serve with the tartare.
Calling all HuffPost superfans!
Sign up for membership to become a founding member and help shape HuffPost's next chapter
BEFORE YOU GO
PHOTO GALLERY
The Best 10-Minute Appetizers