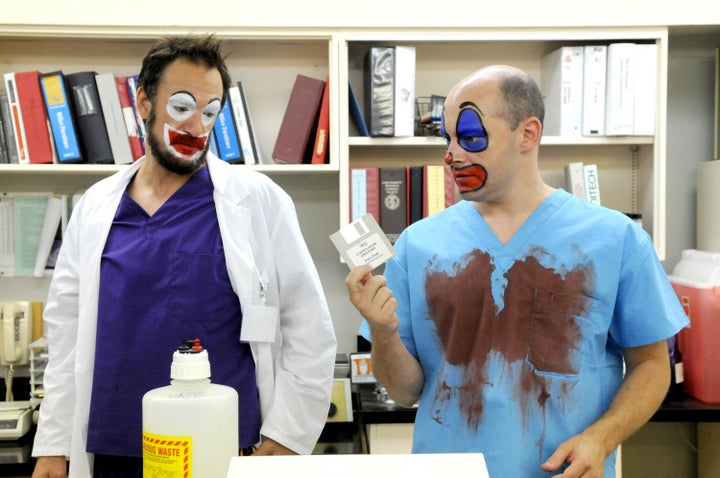 Rob Corddry's "Childrens Hospital" began as a web-based lark during the 2007 writers' strike -- a time when so many in the entertainment business found themselves out of work and looking for projects.
The original, five-minute episodes of "Hospital" premiered on THEWB.COM, but were so successful in their dark, absurdist, satirical mold, that the series was picked up for television in 2009 by Adult Swim, the block of nightly programming on Cartoon Network.
The show, which is set at a hospital named after an imagined "Dr. Children," pokes fun at medical dramas like "Grey's Anatomy" and "House," and apparently takes place in Brazil, though no effort is made to support that claim. Most of the characters on "Hospital" avoid any actual doctoring by continuously making out with each other, sleeping with their patients and delivering metaphor-laden inner-monologues.
Corddry, who rose to fame after his stint as a "Daily Show" correspondent, stars as Blake, a morose doctor in permanent clown makeup and bloody scrubs modeled very (very) vaguely on "Patch Adams." The ensemble cast also features comedy favorites like Megan Mullally, Rob Huebel and Henry Winkler, with other guest spots from the likes of Michael Cera, Adam Scott, Ed Helms, and Rob's brother, Nate.
As Corddry winds up for the third season's premiere on June 2, he spoke to HuffPost about the origins of this "passion project" series, whether or not he'd ever do theater again, and the likelihood of a "Hot Tub Time Machine" sequel.
So, what are you doing in New York?
I'm mainly here doing press for the premiere of [the show] on June 2nd and the Cartoon Network upfronts, which is mostly just a party. A big, old party.

Is Cartoon Network lenient about what they let you get away with on the show?
Lenient doesn't go halfway to describe what they are. I'm very fond of calling Adult Swim "the Internet of television." We can pretty much get away with whatever we want.
Do they ever give notes?
Their input is extremely collaborative. Our executive producer is also a writer and always has great notes for us. If he ever gives us a note we don't agree with, we all trust each other.
Was there ever a goal to bring it to longer-form television?
Nope. Not at all. If we had spoken back then I would have told you there's no way I'm ever going to bring this to television. I just didn't think this kind of humor would sustain itself beyond five minutes. Honestly, I have no aspirations beyond what we're doing right now. This is really the definition of a passion project.
The show is extremely nonlinear; you're not really following a typical character arc or anything like that. Are there any plans to make it more continuous?
We really took a hard look at all the episodes for the upcoming season and made sure long-term relationships didn't last for more than an episode. If they somehow happened to connect, then we didn't put those episodes together. Our continuity is based on noncontinuity. There's actually a lot of ambition to keep it purely noncontinuous.
Any guest stars we can expect in the third season?
Jon Hamm comes back, Alicia Silverstone is in an episode, Bruce Davidson, Sarah Hyland from "Modern Family," Sarah Silverman, there's a lot of good ones.
You're also starring in a new Fox comedy, "Little in Common," which was recently picked up for midseason. Will it be difficult to transition into that world?
Yeah, it's definitely a different fare than "Children's Hospital." [The Fox show] is kind of a nice, little family comedy. It's very funny, though. Rob Thomas is the creator and he's got a very impressive TV pedigree.
At one point you were attached to star in a production of "True West" with your brother, Nate, at the Williamstown Theatre Festival. Any chance you'll ever do a play again?
Yeah, definitely! It'd have to be a perfect situation like that, though, 'cause it just takes a lot of time; schedules are so crazy. At the time [I took on the show] I told my agent I was going to do this play, and he was like, "Oh. My. God. Of course! We totally support you doing plays." But he only said that because they're really easy to get out of. I ended up filming "Hot Tub Time Machine" that summer, so I have no regrets. But it was unfortunate.
Any chance of a "Hot Tub" sequel any time soon?
Oh, man, I would love nothing more -- nothing more -- but given the state of MGM right now, I think the chances are probably slim to none. And if we do, it'll be 20 years from now when enough people have seen the movie and enjoyed it and we're very old.
When you can all travel back in time to 2010.
Yeah, exactly. "Hot Tub" ended up being pretty successful, but the opening couple weeks were less than stellar, and MGM is practically nonexistent right now. We just made the cut [last year]. There's another movie MGM made called "Cabin in the Woods," which is supposed to be awesome. It's a Joss Whedon movie. It hasn't been released yet. I don't really know what's going on at MGM.
Any other films coming up that we can look out for?
"Butter," I'm pretty proud of that one. That's with Jennifer Garner. I have no idea what's going on with it -- they're just kind of playing around with it this point, but I have to assume it'll come out soon. It was, like, two years ago we made it. I'm also shooting two end-of-the-world movies at the same time right now -- one's called "Rapturepalooza," with Craig Robinson, and one called "Seeking a Friend for the End of the World," starring Steve Carrell.
Calling all HuffPost superfans!
Sign up for membership to become a founding member and help shape HuffPost's next chapter