Colorado Gov. John Hickenlooper, although a vocal opponent of the measure who said "Colorado is known for many great things, marijuana should not be one of them," is trying to figure out exactly how to proceed with this historically unprecedented situation which could trigger a constitutional showdown between the state and federal government.
Hickenlooper announced Wednesday that he is trying to speak with Attorney General Eric Holder about how the Department of Justice will respond to Colorado's passage of A64, The Denver Post reported, and issued this tongue-in-cheek reaction to the marijuana amendment passing:
The voters have spoken and we have to respect their will. This will be a complicated process, but we intend to follow through. That said, federal law still says marijuana is an illegal drug so don't break out the Cheetos or gold fish too quickly.
Hickenlooper's joke about marijuana users wasn't taken kindly by all -- Tom Angell, spokesperson for Law Enforcement Against Prohibition, didn't appreciate the apparent joke the governor was making about marijuana users. "What an insult to the majority of voters who did not follow your recommendation, governor," responded Angell in a report by The Huffington Post's Matt Sledge. "I wouldn't be surprised to see that comment bite him in the ass."
"Colorado made history on election night in beginning the end of prohibition," Corry told The Huffington Post. "Voters want the governor to issue the proclamation without procrastination. He should taste his Cheetos and Goldfish so that we can taste freedom."
The details of what legal, taxed, recreational use marijuana looks like in Colorado remains unclear and it will likely be a year, before Colorado adults 21-and-over can enjoy the legal cultivation and sale of marijuana. However, the parts of the amendment related to individual behavior will go into effect as soon as Governor Hickenlooper certifies the results of the vote, a proclamation he is obligated to do within 30 days of the election, The Colorado Independent reported.
But the federal government's enforcement intent is murky. Of course, the drug is illegal from the federal government's perspective, but how they intend to enforce marijuana law is not clear. U.S. Attorney John Walsh's office said, "We are reviewing the ballot initiative and have no additional comment at this time." But Walsh's office is no friend to marijuana. Walsh has been at the top of an unprecedented crackdown on medical marijuana businesses in Colorado since the beginning of 2012 that has resulted in the forced shut-down of 57 dispensaries within 1,000 feet of schools.
On Wednesday Colorado Attorney General John Suthers, also a vocal critic of marijuana legalization, made a strong statement about his position on the matter, one that was not optimistic. However it was revealing for at least the fact that Suthers appears to be confounded by the passage of A64 and is asking for the DOJ to step up and make its intentions clearly known so he knows how to proceed in the state:
Despite my strongly held belief that the 'legalization' of marijuana on a state level is very bad public policy, voters can be assured that the Attorney General's Office will move forward in assisting the pertinent executive branch agencies to implement this new provision in the Colorado Constitution.

Coloradans should be cognizant of two caveats, however. First the ability of the federal government to criminally sanction possession, use and distribution of marijuana, even if grown, distributed and used in a single state, was recognized by the U.S. Supreme Court in Gonzales v. Raich (545 US.1,2005). Therefore, absent action by Congress, Coloradans should not expect to see successful legal challenges to the ability of the federal government to enforce its marijuana laws in Colorado. Accordingly, I call upon the United States Department of Justice to make known its intentions regarding prosecution of activities sanctioned by Amendment 64 (particularly large wholesale grow operations) as soon as possible in order to assist state regulators and the citizens of Colorado in making decisions about the implementation of Amendment 64.
On Tuesday, two former U.S drug officials told Reuters that the marijuana initiatives that passed in Colorado, as well as in Washington state, could be short-lived victories for pot advocates. "This is a symbolic victory for (legalization) advocates," Kevin Sabet, former advisor to the Obama administration's drug czar, said. The former drug officials said the federal government could sue to block the measures or threaten the shops with shut-down letters similar to what Walsh has already been doing in Colorado this year.
AG Holder, who was a vocal opponent of California's legalization initiative in 2010 saying he would "vigorously enforce" federal marijuana prohibition, has continued to remain silent on the issue during the election cycle and has continued to remain silent now that Colorado and Washington have passed their measures.
"Amendment 64 is one of the most important measures in a generation," Corry went on to say to The Huffington Post. "Amendment 64 received 50,000 more votes than President Obama, so we expect Obama will respect us."
Related
Before You Go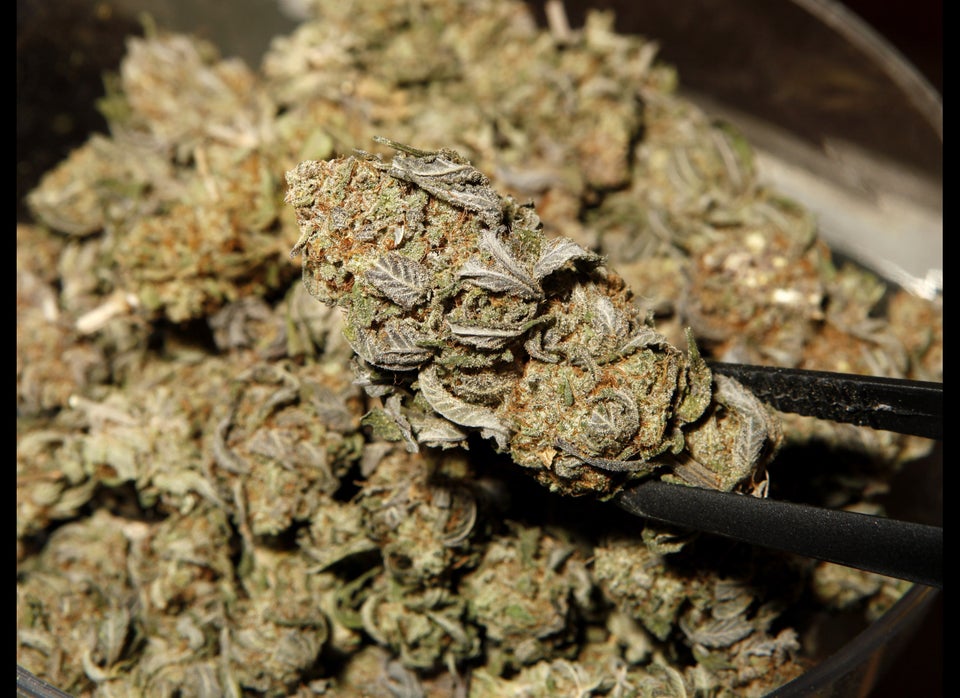 16 Facts About Marijuana And The U.S. Economy
Popular in the Community