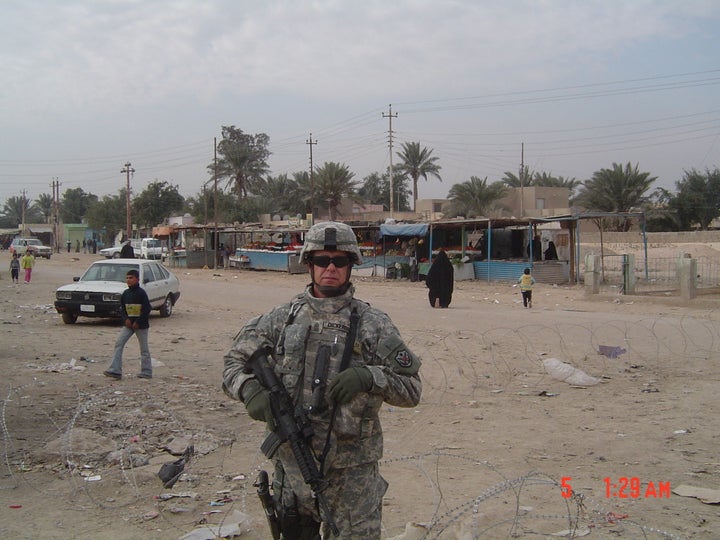 War comes with an incalculable human cost. And apparently a shipping fee of about $21.
Instead of being awarded the military honor in a formal ceremony, the vet with 29 years in the service was handed his award, and a shipping invoice, by a FedEx deliveryman outside his Sioux Falls, S.D., home.
"Leaders need to pay attention and take care of soldiers," Dickerson told The Huffington Post. "This is a gross injustice."
The shipping-and-handling fiasco was the last aggravation for Dickerson in his four-year quest to get the medal. His story was first reported by Keloland.com.
In 2007, he was a reservist embedded as an advisor to Iraqi soldiers. He was training troops to fight the insurgency, when a rocket exploded nearby and severely injured him.
"It threw me 20, 25 feet in the air -- it just crumpled me," said Dickerson, who said the blow inflicted a traumatic brain injury, shrapnel wounds, injuries to his right shoulder, lower back and neck and nerve damage in his hip.
A Purple Heart should have been easy to obtain. But because Dickerson was serving alongside Iraqi soldiers instead of American forces, no U.S. Army medic was able to issue him a Casualty Feeder Card, a document that "goes up the chain of command and notifies them of American casualties," he said.
"Being with Iraqi soldiers, I had no American medic with me -- and all of my Iraqi comrades with me were killed."
Dickerson says he spent two days in the hospital before returning to duty. But without the document, he couldn't convince Army officials of his merit.
"An American nurse who examined me issued a sworn statement, but that wasn't good enough for my commander in Iraq," he said.
After returning to the United States, Dickerson, who also served in Afghanistan, pursued the medal through the peacetime chain of command. His request was granted, and the Purple Heart was shipped to his home in 2009 -- with a delivery fee.
Army officials were not able to immediately explain how Dickerson wound up paying for his own Purple Heart.
"I'm positive that's not typical," said Army spokesman Troy Rolan.
In an email, Rolan noted that the Army received Dickerson's request in June 2009, reviewed it the following month and shipped the medal in August.
"The normal practice is to send the award to the Soldiers [sic] unit ... It would be up to the unit or Congressional Office to coordinate a ceremony," he wrote. "Unknown why the Soldier was charged postage for shipping."
Dickerson says he initially refused to pay the C.O.D., telling the deliveryman to charge the Army. A week later, FedEx sent him a bill.
He paid that bill and brought the charges to the attention of Army officials. Army brass tried to make it up to by sending an apology and a money order to reimburse him. But in yet another gaffe, Dickerson hasn't been able to cash the money order because it's made out to Roy Dirksen.
It's been nearly two years since Dickerson was forced to pay for his own medal, and he remains frustrated.
After getting word that two other soldiers might find themselves in a similar position, Dickerson says he recently penned a letter to a local newspaper outlining his plight.
"When I was a Sgt. Major, I double-checked and triple-checked everything," he told The Huffington Post. "Mistakes happen. This happened -- so resolve it."
Dickerson hopes to track down other soldiers who find themselves in similar situations and offer his support.
"If they would do it to a Sgt. Major, they'll do it to anybody," he said.
Related
Popular in the Community