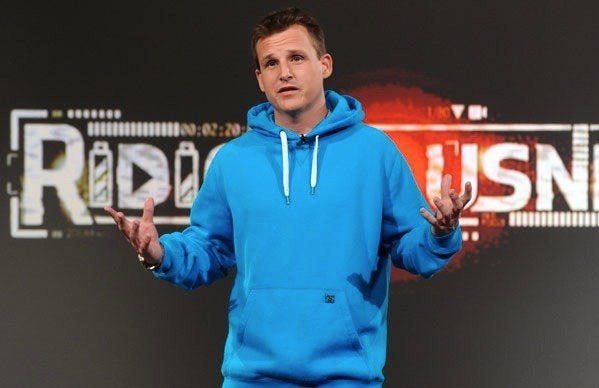 Have you ever done something really embarrassing when no one was looking? Chances are you've done 'The Move On.'
"Shows like that are scripted," Dyrdek tells The Huffington Post. "They're sketch comedy shows with around eight to 10 videos. Our show will have up to 45 videos, and it's more like the way you and your friends would watch it and I'm just commenting on everything as it happens. The stars of this show are the videos."
And when it comes to "Ridiculousness," there's no lack of embarrassing, owww-inducing videos.
"We had a staff of about 10 people who would just watch hundreds and hundreds of videos, and then we would figure out funny things about them and put them into categories," says Dyrdek. "People just keep doing ridiculously dumb things and getting them caught on camera, so there's really a never-ending supply of material.
Dyrdek takes the best 'I-really-shouldn't-be-laughing-but-it's-too-funny' clips and makes a full 30-minute television show out of them, complete with a tricked-out set that looks like a computer screen, and with themed segments like 'Redneck Good Times,' 'Worst Case Scenario,' 'Pop Stuck,' 'Hot Mess,' 'What Happened Last Night' and 'Ridiculousness in Training.'
"The show is made the same way you and your friends would all sit around and watch this stuff and what would pop into your head," says Dyrdek. "It's amazing what some back-woods country people can put together to have a good time with. We found a group of videos that were all these redneck guys doing crazy ridiculous stuff. And them 'Hot Mess' is just the idea of how obnoxious a girl with too much liquor can be and how much she can hurt herself."
"We're all watching it together as an audience, and sometimes the audience member would point out something that I missed," says Dyrdek. As for the additional co-hosts, it's all about adding unique perspectives. "I wanted the ditzy-girl perspective and the hood homie perspective. They could spot something that I would never notice, like 'look how pasty his thighs are,' and it just adds a lot of these golden, real moments of of our minds being blown and hysterically laughing."
When it comes to the videos featured on the show, Dyrdek didn't shy away from some of the more painful viral moments--that is, unless someone broke a bone. As a professional skateboarder himself, that's a all-too-familiar situation that even Dyrdek can't stomach.
"For me, I don't want to anyone break a bone," says Dyrdek. "As a professional skateboarder, I can't look at anyone getting hurt--it freaks me out. I drew the line at anything bloody and violent. If you do the 'slam-and-sprint'--where you slam really hard and then run really fast to wear off the pain--then that's fair game."
Check out this sneak peek of what you'll see when the show premieres Mon., Aug. 29, 10 p.m. ET on MTV. You can also expect a few friendly faces--like Johnny Knoxville, Big Black, Rob's cousin "Drama" and even some viral sensations--to make an appearance in Dyrdek's "Ridiculousness."
Popular in the Community