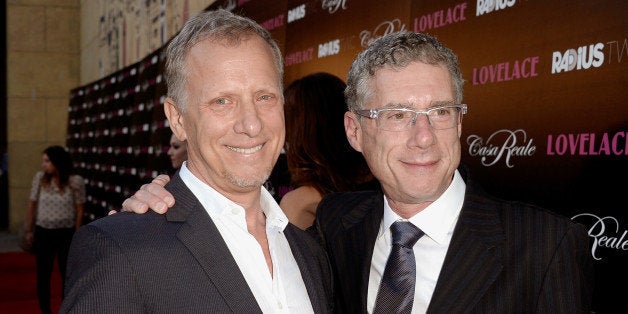 After helming documentaries like "The Celluloid Closet" and the Academy Award-winning "The Life and Times of Harvey Milk," the directing duo, Jeffrey Friedman and Rob Epstein, have already earned their rightful place among some of the best filmmakers and documentarians in film history.
In recent years Friedman and Epstein have branched out to directing feature films such as "Howl," with James Franco, and now "Lovelace," starring Amanda Seyfried.
While Friedman and Epstein are known for work that concentrates on gay subject matter, "Lovelace" is about the straight porn world and what Lovelace does to escape the spotlight that is thrust upon her.
The Huffington Post recently spoke with Friedman and Epstein about making the film, why they chose Lovelace's story and some of their upcoming projects, including biopics of Anita Bryant (starring Uma Thurman) and "Mighty Real" singer Sylvester.
The Huffington Post: What intrigued you about Linda Lovelace's story in the first place?
Rob Epstein: Well, trying to figure out who she was. She was famous for this notorious act but we didn't really know much about her. The more we learned about her, the more of an enigma she became because she told her story in so many different ways in different junctures in her life. It was really then from the storytelling perspective. It really was "Well, how do you tell the story of an enigma?" and that's what really interested us. Also, just who she was at that point -- and time and history -- and everything it represented with this cultural shift that was happening with the mainstreaming of pornography and here we are so far at the other end of that continuum.
Do you feel "Deep Throat" helped start that conversation?
Epstein: It was an important part of the conversation and it was very identified with the so-called sexual revolution which has its own mythology and its own dark underbelly. One of the other intriguing things about the story was how Linda's personal journey reflected what was going on in the culture, in terms of feeling sexually liberated and then feeling liberated as a woman, as a full person.
Why do a film about a heterosexual porn star? Was that a conscious decision as two gay men ? Did you ever think of doing something about a gay porn star?
Epstein: No, we were really excited to do this. In retrospect we have thought about that question and have come to feel there is a connection as gay men to this story, in that Linda had to go through this internal examination of who she was and then come out and present herself in a different way, which is something all gay people have to go through. So it felt like, on some level, she did have to go through a coming out.
Aside from the physical sex acts, do you think there are a lot of differences in the production of straight and gay porn?
Epstein: I think the world of porn now is so different from the world of porn then. First of all, porn is ubiquitous, you can find it anywhere on the Internet for free or for pay and you can go to porn sites and see how much you might get paid if you decide to star in a porn film. It's a completely different reality than what it was when Linda was doing it. We actually went on a porn set as part of our research. The shoot was directed by a woman and the female lead was basically calling the shots, choreographing the whole thing. That wasn't Linda's experience.
Jeffrey Friedman: I don't feel pornography was the subject of the film. It was Linda. Porn was just the context, the background for the story, and it was a volatile background for it to happen in, but it was really about a woman's journey, a woman overcoming really harsh adversity and really finding her own voice and becoming her own person. That's what really interested us about the story.
Do you think gay men can relate Linda's story?
Epstein: She's a heroic woman -- gay men love that.
How did Amanda Seyfried get involved? How did the cast come together in general?
Friedman: Amanda read the script, we met with her and she felt comfortable with us as directors. She was game for something that would challenge her and be a stretch for her, so she was ready to go.
Sharon Stone is virtually unrecognizable in the film...
Friedman: Our first conversation with her was about how unglamorous she was going to be and she was ready, she said "Let's do it." We actually had to pull her back -- she wanted to go further than we wanted to go.
Epstein: The thing about Sharon's part, which is also a very difficult part because it's so harsh -- she is the meanest mother ever -- was that from her perspective and the perspective of that character, that was her idea of love. It might come across as harshness, but in her mind, she thought she was doing what was right for a woman of her generation to a daughter of her generation.
Steven Soderbergh spoke about how "Behind the Candelabra" couldn't get funding from studios, which is one of the reasons it went to HBO. Did you experience anything similar because of the controversial subject matter?
Epstein: No, the studio was behind it before we were even on board. They really believed in the project from the get go and every step of the way.
Do you have other projects coming up?
Friedman: We have a short documentary called "The Battle of amfAR" that's going to air on HBO in December.
What is that documentary about?
Friedman: It's about two powerhouse women, Elizabeth Taylor and Mathilde Krim, who came together very early in the AIDS epidemic at a moment when very few other people were [mobilizing] and decided to join forces and change the course of the epidemic. They started the first national AIDS research foundation. It's about their activism and the power to get out there and do something and change things. We found amazing footage of Elizabeth Taylor as an activist. To see her actually stand in front of Congress staring down the senators and making demands, it was such a treasure to find. We are working on a history of the Oscars for Turner Classic Movies with amazing material that's never been seen before. We're working on another Amanda [Seyfried] project, "The Girl Who Conned the Ivy League," that was loosely based on a true story, and we're working on Anita Bryant...
Tell me about the Anita Bryant movie?
Epstein: It's looking at that period of time from the wrong side of history, knowing where we are from this side of history, trying to understand from her point of view, looking at that period from the flip side.
Is there a topic or dream project you would still love to do?
Epstein: I've always wanted to do a movie about Sylvester. That's as gay as you get. There are plans, but way down the line. A fascinating story, an incredible character, and the music.... nothing better.
"Lovelace" opens today, August 9, in theaters and is also available on VOD and iTunes. Watch the trailer below.
Calling all HuffPost superfans!
Sign up for membership to become a founding member and help shape HuffPost's next chapter
BEFORE YOU GO