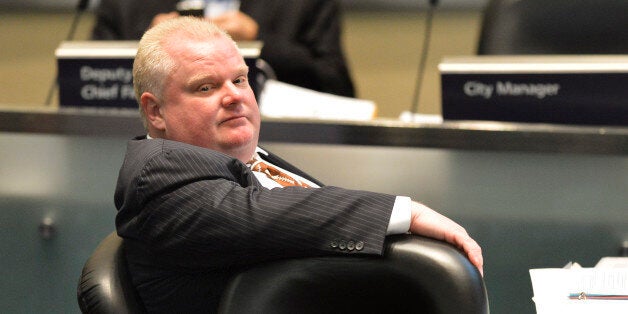 Scott MacIntyre, the former common law husband of Rob Ford's sister, filed a statement of claim Wednesday alleging the Toronto mayor was behind his vicious, jailhouse beating in March, 2012.
MacIntyre, a convicted drug dealer, was charged in January, 2012, after breaking into Rob Ford's Etobicoke home and later threatening to kill the mayor. He was sentenced to 10 months behind bars.
According to The Globe and Mail, MacIntyre alleges his assault was arranged by Aedan Petros, a former member of the football team Ford coached at Don Bosco Catholic Secondary School, who was serving time in connection to an armed robbery.
MacIntyre says he was attacked in the shower at Toronto West Detention Centre after weeks of threats from inmates urging him not to go public with stories about Ford's alcohol and drug abuse.
"Ford's drug and alcohol abuse, and his association with criminals to facilitate his drug abuse... are longstanding,'' MacIntyre writes in his statement of claim.
"Ford was anxious that these matters should remain undiscovered."
Petros and the Ontario Ministry of Correctional Services, which is responsible for the province's jails, are also named in the lawsuit, according to the Globe.
MacIntyre alleges jailhouse guards allowed the assault to occur, didn't come to his aid and that video surveillance in the area had been "inexplicably disabled."
According to The National Post, the lawsuit alleges the mayor's murder rant was recorded in Aboodowleh's house in March, 2012. The statement of claim states that "Ford became extremely agitated and Ford and Aboodowleh discussed plans to have the plaintiff beaten or killed."
MacIntyre is seeking $1 million in damages from all of the defendants, plus $100,000 from each of them for aggravated, punitive and penal damages. He is also seeking another $100,000 from the ministry, who he alleges breached his charter right to life, liberty and security of the person.
Ford's lawyer, Dennis Morris, told reporters at city hall that MacIntyre's allegations are "without fact or foundation."
When a reporter suggested the mayor doesn't have much credibility anymore when it comes to criminal manners, Morris shot back that Ford has "tremendous credibility."
Ford offered no comment when reporters asked him about the suit on Wednesday.
None of the allegations have been proven in court.
With files from The Canadian Press
Calling all HuffPost superfans!
Sign up for membership to become a founding member and help shape HuffPost's next chapter