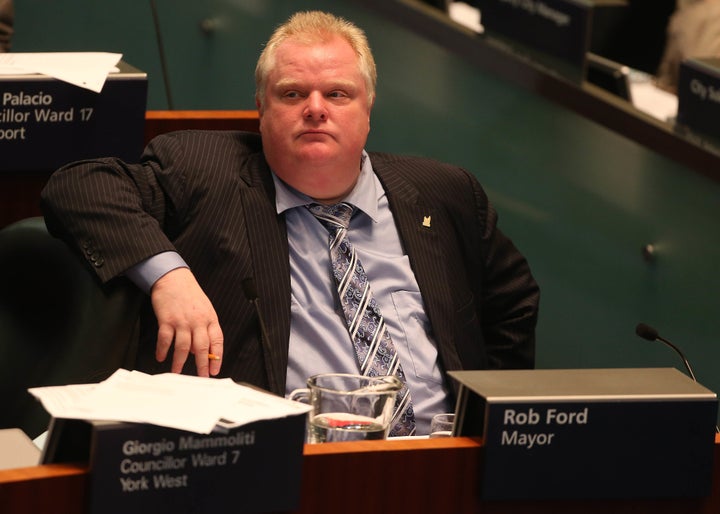 A publication ban on the infamous video of former Toronto mayor Rob Ford smoking crack cocaine was lifted on Thursday, allowing for the first public airing of the footage that sparked a political scandal and media circus in 2013.
In the short cell phone video, Ford, who died earlier this year, appears in a disheveled state as he sits with a lighter in one hand and glass pipe in the other. He largely mumbles in agreement as an unseen friend, Elena Basso, talks animatedly about Ford's achievements and denounces his detractors with some explicit language. At one point, Ford calls current Prime Minister Justin Trudeau a "fat dick."
The tape has had a long and bizarre journey to public view. Ford, who died of a rare form of cancer in March, was the mayor of Canada's largest city when reporters from the Toronto Star newspaper and Gawker wrote, in May 2013, that they had viewed a tape of him using crack. Gawker raised $200,000 to buy the tape from their unnamed source but the deal ultimately fell through.
In October that year, Toronto police made a surprise announcement that they secured the footage from a hard drive during a series of raids targeting drugs and weapons. Canadian authorities also charged Ford's driver and friend, Alexander Lisi, with extortion for trying to retrieve the tape of Ford from a gang member. The charges against Lisi were dropped this week, allowing a judge to lift the publication ban on the video  ― which was held as evidence ― and resulting in its public release. 
Ford was already an outsized figure in the city for his bombastic persona and controversial populist politics, but the reports of his drug use and subsequent denials briefly turned him into something of an international celebrity. He became a frequent punchline of late-night comedians and even appeared as a guest on Jimmy Kimmel Live.
Ford refused to resign through the scandal, but eventually took leave to enter rehab. He dropped out of the mayoral re-election race after doctors diagnosed him with cancer in September 2014. Ford died of his illness 18 months later. He never faced any criminal charges in relation to the tape.
Calling all HuffPost superfans!
Sign up for membership to become a founding member and help shape HuffPost's next chapter