WASHINGTON — In many universes, it would be strange for Rob Goldstone, a British publicist and globetrotting eager beaver whose life could easily be mistaken for extended performance art, to be at the center of a massive political scandal involving the president of the United States. In a video he once posted to Facebook, Goldstone frantically shrieks while grabbing dollar bills out of a money wind tunnel. In another post, he is seen wearing a Greek gold-leaf crown with the caption "The Emperor Muppettus Maximus." He posts from trips to Greece, Bangkok and Montenegro with insights like "Moussaka yum yum 👅 ". In June 2016, he weighed in on the killing of Harambe the gorilla: "The zoo officials should have shot" the "idiotic child," he declared.
In many universes, the involvement of this sort of character in a major political scandal might seem very strange. But this is the universe called 2017. So perhaps it makes perfect sense that Rob Goldstone, who once posted a photo of himself biting an Olympic gold medal with the caption "Golden Boy in Rio," is the man responsible for placing a Kremlin-linked lawyer in a room with President Donald Trump's oldest son — suggesting that Donald Trump Jr. hoped to collude with the Russian government during the 2016 election.
Goldstone, who appears to own at least one pair of black and yellow shoes that say "SEX," has a work history with the Trumps that dates back to at least 2013. That's when he and Aras Agalarov, a billionaire Azerbaijani-Russian businessman with ties to Russian President Vladimir Putin, helped convince the Trump-owned Miss Universe Pageant to hold that year's event in Moscow. Goldstone believed the Miss Universe event would help sell Russian pop singer Emin Agalarov — Goldstone's client and Aras' son — to a global audience.
It was the same pageant that Trump hoped would help make Putin his "new best friend." The Russian president skipped the event, but with Goldstone's help, Trump met with Aras Agalarov and crafted a deal to build a Trump-licensed property in Moscow, according to Yahoo News. "Trump Tower-Moscow is next," Trump tweeted to Agalarov shortly after the pageant.
Trump put Donald Trump Jr. in charge of the project, and Ivanka Trump later traveled to Moscow to scout potential locations, according to Yahoo News. The Trump Organization has long maintained that the company never had a full agreement to build a property in Moscow.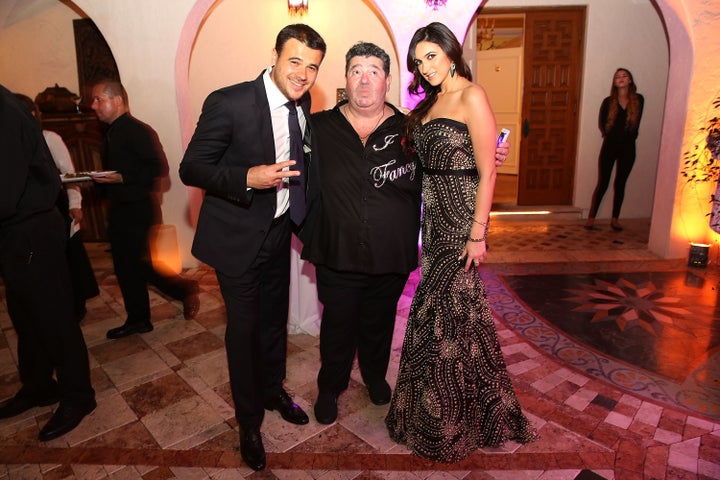 The whole incident raises a question: Is Goldstone — who helped hockey legend Wayne Gretzky plan a surprise party for his wife in 1999, has toured with Michael Jackson, once counted R&B group TLC as a client, and is friendly with Ivan Wilzig, an EDM recording artist and philanthropist who goes by the name "Sir Ivan" — a political mastermind, or just doing his job?
We reached out to the artists Goldstone claims to have represented through Crawford Goldstone Publicity when they toured Australia — including Cyndi Lauper, Julio Iglesias, James Taylor, Tracy Chapman, UB40, Marianne Faithfull, U2 and Poison — to talk about Goldstone.
Goldstone's involvement with the Russia incident was probably "very benign and innocent," Sir Ivan speculated. "It was probably strictly do somebody a favor, because he's a nice guy. ... I'm sure he was doing nothing more than networking, I doubt there was an ounce of political intrigue involved that he would have been aware of. If anything, maybe he thought he might get a plum account as the publicist for the Miss World pageant or something."
Sir Ivan said he never heard Goldstone say anything political, but "it would surprise me if he was a strong Trump advocate." He reiterated that, "I think he strictly did it for social purposes, and to do somebody a favor."
Goldstone ― who once posted a photo of himself wearing a gold hat emblazoned with the word "CUNTY," which he promised is "very me" ― did seem to celebrate Trump's victory in November. He posted hourly updates on state-by-state results to Facebook throughout the evening of Election Day, then posted a link to a 2013 music video in which Trump appeared with Emin Agalarov. "Getting Donald Trump to appear in Emin's music video for 'In Another Life' now seems quite a good idea by me! He will be the only American President ever to appear in a music video," Goldstone wrote.
Emin also congratulated Trump on his November victory. "The sky is the limit!" he posted to Instagram Nov. 9, along with a photo of himself, his father and Trump. "Congratulations Mr. President."
He has checked in at Trump's New York properties, via Facebook, twice since Trump took office in January.
In April, Goldstone — who did not respond to HuffPost's requests for comment about the story dominating world headlines — declared in a post to Facebook that he is in "a serious relationship with Bread."
"I just can't resist it - this is true love!!!" he said.
It's only July. Hold on tight.
Support HuffPost
The Stakes Have Never Been Higher
Popular in the Community