Are you ready? We'd like to present the Arthur George men's sock line, designed by Rob Kardashian.
Rob, the younger brother of the Kardashi-klan who's best known for looking uncomfortable on "Keeping Up With The Kardashians" as the girls do their usual hijinks, launched a line of socks earlier this month, for now available exclusively at Neiman Marcus. "No one wants to see a boring tube sock," Rob, who has a business degree from the University of Southern California, told HuffPost last year. (Yeah, this sock line has been awhile in the making.) "I am very passionate about it and I think guys and girls agree with me. Plus you can give your dress socks to your girlfriend when she sleeps over."
But unlike the ladies' Kardashian Kollection, Rob's socks don't use the famous last name to help sell the goods. "The label still says it's by Robert Kardashian, but I'm more comfortable if it doesn't scream Kardashian at you," Rob told Women's Wear Daily. "We don't have to overkill everything but, at the same time, you can't get away from it. And Arthur George sounds classy."
While the name is classy, the socks themselves are rather loud and bold, like, uh, a few of Rob's family members. One pair comes emblazoned with neon zebra stripes; others feature camouflage, swirls and brash mosaic prints. It's certainly a look for the fellow who wants to make a statement.
And from the sound of things, Rob has sartorial dreams that go way beyond camo-print hosiery.
"Ralph Lauren started with ties and I want to emulate that," he told WWD. "But I'm starting small and I don't want to fail. And socks is where it begins."
Socks is where it begins.
See some of Rob's Arthur George socks below. Would you pick up a pair for your man?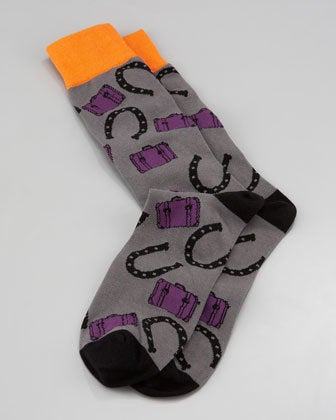 Rob Kardashian's Socks Line