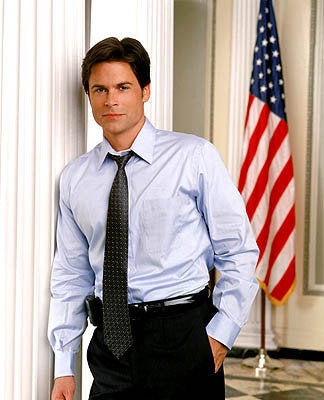 The old phrase is that Washington, DC is Hollywood for ugly people. Rob Lowe made a career in bridging that gap; he spent years glamming up DC in Hollywood -- and now, he's set to make pretty the ugly side of politics once again.
The former "West Wing" and "Brothers & Sisters," star will star in "Knife Fight," Deadline reports, a film "about the dark side of political operatives." Scheduled for release at the apex of the 2012 election season, the film will put Lowe back in the national political scene once again; he currently plays an abnormally chipper town government official on the NBC comedy "Parks and Recreation."
And while "The West Wing," for which Lowe was nominated for an Emmy, was ultimately about a hopeful core of idealistic government employees, "Knife Fight" won't quite be as touching of a look at the political meat grinder.
He's also gotten a bit political, Hollywood awards show style, surprising some people when he submitted his name for consideration for a nomination for the Best Lead Actor in a Comedy Series Emmy, despite being the member of a very ensemble cast at "Parks and Rec."
REAL LIFE. REAL NEWS. REAL VOICES.
Help us tell more of the stories that matter from voices that too often remain unheard.