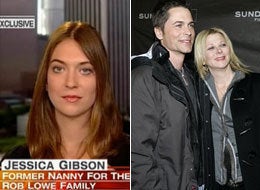 Last Monday actor Rob Lowe wrote an exclusive blog for Huffington Post as preemptive strike against what he described as a $1.5M blackmail attempt by a former nanny to his two sons. He has since filed a lawsuit against her and two other members of his household staff. Tuesday that nanny, Jessica Gibson, appeared on Today with her attorney Gloria Allred. She claims she was sexually harassed and assaulted but kept working because she needed the job. (SCROLL FOR VIDEO & HER COUNTERSUIT)

"I love the children, I needed the job, and I always thought it would get better -- and I was scared," Gibson told TODAY's Meredith Vieira Tuesday, one day after she filed a countersuit against the actor and his makeup artist wife, Sheryl Berkoff.

"A lot of people in her position are scared to go against someone who is rich and powerful and a famous celebrity such as Rob Lowe," added Gibson's attorney, Gloria Allred...

In court documents filed Monday, Gibson alleges: "On several occasions beginning in or about September 2005 and ending in or about January 2008, without consent, Cross Defendant Rob Lowe placed his hand inside Gibson's pants in order to touch her crotch. In or about December 2007, Cross Defendant Lowe grabbed Gibson's buttocks without consent."
In her suit, Gibson claims Lowe not only groped her, he repeatedly exposed his "flaccid penis" and his "erect penis" to her, repeatedly asked her "to touch his penis," repeatedly masturbated in front of her, showed her pornographic images on his computer, asked her to give him a massage and tell him dirty stories ... and that's just Rob!

She then says Rob's wife Sheryl walked around naked --"completely exposing herself" -- made "numerous sexually vulgar comments about male genitalia," "would talk about her sex life" with Rob and said that "she would never have a boyfriend because only a married man would want to f*** her."


Lowe's estate manager, Carol Andrade, defended the actor in a written declaration provided to Lowe's legal team and obtained by PEOPLE: "Jessica never told me ... that Rob ever said or did anything that she found inappropriate or offensive or that made her feel uncomfortable ... or made sexual advances toward her."

...
In another declaration, Jennifer Dynof, president of Lowe Profile, a company owned by Lowe, also stated that she'd never witnessed any questionable behavior by Lowe.

"[In the past four years working for Rob], I have never seen him make any sexual advances toward any other woman or act inappropriately, offensively or disrespectfully toward any woman," Dynof stated.

Both employees added they would testify in court if need be.

REAL LIFE. REAL NEWS. REAL VOICES.
Help us tell more of the stories that matter from voices that too often remain unheard.