During his career in the Navy, Rob O'Neill served as a team leader within the Naval Special Warfare Development Group, also known as SEAL Team Six, and completed more than 400 different combat missions within four dramas of war.
The Butte native was deployed more than a dozen times and took part in high-priority operations including the killing of Osama Bin Laden and hijacking of the Maersk Alabama and Operation Neptune's Spear.
Stressing the key tenets of self-reliance and mental preparedness, on Friday, O'Neill talked with Helena high school students and spoke at a Leadership Montana event.
"Success is not something that is obtained or achieved, it is something that is rented and borrowed," said O'Neill. "You have to make the choice every single day to be successful. Just because you come from Chicago, Miami or New York, it doesn't mean you are more prepared or qualified than someone from somewhere else. I was born in Butte, Montana, and I ended up in Osama bin Laden's bedroom. You can go anywhere."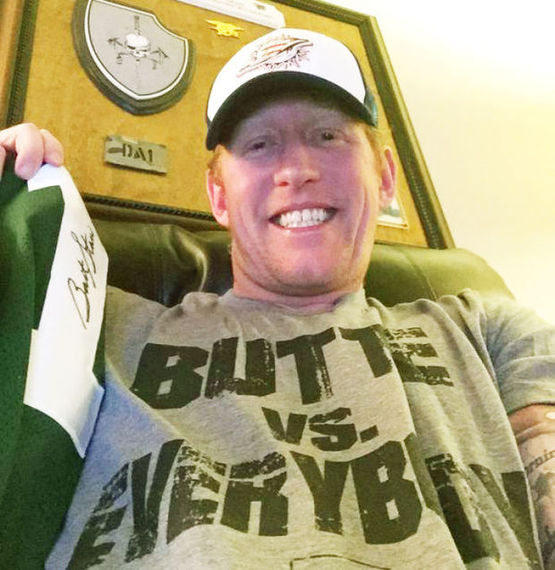 O'Neill mingled with curious, excited guests at the Montana Club before he talked at the Helena Civic Center about his theories of success, leadership and life. In the approximately 90-minute discussion, O'Neill took people back to his earliest days growing up in Butte. He said that joining the branch of the Navy was a lucky, random choice; the recruiter for the Marines was absent.
"I was 19 in Butte, and I had just gotten out of a horrible relationship with my high-school sweetheart. My adventure was to join the military -- the adventure that of a lot of Montana kids follow. I was a hunter who wanted to be a sniper."
O'Neill mixed in a few humorous anecdotes about his inability to swim -- a survivalist essential of Navy life. He took his first lessons in the Montana Tech college pool.
From there, O'Neill explained the challenges of SEAL-training, the rigors of 1,000 pushups, sit ups, and squats per day, the "drown-proofing" exercises, and the 13 weeks of subsequent tactical training. At 21, he embarked on his first deployment, a pre-9/11 period of non-combat, relatively peaceful deportations all over the world. "There is nothing better than Germany during Oktoberfest," said O'Neill. "I can call this the 'global war on tourism' part of my life."
His assignments quickly accrued in their severity. He served as the lead jumper on the operation to rescue Capt. Richard Phillips, whose ship was taken hostage by Somali pirates in 2009 in the Indian Ocean. The Tom Hanks' movie "Captain Phillips" is based on that incident. O'Neill helped save Navy SEAL Marcus Luttrell, the only survivor in an ill-fated mission to capture a Taliban leader. "Lone Survivor," a film starring Mark Wahlberg based on those events, was released in 2013.
On September 11, 2001, 19 militants linked with the Islamic extremist group al Qaeda hijacked four airliners and carried out suicide attacks against targets in the United States. Over 3,000 people were killed during the attacks in New York City and Washington, D.C. The death and chaos triggered major U.S. initiatives and O'Neill said he "couldn't wait to get to Afghanistan as soon as I could."
As part of a Tier-1 Unit, O'Neill was no longer a conventional soldier but a nonexistent one. From this point forward, he would use fake email addresses and alias and wake up each new morning sworn to the eradication of "kill houses," "shoot houses," or "houses of terrorists." He faced near-death ambushes on the Afghanistan-Pakistan border, foreign fighters with white skin shouting 'Allah Akbar,' rocket-propelled grenades, and all of the other harrowing war-movie scenarios one can imagine. In more than 400 combat missions, however, not one man in his team was ever seriously hurt, he said.
"Stress is a choice," said O'Neill. "All stress in life is self-induced. Fear lets you know you are alive. But panic will get you killed. I relied on every other man to be doing their job and I did mine."
O'Neill showed images of interdicted terrorists who, he said, were planning to blow up a village frequented by Americans outside Kabul. "We stopped them and I will put it this way: their suicide mission was successful." Describing one photo of a typical "terrorist house" which he engaged in close quarters battle, "it is part crossword puzzle and part Ewok village, full of bad individuals."
He didn't expand on the capturing and killing of Osama bin Laden.
"The story is out there," said O'Neill, who did an anonymous interview with Esquire magazine in 2013 about the fateful bin Laden raid, and took part in a Fox News special about it last year. "I can tell you I'm the only American to have seen bin Laden alive and the only one to have shot him three times in the head."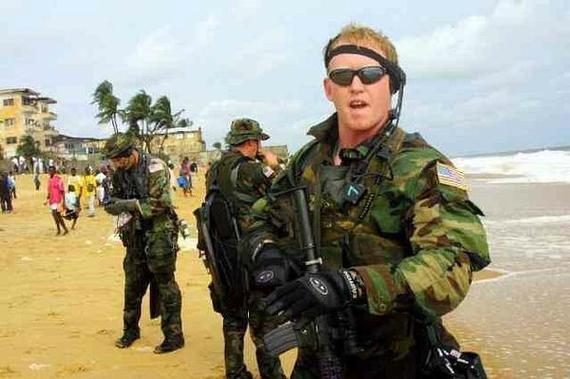 Several months ago, O'Neill revealed that he is the Navy SEAL who shot and killed bin Laden with a bullet to the forehead in a nighttime raid in Abbottabad, Pakistan, on May 2, 2011. The 38-year-old said that he had weighed the decision of whether to out himself as the assassin for months before arriving at his decision.
Since being honorably discharged in 2012, O'Neill has brushed with increasing notoriety since leaving the military. He provides leadership, management and risk-assessment advice to various organizations as a speaker and consultant. He recently signed a deal to work as a contributor for Fox News.
O'Neill has critics. His sensitive revelations have ignited debate over whether military personnel locked in some of the nation's most critical national-security initiatives ought to be heralded for their service, or keep the knowledge of their roles in clandestine operations from public consumption.
Asked if he felt as if he were standing in jeopardy every minute, he answered wryly, "I am aware and prepared. I don't feel as if ISIS or al Qaeda would be looking at an individual as a target. I would be more concerned where there are roomfuls of Americans -- like here."
When he returned to Butte in December 2013 to visit family, his first stop when he got there was to grab a pork chop sandwich. He jokingly claims that McDonald's in Butte "was the best job I ever had." He was 15 at the time and two of his siblings were also employed there. "Some guy actually wanted to know what the fish sandwich was made of. I told him, well, sea bass. My brother, he was more serious about things, he said, 'don't you know it's North American cod, dummy?'"
Returning to Montana, he said, always strikes a chord, a fond reminder of the good things in life.
"I love coming home. I look forward to it every time. Sometimes, it takes leaving to realize how good stuff is."

Photos courtesy Rob O'Neill.
Update: A quoted remark attributed to Rob O'Neill has been removed from this post because it could not be independently verified.
Brian D'Ambrosio's latest book, the positively acclaimed Life in the Trenches, offers 37 narratives and stories of modern day trench warriors -- including Stephen King's favorite folksinger (James McMurtry); a Bronx-born comic who switched from a favorite of the Black Panthers to a conservative spokesman (Jimmie Walker); a boxer who spiraled from the mountaintop into homelessness (Iran Barkley); Greco-Roman wrestler and MMA forefather from the Midwest (Dan "The Beast" Severn); entertainment wrestlers so convincing as villains that they repeatedly put their own lives in danger (Ivan Koloff, "Rowdy" Roddy Piper).
REAL LIFE. REAL NEWS. REAL VOICES.
Help us tell more of the stories that matter from voices that too often remain unheard.