Over the course of 72 hours this past week, Greg Gianforte, the millionaire Republican running for Montana's open congressional seat, took three different stances on the health care bill just passed by the House of Representatives.
And his opponent took that flip-flopping to the bank.
Democrat Rob Quist, who has refused to accept donations from lobbyists or corporate political action committees, raised over $550,000 in the past four days, his campaign told HuffPost on Wednesday. Campaign contributions, which average $25 and have come from about 147,000 individual donors, now top $3.8 million.
"Our campaign has seen a surge in donations and volunteer enthusiasm since New Jersey multimillionaire Greg Gianforte was caught saying one thing to Montanans and the opposite to his D.C. lobbyist donors," Tina Olechowski, Quist's spokeswoman, said in a statement. "Every day Montana voters learn more about how Gianforte doesn't share Montana values, and thanks to the grassroots movement and momentum behind Rob we'll have the resources we need to win on May 25th."
The banjo-strumming folk singer is tailing the deep-pocketed Gianforte, who narrowly lost a race for Montana governor last year, by about 6 points in the latest poll. The GOP has stepped up its support for Gianforte. Last month, the National Rifle Association launched a series of ads attacking Quist for supporting gun control. The president's eldest son, hunting enthusiast Donald Trump Jr., campaigned with Gianforte last month, and has announced plans to make a return trip. Vice President Mike Pence is slated to visit Billings, Montana's largest city, on Friday.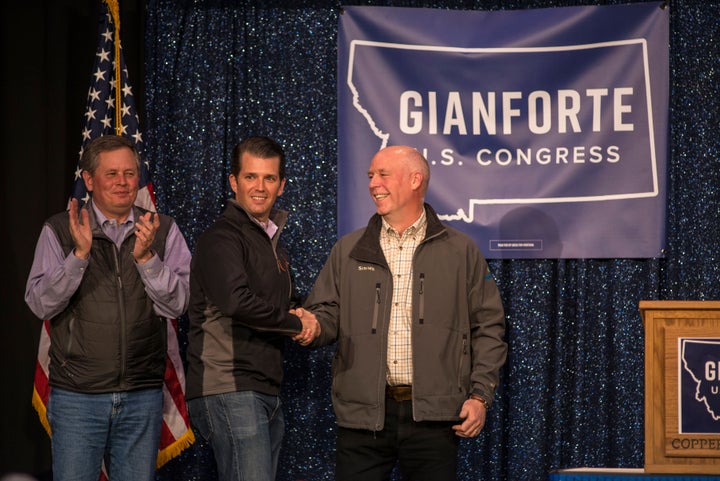 Quist has countered the NRA blitz with his own ads in which he appears, clad in a cowboy hat, shooting a TV with a rifle. In a state where public land access is a key issue, Quist has repeatedly attacked Gianforte for suing Montana in 2009 to block fishermen from using a river running through his palatial property.
But with anemic public support for the American Health Care Act, health care could become an effective wedge issue for Quist as he courts voters outside his base. The bill, which would dramatically scale back protections of the Affordable Care Act, known colloquially as Obamacare, narrowly passed the Republican-controlled House last Thursday. Less than a third of the public favors the new bill, according to a HuffPost/YouGov survey published Monday. A Fox News poll found similar results.
On Thursday, as President Donald Trump feted the AHCA's passage with a flashy, beer-fueled musical celebration, Gianforte declined to comment on the bill. "Greg needs to know all the facts because it's important to know exactly what's in the bill before he votes on it," spokesman Shane Scanlon told the Missoulian.
But later that day, Gianforte told lobbyist donors in Washington, D.C., that he backed the bill.
"The votes in the House are going to determine whether we get tax reform done, sounds like we just passed a health care thing, which I'm thankful for, sounds like we're starting to repeal and replace," Gianforte said, according to audio of the call published by The New York Times.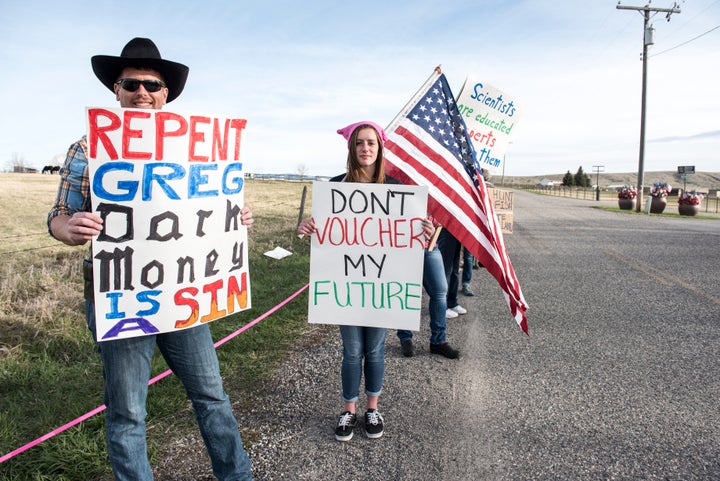 "I've been very clear, to repeal and replace 'Obamacare' we must have guarantees here in Montana that rates will go down, rural access will be preserved, and people with pre-existing conditions will be protected," Gianforte told KPAX. "If I didn't have that assurance I would have voted against it."
Gianforte has accepted $2 million from the Congressional Leadership Fund, which only supports candidates who back the AHCA. His campaign did not immediately offer a comment Wednesday morning.
The personal histories of Gianforte and his opponent play handily into Democrats' health care narrative. In 1991, Gianforte, a software entrepreneur, settled a lawsuit with a former employee who'd accused Gianforte of firing him for having multiple sclerosis. By contrast, Quist, a musician and son of ranchers whose wife is a real estate agent, spiraled into debt after undergoing a botched surgery that counted as a pre-existing condition, disqualifying him from health insurance. He was forced to sell off part of his family's ranch and access Social Security early to afford follow-up surgeries and avoid bankruptcy.
"Montanans deserve and expect honesty from their representatives but we've yet to see that from New Jersey multimillionaire Greg Gianforte," Olechowski told HuffPost. "All the damage control his wealth can buy can't walk this back ― Montanans expect straight talk, not a career politician who will only share his true positions with lobbyist donors behind closed doors."
This story has been updated with the latest available contribution figures from Quist's campaign.
Before You Go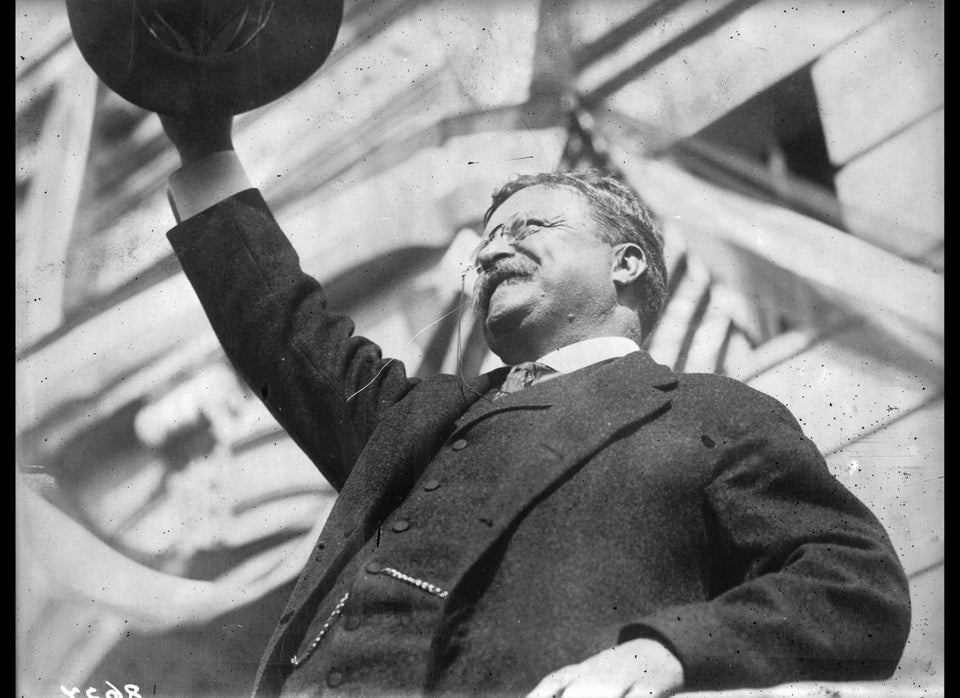 Health Care Reform Efforts In U.S. History
Popular in the Community