The populist Democrat running for Montana's open seat in the House of Representatives has hit a major fundraising milestone, as a race ignored until last month by party officials heats up in its final week.
Donations to Rob Quist, the bluegrass legend who won an unlikely bid for the nomination in March, have surpassed $5 million, his campaign announced on Thursday. The contributions averaged less than $25 each and came from roughly 200,000 individuals. For context, donations to Sen. Bernie Sanders (I-Vt.), who has endorsed Quist, averaged $27 donations during his insurgent bid for the Democratic presidential nomination last year.
Fundraising surged this month after Greg Gianforte, Quist's multimillionaire Republican opponent, waffled on his support for the controversial health care bill just passed by the House. Gianforte told conservative lobbyists he backed the bill in a private call later published by The New York Times. He walked back the comment days later amid uproar from the more than 70,000 voters whose health insurance could be imperiled if the deeply unpopular American Health Care Act becomes law.
Quist, who supports single-payer health care and legalizing marijuana, has weathered his own history of financial woes, stemming from what he says was a botched gallbladder surgery that for years left him unqualified for affordable insurance.
Forced to pay out of pocket for follow-up surgeries, Quist accessed Social Security and sold off part of the ranch he inherited from his family. In October 1994, the doctor responsible for the surgery denied allegations of malpractice, according to a report published this week by the conservative Washington Free Beacon.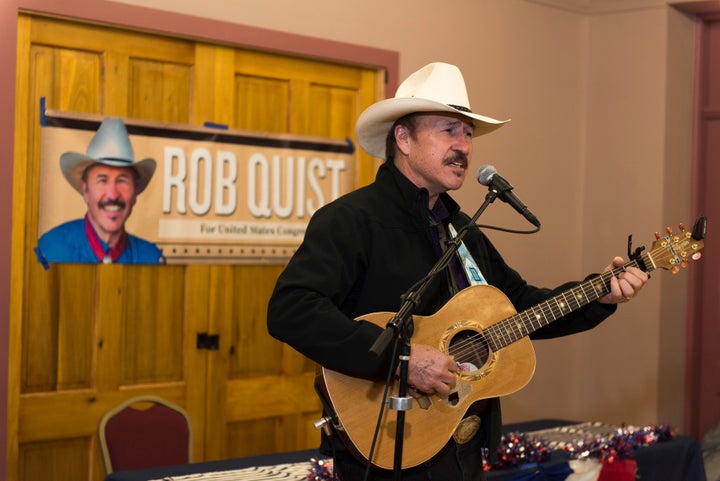 "Rob's story is resonating with voters who want someone who will stand up for them," Tina Olechowski, Quist's communication director, said in a statement. "After medical complications following surgery, Rob got into debt. He paid off his debt, but Rob believes no one should ever face bankruptcy just because they get sick."
By contrast, Gianforte, who narrowly lost a bid for the Montana governor's mansion last year, raised $2 million from the Congressional Leadership Fund, a dark-money super PAC funded by "tobacco companies, video game manufacturers, other corporations and wealthy donors," according to Bloomberg BNA. The tech mogul, who sold a software company to cloud-computing giant Oracle for $1.5 billion in 2011, loaned himself $1 million to finance his campaign ahead of the May 25 special election.
Republican attacks on Quist's personal financial struggles have increased amid heightened scrutiny of Gianforte's own investments. Gianforte listed in financial disclosures a nearly $48,000 stake in a French-Swiss cement maker accused of making payments to the Islamic State terror group, as HuffPost first reported on Wednesday. President Donald Trump criticized Democratic presidential nominee Hillary Clinton last August for once accepting a donation to the Clinton Foundation from the company. Vice President Mike Pence and Donald Trump Jr., the president's son, campaigned last week alongside Gianforte.
"Rob will represent all Montanans, not just the millionaires, and that's why he'll win next week."
Gianforte also invested nearly $250,000 in index funds with holdings in Gazprom and Rosneft, the Kremlin-controlled oil and gas firms sanctioned by the U.S. after Russia invaded Crimea, The Guardian reported last month.
Gianforte had a 6-point lead over Quist in a poll released earlier this month by a Democratic political action committee. But internal GOP polling shifted against Gianforte last weekend amid proliferating scandals coming from the White House, according to the conservative blogger and radio host Erick Erickson.
Shane Scanlon, a spokesman for Gianforte, did not respond to a request for comment.
"Rob will represent all Montanans, not just the millionaires," Olechowski said on Thursday, "and that's why he'll win next week."
Popular in the Community