"OK... He didn't actually say that to me... But he might as well have," Rogers wrote of his firing, which came amid a spate of editorial controversies involving the paper's pro-Trump publisher, John Robinson Block, and newly installed editorial page director Keith Burris.
Rogers said earlier that Block's oversight of his work intensified this year, when Burris took over as Post-Gazette editorial page director. According to Rogers, the paper's bosses rejected 19 of his cartoons ― about 90 percent of them related to Trump.
"I began to envision the two of them as Master Blaster from 'Mad Max: Beyond Thunderdome,'" Rogers wrote in his new comic strip. "My bosses said my cartoons were 'not funny.' Maybe they weren't laughing because they were seeing their own beliefs laid bare on the editorial page."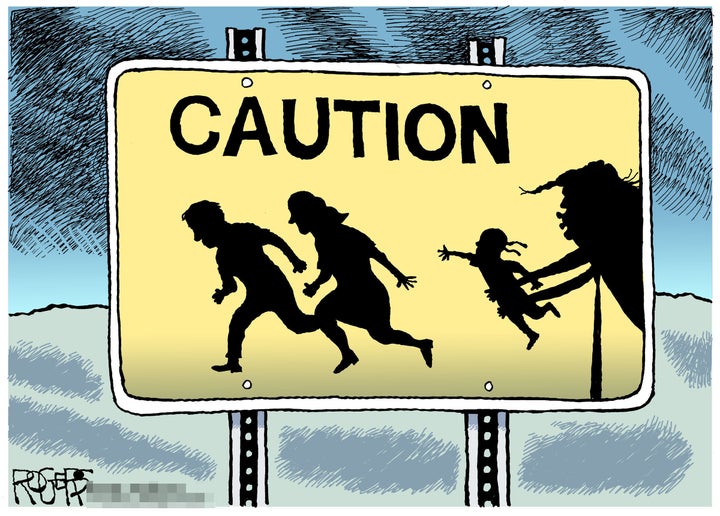 The Newspaper Guild of Pittsburgh, the union representing the Post-Gazette editorial staff, has been outspoken about Rogers' firing and other editorial scandals, including an editorial by Burris decrying criticism of Trump's racism as "McCarthyism," and Block's request to remove Trump's "shithole countries" remarks from an Associated Press article and replace it with the term "vulgar language."
Rogers' cartoons continue to be published in syndication. The unpublished cartoons that preceded his ouster will be featured in an exhibition at the Corcoran School of the Arts & Design in Washington later this month, The Washington Post reported last week. The cartoons will then head back to Pittsburgh for a show at the University of Pittsburgh this fall.
Popular in the Community