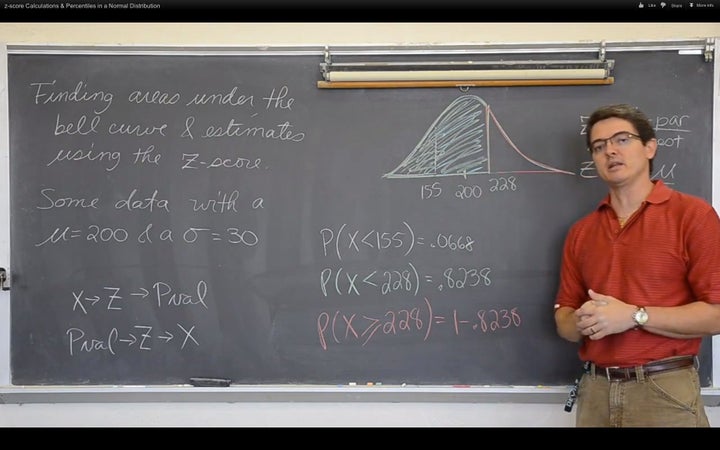 Teacher Rob Tarrou is helping students around the world with math, without leaving St. Petersburg, Fla.
Tarrou has been teaching at St. Petersburg High School for 17 years, but started posting video lessons to YouTube last fall. Now, "Tarrou's Chalk Talk" has more than 300 videos covering subjects from factoring to matrices, and has more than 3,000 subscribers from more than 100 countries.
With more than a half million views, students in Australia, Sweden, India and Brazil, among others, have all written in to express their thanks and support. Comments on the "Tarrou's Chalk Talk" Facebook page sing the educator's praises.
The videos started as a way for Tarrou to teach a student who couldn't attend class, the Tampa Bay Times reports. Now, his St. Petersburg High students use them to supplement their learning, share with others, and wish their other teachers offered the same out-of-class resources.
"My cousin in Croatia actually watches the videos," 16-year-old junior Martin Grabovac told the Times.
And while Tarrou isn't reaping in the millions kindergarten teacher Deanna Jump did by selling her lesson plans online, he's earning a little extra income of about $100 a month from ad sales.
The so-called "flipped classroom" model has been gaining popularity across the country as students are becoming increasingly digital learners and as schools rapidly begin to adopt technology in teaching. The model has proven successful in a number of classrooms, as students listen to lectures at home at their own pace and use class time to complete assignments -- allowing teachers to offer one-on-one, customized instruction.
But the system isn't without it's flaws. Some are finding that flipping classrooms is more popular and feasible in wealthier communities where students universally have access to Internet and computers at home. Critics also argue that the heavy reliance on teacher lectures is not as effective as live, hands-on learning.
"I don't like math," 17-year-old senior Melissa Kent told the Tampa Bay Times. "But it's my favorite class because of Mr. Tarrou."

REAL LIFE. REAL NEWS. REAL VOICES.
Help us tell more of the stories that matter from voices that too often remain unheard.
BEFORE YOU GO