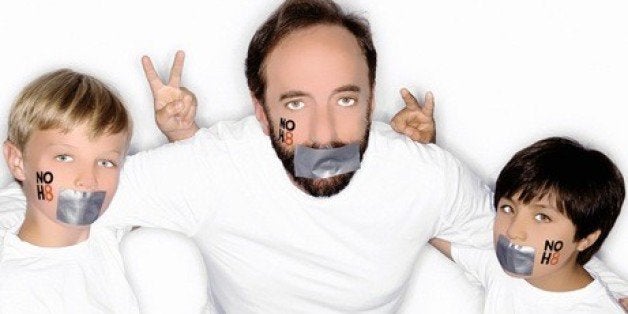 This week's Huffington Post Gay Voices RaiseAChild.US Let Love Define Family installment spotlights writer/blogger Rob Watson, the 56-year-old single father of two 11-year-old boys adopted from foster care.
Rob Watson, 56, is one of the most visible and vocal LGBT foster/adopt parents in the country. He has published more than 60 articles on his shared blog EvolEquals, most of which have been picked up by Huffington Voice Gay Voices and major LGBT news outlets. The pieces often bear confrontational titles like "A Gay Dad Sounds Off On..," but Rob's pieces are anything but political tirades. They are heartfelt, personal stories about his family in which he often discusses how social policies or news events directly impact them.
The down-home tone Rob takes is charming and compelling. He wants to change hearts and minds, and doesn't shy away from engaging powerful opponents. In such articles as "A Gay Dad Challenges Mike Huckabee to a Basketball Skirmish" and "A Gay Dad's Invitation to a Supreme Court Justice: Come to Dinner with My Family," Rob takes on anti-LGBT icons who can seem larger than life and talks with them as if they were simply a disagreeable neighbor, inviting them into his home to meet his sons and observe their distinct, yet ordinary lives.
Rob's two identities are firmly entwined. One cannot imagine him writing as a dad without referencing being gay or as a gay man without referencing being a father. He draws on his experience as a gay man who has battled homophobia and as a recovering alcoholic with more than 30 years sobriety to enhance his depth and breadth as a parent. It is clear that compassion and the lessons learned in facing adversity underlie his parenting style, particularly as it relates to two children who had a rough start in life.
One of his sons was born addicted to heroin and weighed just over four pounds when Rob picked him up from the hospital as a newborn. The other, who was most likely exposed to amphetamines at birth, entered the foster system after being found abandoned in a trailer at 10 months and came to live with Rob when he was one year old.
Rob and his partner at the time had not only completed the standard foster care training, but also an additional level of training that would allow them to take care of drug-exposed newborns. After caring for a number of babies who were eventually reunited with their biological families, Rob received a call in 2002 that would change his life in a permanent way.
For one thing, when he and his partner met the biological parents at the hospital, their assumptions about gang-involved, drug-addicted parents were challenged. The sweet pony-tailed mother wore a pink fluffy bathrobe and the father was attentive and kind. The meeting was momentous for Rob.
"Deep in my heart, I knew this child was, and would be, my son forever," Rob recalls about the moment he met his first son. "He would be named Jason. Loving, protecting, and defending him would be my life's calling."
Rob describes his children proudly. Jason is sweet, affectionate, and sensitive. Jesse is charming, energetic, and caring. Though the boys came to the family at different times, they are only four months apart and, according to their father, act like twins. The boys have decided that Jason is the "older brother" while his "twin" Jesse, who is physically larger, is the "big brother." There is no "little brother" in the family.
With all of the family building options available, why did Rob select foster/adopt? "I chose adoption through the foster care system because it was the most honest path for me at the time," explains Rob. "The other avenues a decade ago required some degree of deception or complexity. I come from recovery, and so being part of a process where families torn apart by drug addiction find healing in one way or the other really hit home for me."
Rob summarized his take on the pros and cons of foster care adoption in his article "A Gay Dad Sounds Off on Foster Care/Adoption: The Five Reasons Why You Don't Want to Do It, and the Five Greater Reasons Why You Do."
Five years after Rob's first son joined the family, he and his partner separated, catapulting Rob into a number of years raising the boys as a single parent. About raising the boys alone, Rob says, "It was tough, but the boys are worth it, and every moment with them made me feel lucky, not unfortunate. It took a herculean effort to figure out how to do things, and what things simply would not get done. I found a strength that I did not know I had. I also found a love I did not know was possible."
More recently, Jim Tennessen, Rob's partner of a year and a half, has been taking a step-parent-type role with the boys and Rob says the boys adore him. Rob recalls a poignant conversation with Jesse about the direction of the relationship.
"Jesse asked if I was going to marry Jim," Rob says. "I told him that I don't know yet, that I hadn't been asked. He then went on to inquire if he could be the ring bearer at the ceremony. I said no. He looked shocked. 'Why not?' he asked with a bit of a tremble. 'Because, pal, you would be my best man.' His face then lit up. 'What about Jason?' I replied, 'Well, both of you would be my best men.' 'But what about Jim? Who would he get?' Jesse worried. 'Mmmmm, I don't know,' I mused back. 'He can have Jason!' Jesse said quickly, with a mischievous look in his eye."
Rob's keen storytelling abilities undoubtedly delight his sons but they also give voice to the hundreds of thousands of LGBT-headed families from across the nation. From his home in the relatively small community of Santa Cruz, CA, Rob sparks an ongoing national discussion that changes minds not only about LGBT parents but about the beautiful families that are formed when people step forward to provide the safe, loving, and permanent homes that every foster child deserves.
Corinne Lightweaver is the Special Projects Manager at RaiseAChild.US, a national organization headquartered in Hollywood, California that encourages the LGBT community to build families through fostering and adoption to serve the needs of the 400,000 children in the U.S. foster care system. RaiseAChild.US works with foster and adoption agencies that have received training in LGBT cultural competence through the Human Rights Campaign Foundation's "All Children – All Families" initiative. Since 2011, RaiseAChild.US has run media campaigns to educate prospective parents and the public, and has engaged more than 2,000 prospective parents. For information about how you can become a foster or fost/adopt parent, visit www.raiseachild.us and click on "Next Step to Parenthood."
REAL LIFE. REAL NEWS. REAL VOICES.
Help us tell more of the stories that matter from voices that too often remain unheard.
BEFORE YOU GO