These two -- Rob Younkers and Joe Zee! Best in their biz, celebrated fashion and creative directors, TV personalities extraordinaire not to mention BIG dog lovers. So we at Mrs. Sizzle asked Pamela Hanson to join us for a doggie play date at their apartment and we had NO IDEA how much fun it would really be. Of course they played dress up! See below for some of the q's we asked about the dogs but as not to belabor here is the fruit of our visit -- the cutest vide I have ever seen!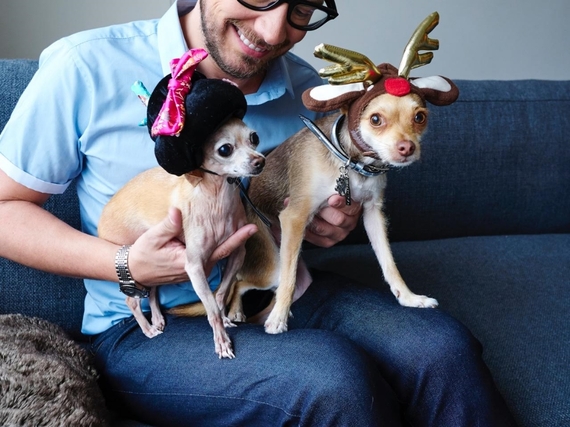 Mrs. Sizzle: How old are the dogs?

RY: What we say of Prokchop is, "a lady never reveals her age," and Cornelius is 2.
Mrs. Sizzle: What are your favorite outfits?

RY: Cornie a red American Apparel hoodie and Porkie, her velvet/plaid "Sarah Jessica barker" dress. But if I had to really be honest, naked or dressed, they prefer to be naked!

Mrs. Sizzle: Their favorite food is?
Mrs. Sizzle: Their favorite TV show is?

RY: The Today show.
Mrs. Sizzle: Their favorite babysitter is?

RY: Uncle Paul Stura.
Mrs. Sizzle: What do you think your dads look best in?

RY for the dogs: "Anything cozy we can snuggle up to them in!"
Mrs Sizzle: When are you the happiest?

RY for the dogs: "Anywhere we can have fun in the sun!"
Thanks boys for the amazing visit!