L.A. artist Robbie Conal is considered by many a key patriarch of L.A.'s guerilla art world, having influenced everyone from Shephard Fairey to Banksy. Conal and his volunteer guerrilla street postering army have perpetrated their "art attacks," in major cities around the U.S., skewering politicians, bureaucrats, televangelists and others for more than 25 years.
Asked about the mainstreaming of lowbrow and its alignment to commercial compromise, Conal isn't phased about the genre's longevity or relevance, "If you don't mind me spitting consciousness here -- everything's political! It ain't irrelevant, it's business!"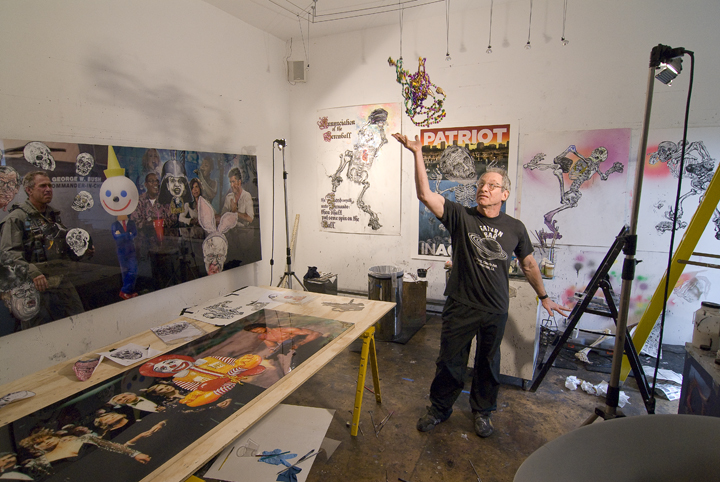 Low Brow's bubbling up from a bittersweet, narcotic effluvia of real peeps-under-pressure sweat flops and pheromones. How do you monetize great graf pieced, say, on the shit-stained walls of a piss stanking tunnel downtown? Like, something for a fan or collector to pay for and walk away with?
On all things entrepreneurial, Conal says his favorite development in the blurring of the cultural economy is the fact Hurley and Quicksilver are opening their own fine art galleries, something he describes as "a form of synergy with their street-skate-surf-hip-hop fashion lines, causing the art establishment to feel it's butt is being bitten to death by ducks --undermined and mined.
Conal sat down with Artweek.LA's Craig Stevens to discuss his life, influences, the future of street art and his contemporary doppelganger, Felix the Cat. To read the complete interview from our Feb 7 issue click here.
For a complete calendar of art openings and exhibitions throughout Los Angeles go to Artweek.LA. Here are a few highlights: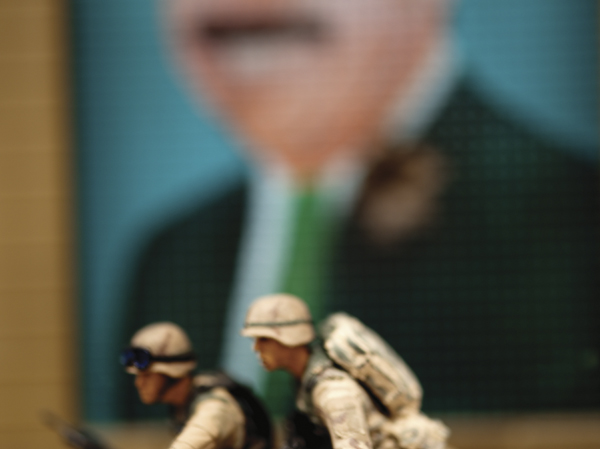 David Levinthal: Photographs: 1974-2008
David Levinthal has been confronting society and its mores through the playful use of toy figurines since 1972. The myths of the American West, the idealized 'perfection' of the female icons of the fifties, the realm of sexual fantasy, and war are all topics of Levinthal's exploration, and all of his work has been undertaken using toys as the subject matter for his photographs. "Utilizing toy figures and structures as subject matter for the creation of a surrogate reality, I have endeavored to create a 'fictional world' that simultaneously calls into question our sense of truth and credibility," states Levinthal.
Opens March 5 at Gallery 169

Annie Buckley: Hybrids & Landscapes
Hybrids, a series of large-scale photographs of women and trees, grew out of a previous series of digital collages in which the artist used images of the body--hands and feet, fingers and toes--to explore the overlap between the symmetrical designs of yantras, the organic shapes of shells and flowers, and microscopic images of cells. Buckley reveals the collage process more overtly and, at the same time, presents the imaginary not as an abstraction but as a representation. Primary inspirations for this body of work include the early surrealists use of hybrid or fused objects and characters in both Indian and Greek mythology that are part human and part fish or tree or bird.
Opens March 8 at Long Beach City College Art Gallery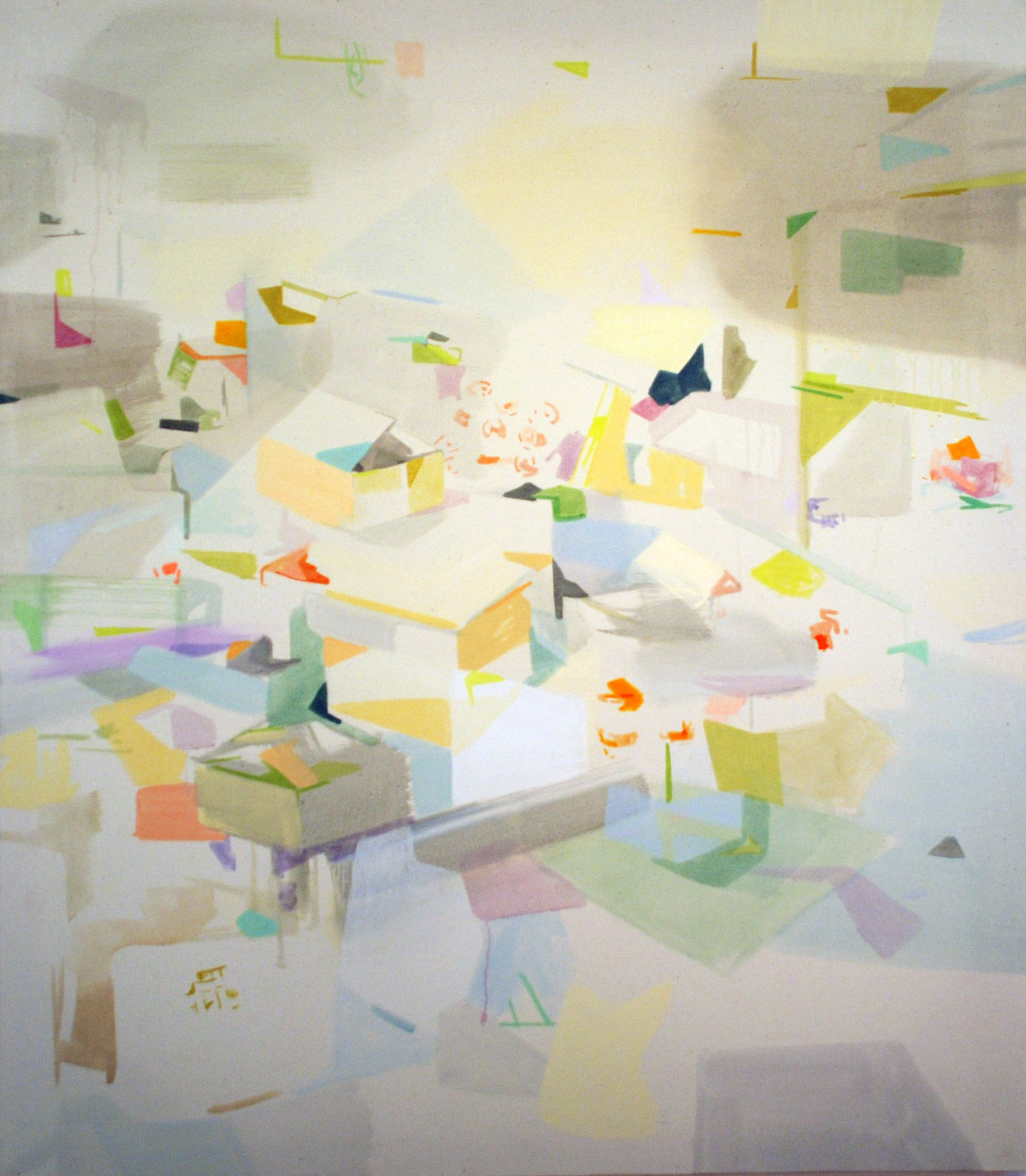 Greg Mocilnikar: Appraising Spatial Properties
Continuing his interest in the perceived idyllic lifestyle of Southern California, Mocilnikar addresses the contradictions between the urban space and the surrounding natural environs in this, his latest body of work. The artist's explorations of spatial properties now focus interior spaces, in particular suburban garages, and no longer on the exterior landscape. Mocilnikar recently moved into a new home in a working class area near Long Beach where he began exploring the neighborhood on daily walks with his infant daughter. He frequently noticed several open garage doors but rather than housing cars the garages were mostly used as storage. This experience prompted a further investigation of how many Southern California residents live within cramped and congested spaces in order to enjoy the expansiveness of the surrounding ocean, mountains and rarely clouded skies.
Through March 26 at Walter Maciel

Image courtesy of Gagosian Gallery
Ed Ruscha: Psycho Spaghetti Westerns
Psycho Spaghetti Westerns are a surreal extension of the ideas that motivated the Course of Empire series, with which Ruscha represented the U.S. at the 2005 Biennale di Venezia. Course of Empire was inspired by five paintings by Thomas Cole of the Hudson River School, which depict the same landscape over time as it declines from a pristine natural state into desolation. Similarly, Ruscha has documented the effects of time on landscape in a manner that is both empirical and metaphorically charged, creating finely nuanced exercises in perception and memory that he describes as "waste and retrieval."
Through April 9 at Gagosian Gallery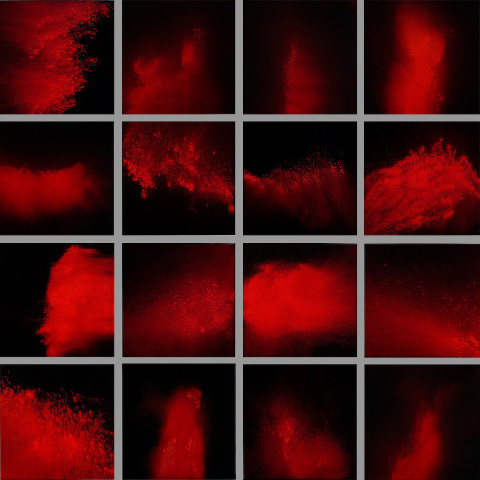 Framing Abstraction: Mark, Symbol, Signifier
This exhibition celebrates the centennial of abstract painting. Abstract art has evolved from its original spiritual and utopian stance in the early 20th century, to an art that was seen as radical, avant-garde, and its present vibrant position. Refuting the digital display of the current moment, abstract paintings are simply pictures, brushed by the hand of the artist, in which emotional intuition is framed by the artist's rational mind into dynamic metaphors.
Framing Abstraction, curated by Marlena Doktorczyk-Donohue and Peter Selz, features some of L.A.'s leading contemporary artists: Lita Albuquerque, Jordi Alcaraz, Gary Edward Blum, Hans Burkhardt, Meg Cranston, Claire Cregan, Mark Harrington, James Hayward, Charles Christopher Hill, Kevan Jenson, Naomie Kremer, and Manfred Müller.
Through April 24 at Los Angeles Municipal Art Gallery

Calling all HuffPost superfans!
Sign up for membership to become a founding member and help shape HuffPost's next chapter