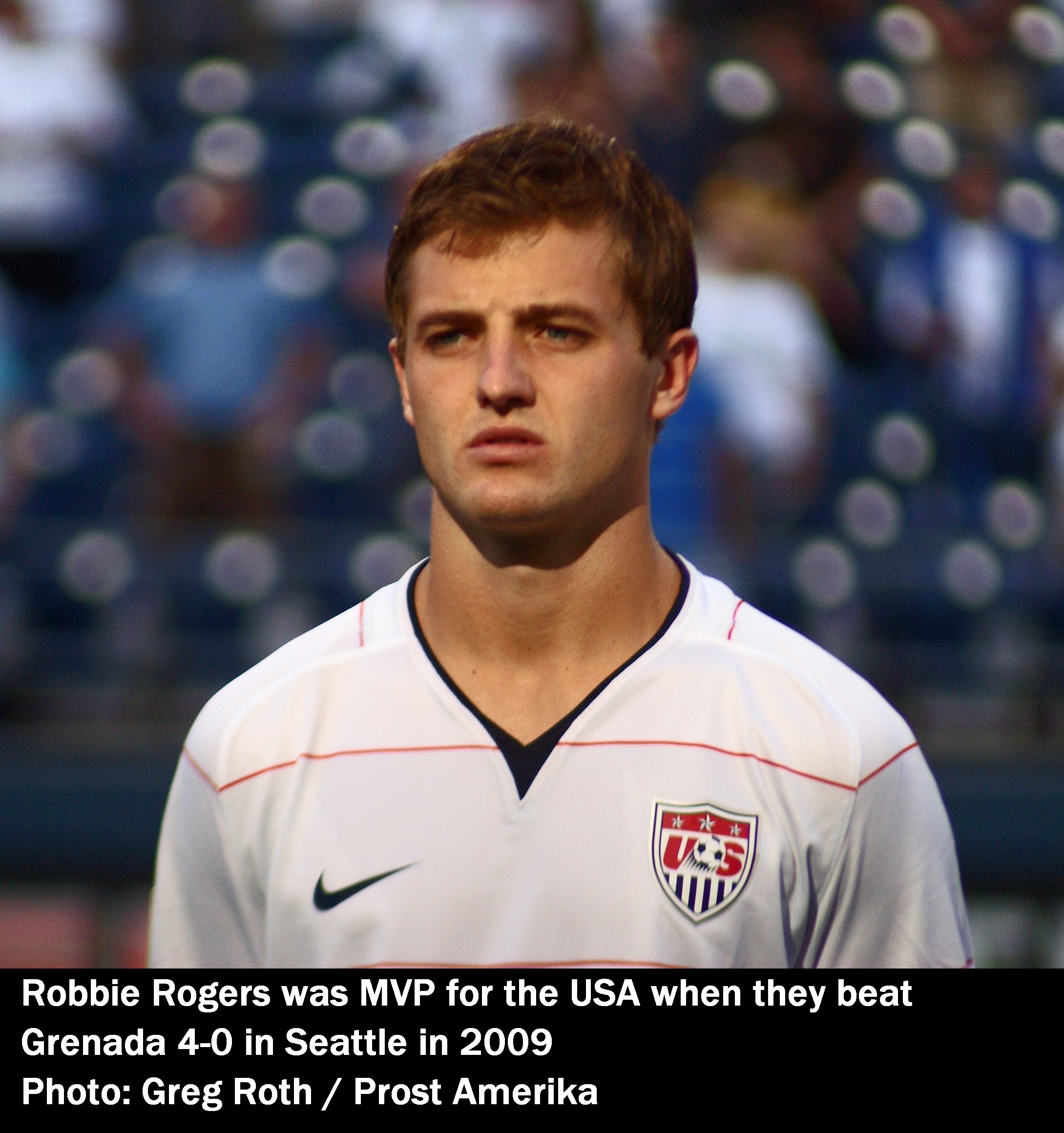 Last week former Columbus Crew forward Robbie Rogers came out and told the press he was gay.
He also announced his retirement.
The former I really don't care about. That's his business and I am firmly on the side of those who believe you don't choose your sexuality. I will comment only because I want to fully associate myself with those who have rightly chosen to offer Rogers full support in his future and because I still believe it's important to show that tolerance is everywhere in the US football community.
I speak for myself of course but I hope I also speak for most if not all of the North American Soccer Reporters, the soccer writers union of which I have the privilege to be the President.
It's the latter, the retirement, that concerns me as a football fan and a journalist. It suggests that you can be a gay ex-footballer but there are still too many hurdles to climb if you wish to be a gay footballer.
So please Robbie, come back, score goals and let us talk about your on-pitch exploits, as we would with any other player.
Unlike many of you, I have first-hand experience of watching an openly gay player in professional football. Rogers is the third to come out after a Swedish player Anton Hysén in 2011 and the earlier and first case of Justin Fashanu eleven years before.
Fashanu played with some distinction for Norwich City as a teenage prodigy before the lower levels of the Scottish League temporarily became his home. He was out by the time he played his 16 games for Airdrie, a club based in industrial Lanarkshire about 12 miles from Glasgow.
That side are nasty rivals of mine, Partick Thistle. Not local rivals so much, but rivals of the non-local type where the dislike among fans was mutual; the one explained by something other than geography.
To us Airdrie was a club supported by right wing Neanderthals, a mini Rangers as we called it.

They, in turn, disliked Partick Thistle because the club plays in Glasgow, the big city, and because our fans were as a rule better looking, better dressed and more intelligent than them. We also fiercely shied away from sectarianism to differentiate ourselves from the Old Firm. That is a Thistle fan's badge of honour; the only thing made out of silver ever likely to be remotely near my club. Airdrie also had a hooligan element.
There was always a tension going to their (then) Broomfield Stadium. It was up a steep hill from the railway station and the trip was fraught with potential ambushes. The adrenalin flowed, especially for a night game. It was one of those fixtures you didn't drink before.
However, Fashanu's presence added another element to that night in the early 90s. We had agreed on the way to the match that unlike other clubs' fans looking for an easy taunt at the opposition, we would make no reference to it. Among Thistle fans, it barely needed to be said.
When Fashanu first touched the ball though, a small coterie of teenagers in our end made some ridiculous attempt at a high pitched noise, probably based on their childhood exposure to pantomime dames. It was quiet and almost done in that way that no-one but each other would hear them.
But my gang did. And we were livid. Really fucking livid to be honest.
About ten of us, my friends and some others around us, rounded on these teenagers, none of whom we had never seen before at a Thistle game.
One of our number, a devout socialist, yelled repeatedly "Remember your politics," as if all Thistle fans were passionate devotees of Red Clydesider John MacLean.
That didn't quite work so I found a simpler technique.
Devoid of time to explain the complex issues affecting equality at length and not wanting to miss too much of the game over these cretins, I spoke softly to the largest and said "Why not leave the bigotry to the bigots?" a crude reference to equating their homophobia to the antics of Old Firm fans.
By equating even their somewhat non-malevolent homophobia with the cancer that affects Scottish club football, the point was made. 'What you are doing is bigotry and Thistle fans are not bigots'. Of course there were overtones of 'you're risking a kicking if you don't cut it out.'
My memory is hazy of the rest of the match. It was a very foggy night in Airdrie who played at an unfeasibly high altitude for lowland Scotland. I do recall that the game finished 1-1 but I think I also recall Fashanu coming over to the away fans and clapping us, ostensibly for being the first set of opposition fans to let him play football and not treat him as any different.
We were smug about that all the way home. It took our mind off an awful game which the fog had thankfully prevented us from seeing to a large extent.
That game was nigh on 20 years ago and, notwithstanding more Blatter stupidity on the issue and a major political party intent on making homophobia a major plank of its policy platform, the world is a more tolerant place.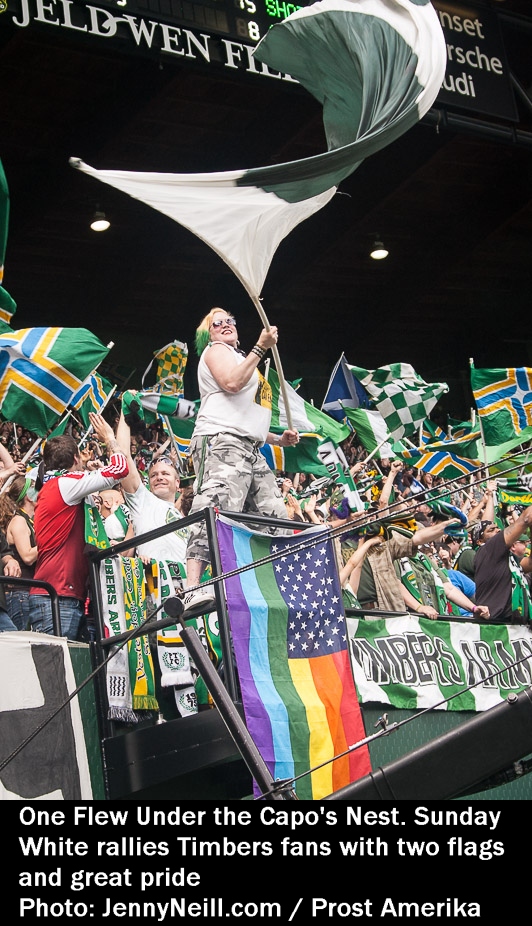 As if that theory needed evidence, it comes at modern day Jeld Wen Field in Portland where at least one gay rights rainbow flag has been draped behind the goal at the Timbers Army's North End for some time.
Timbers Army spokesman Garrett Dittfurth explained how that came about:
That's Sunday White's capo nest and she is an out and proud lesbian who is married to her partner. There is also another one or two that fly in the crowd from some of our other out members.

Basically they asked some of the game day operations guys if they thought anyone would have a problem with it. They were told the only problem would be if someone had a problem with them waving their gay pride flags.
It's one thing to be supportive but another to be the first to stick your head above the parapet.
I sought out Sunday herself and asked about the thought process behind bringing the flag:
I am an out and proud lesbian in a committed relationship. I bring that flag to every match because this is my home and I am proud of my community, family and support.
Far from it being a contentious move, Sunday makes the point that there is unanimous support for her flag:
I have only had positive responses from team, the town and the Timbers Army. If there are negative responses I would like to hear them. When there are negative comments on social media I am very active at educating that it is unacceptable.

I am sure I have annoyed lots of unthinking people who use words like gay or faggot as negative slang without analysing their roots and meanings.
Dittfurth is not naive enough to think that attitudes in the liberal cities of the west coast are yet fully representative of America's values but he does believe they may well be the values of the soccer community:
Portland is obviously a little bit more of a liberal city than say Dallas but I think soccer fans in general in the United States are more accepting regardless of where they live. In certain parts of the country simply being a soccer fan alone makes some people a target for discrimination so I think a lot of the US soccer community is incredibly understanding of Robbie's situation.
And if he turned up in an opposing jersey? Dittfurth is sure the Timbers fans would want to emphasise the point:
I think Robbie would be somewhat of an icon if he played for Portland. I know that the team attempted to sign him before he went off to Leeds and I am positive the fans would embrace him wholeheartedly if he played here.

If he played against us I don't think the situation would be very different. I would expect he'd get a lot of cheers and applause in introductions from our fans. We'd go on and treat him like any other opposing player for 90 minutes and then clap him off the pitch when it was over.
So please Robbie Rogers, the last time I saw you play you scored your first ever international goal and were MVP as the USA beat Grenada 4-0 in Seattle.
I know you can play our sport and deep down I suspect you still want to. If any player mouths off to you in the locker room about your personal life, let them retire.
Or worse still, make them explain their remarks to Sunday White.
Related
Popular in the Community