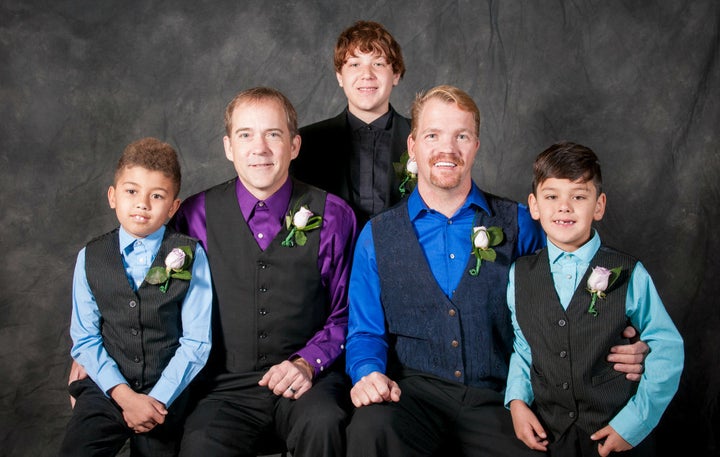 Robby and Jeff Busch-Drewery knew that nothing could have prepared them for what they endured in the process of building their family. They did know that everyone deserves a chance to have a family of their own, including them. In this installment of the Huffington Post Queer Voices RaiseAChild.US "Let Love Define Family®" series, contributing writer Eric Criswell tells Robby and Jeff's story of becoming a family. 
It was just another Monday evening. Somewhere in the suburbs of Atlanta a bowling league was meeting for beer, pizza and hopefully a few strikes. Robby tagged along with a few friends, just to relax and unwind. While there, he worked up the courage to start talking to a cute guy that was on the bowling team. After a short conversation, he gave Jeff his phone number. What Robby didn't realize until later was that he was so nervous that he had given Jeff his old phone number that would ring the house of his ex-wife.
Luckily, when Jeff called, it was Robby's daughter that answered and passed along her father's new cell phone number. After a few dates, it was clear that they not only shared chemistry, but a similar past. Both men had been through gay reparative therapy at Exodus International, a non-profit, interdenominational ex-gay umbrella organization that sought to "help" people who wished to limit their homosexual desires. But somewhere in the process, both had arrived at the conclusion that it was OK to be gay, and both wanted to have a family of their own.
"Nothing can prepare you for what life has planned." Robby said, "and considering what we had been through individually, we had no idea of the good things that would happen once we decided to share our lives together." 
Their relationship progressed like any couple: they dated and eventually moved in together. Upon relocating to a new home in Las Vegas, they ultimately decided to get married and begin the process of creating their family.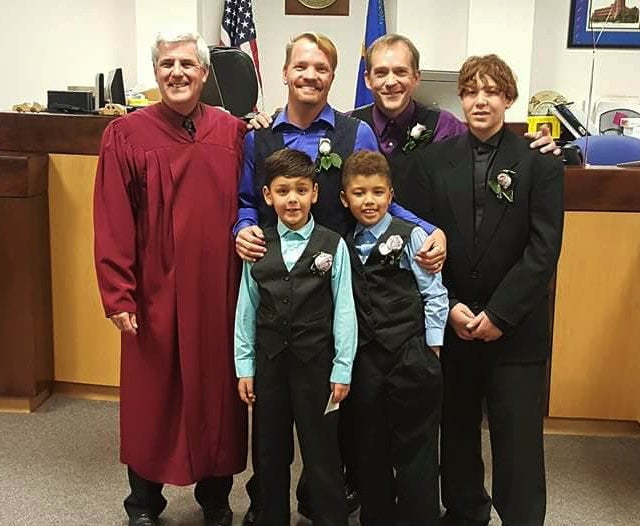 Robby and Jeff went through the licensing process to adopt. Surprisingly, just moments after receiving a call that their license had been approved, they got a call to meet a young boy for possible placement.
The two of them went to meet with the foster child, Christian, and were both excited and overwhelmed by this young kid who was a ball of energy. He had been in the system since he was a baby and spent time in 19 foster homes in his short life. Many people thought he was broken. This did not hinder Robby and Jeff and they decided to take a walk with Christian while their dogs tagged along. "It was the perfect picture," stated Robby. "We just knew that during that walk everything felt right and in that moment we knew that Christian was going to be ours."
The next day Christian went to live with his new dads and has been there ever since.
Even with all the tantrums and outbursts, the couple never doubted their decision. Robby explains, "Jeff finds the best in every person and every situation. If it wasn't for his support and reassurance that this little boy would be OK and to just take it one day at a time, I don't know if we would've made it. Jeff kept reminding me that we can replace the busted things, but we can't replace our son. He's worth all that's been broken."
Through counseling and having two loving dads that would not give up on him, he continued to get better. He will be nine in April and is no different than any other kid out there. Once the adoption was finalized, the tantrums ended and Christian seemed to settle in -- now that he understood he would not be sent back and that he was officially their son, forever.
It was always the plan to have a brother for Christian -- it just had to be the right timing. After receiving numerous calls and having to turn down all of them, there was an inquiry about a boy who needed placement immediately. He was the same age as Christian and the couple decided to meet with the boy the next day. His name is Ozzy.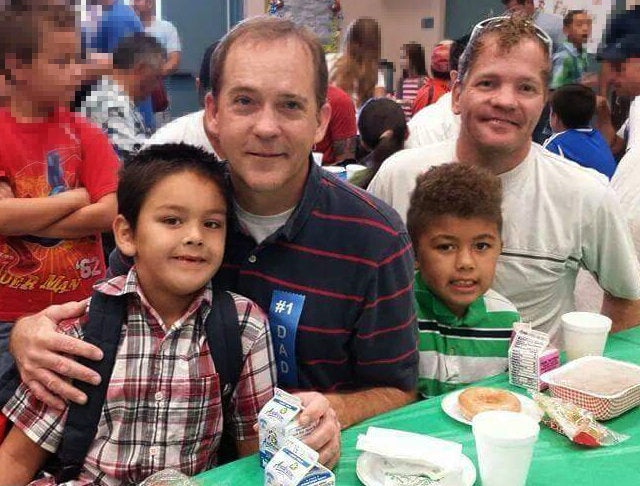 Ozzy had only been in the system for a short amount of time and was a well-adjusted, sweet child who never wanted to do anything wrong. According to Jeff, "We knew right away that Ozzy would be a good fit for our family."   
Although Ozzy did come to live with Robby, Jeff and Christian, there were issues with the possibility of adoption, as Ozzy's Mother continued to try to have visitations with her son. Initially, the visitations were three times a week and, due to her inconsistencies, they were reduced to once a week. But even then there were times when she wouldn't show up for the appointment, which was clearly painful for Ozzy.
During this time, Ozzy and Christian played together and fought with each other. "They quickly became like siblings in every way, from dealing with jealousy to sticking up for each other in school. It took some adjusting for both of them to acclimate to their new roles as brothers."
Since the negotiations with Ozzy's Mother continued with little resolution, a court date was set and the judge's ruling changed the heart and lives of both mother and child. The judge declared from the bench that this child deserved to have a family and deserved to have permanency in their life. Tensions and emotions in the courtroom were running high. According to Robby, "When the judge passed down her ruling it not only had an impact on us and Ozzy, but also made it clear to his mother that she needed to be focused on what is best for her son, and that, more than anything, cleared the path for us to adopt him."
Now the brothers, who share a bedroom, classes at school and the same last name are growing up together and preparing for the next chapters in their lives with the love and support of their fathers.
"Nothing really prepares you for this," said Robby. "You never know a child until you actually meet them and they are in your home. My advice is to approach it all with an open mind. To listen to some of the bad stuff, but then throw it out the window and jump in with both feet! All of these kids deserve amazing homes with amazing parents. They all have the potential to be great sons or daughters. They all just need a chance, and your love."
Have you ever thought of building a family through fostering, adopting, or weekend hosting? RaiseAChild.US is the nationwide leader in the recruitment and support of LGBT and all prospective parents interested in building families through fostering and adoption to meet the needs of the 415,000 children in the foster care system of the United States. RaiseAChild.US recruits, educates and nurtures supportive relationships equally with all prospective foster and adoptive parents while partnering with agencies to improve the process of advancing foster children to safe, loving and permanent homes. Take the next step to parenthood at www.RaiseAChild.US or call us at (323) 417-1440.
Calling all HuffPost superfans!
Sign up for membership to become a founding member and help shape HuffPost's next chapter