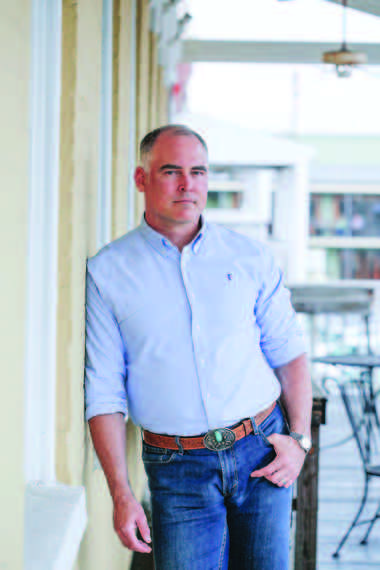 Ace Atkins is well-known to thriller-lovers everywhere. He was a Pulitzer Prize nominated journalist, has written standalone novels, and is known for his Nick Travers and Quinn Colson series. Ace's writing style has been compared to that of Dennis Lehane and George Pelecanos. In 2011, Ace was chosen by the estate of Robert B. Parker to continue writing the Spenser series of novels. His latest, the 4th in the series, is Kickback.
Kickback begins with 17-year old Dillon Yates playing a prank by setting up a Twitter account in the name of his school's vice principal. He's charged with criminal activity and sentenced by Judge Joe Scali to a lockdown juvenile facility in Blackburn, Massachusetts, where there's zero tolerance for even the most minor juvenile offenses. Dillon's mother hires Spenser to learn the truth behind a rash of harsh sentences for kids who have committed minor transgressions. Spenser and his friend Hawk wend their way through the Boston underworld and other locales, uncovering a viper's nest of corruption and greed.
Before we talk about books, let me ask how you got the name Ace.
It was my Dad's name. He was a professional football player in the old AFL and the NFL. A sportswriter dubbed him Ace, and it became his name. So, when I was born, that nickname was given to me. I've always been called Ace. In a sense, it's a family name. The only time I'm called by my given name, William, is if I'm pulled over by a cop for speeding. (Laughter).
Your writing style in the Quinn Colson series is Southern literary. In the Spenser novels, it's hardboiled, Boston noir. Tell us about that.
I really got into writing by reading some terrific detective writers. In high school, I read Robert Parker, Raymond Chandler, and other crime writers. That genre--detective and crime fiction--was my entry point into loving books. I'm from the South and went to Auburn University. Coming from that region, I was surrounded by notions of Faulkner, Flannery O'Connor, Robert Penn Warren and other Southern writers. Those two worlds kind of melded into the type of books I write. For the Spenser books, I'm following a Hammett, Chandler path. All those novels influenced me, but Hammett, Chandler, and to some extent Hemingway, inspired me in writing the Spenser books.
You write a Quinn Colson novel and a Spenser book each year. Last October, you told me about different ways you approach writing each, even including the beverages you drink. Will you share that with us?
I'll drink anything put in front of me. (Laughter). When I'm working on Spenser, I do drink more beer. It's a bit of a mental trick, but having a Sam Adams makes it feel like I'm in Boston.
Spenser and Quinn are such totally different characters. Are there other mental tricks you use to get into one mode or the other?
You're right. It's a totally different thought process from one to the other. It's like speaking two different languages. One little trick I use is music. When I'm writing Robert B. Parker, I listen to the music he really loved. That's classic jazz--Ella Fitzgerald, Mel Torme, Louis Armstrong or John Coltrane. When I hear that music, it sounds like Spenser to me. When I write about Quinn Colson and the American South, I listen to country music--Johnny Cash, Charlie Pride, and Loretta Lynn. The music helps me re-focus, and think in a different way.
Do you listen to music while you're writing?
For the most part, no. If I do, it's an instrumental, something like Miles Davis. If lyrics or vocals are involved, it's too distracting. For me, the music is part of the background of my life--in the car or at home--while I'm writing one or the other series.
If I didn't know better, the Spenser novels would make me believe you've lived in Boston for years.
My parents are Southern and I've spent most of my life in the South. But, when my Dad became a football coach, depending on the team, we lived in different regions--San Francisco when he worked for the Forty-Niners; Detroit when he was with the Lions; and Buffalo when he coached for the Bills. I had to adapt to a new culture with each move.
Going to Boston and really soaking it up is not only extremely important, but I'm very familiar with doing that kind of thing. When I was a newspaper reporter covering central Florida, learning about a city was simply part of what I did.
Boston's a very different city from five years ago when Bob Parker was alive. For the Spenser books, it's part of my job to get it right and capture the city's ambience. So, I spend a lot of time there. I want to make sure the novel has authentic descriptions. If I haven't been to a specific place, I would never put it in a Spenser book.
So you wouldn't just use Google Earth for describing streets and locales?
(Laughter) No. If I write about a place, I've been there. Fortunately, it's not tough for me to do because most of the Spenser stuff takes place in good restaurants and bars. (More laughter). That's been one of the great perks of this job because Boston is such a terrific city. I love going there every few months. Two things have been great about writing the Spenser series: one was getting to know Boston and the other was getting to know Bob's widow, Joan Parker.
What challenges did you face continuing a series with a pre-formed character, style, and setting?
As a fan of the Spenser books for many years, the biggest challenge for me was, most of all, continuity. I wanted to create an authentic Spenser novel where the feel of Bob's books was replicated. I wanted the reader who'd finished Bob's last book to pick up Lullaby and feel it was written by him. The important thing was for Spenser to live on.
More generally, do you break any writing "rules" when crafting your novels?
When I was a young writer, I read lots of stuff about what to do and not do when writing. I try to conform to the rules I like. (Laughter). I think the best rules I ever read for a writer came from Elmore Leonard. He was a stylistic genius. His most famous rule, and the one I try to live by, is 'If it looks or reads like writing, take it out and rewrite it.' As a young man, I tried to be fancy with my prose, but two of my favorite stylists were Parker and Leonard. They wrote spare, compact prose and their word choices were economical and just perfect. The corollary to that first Elmore Leonard rule is "I cut out the parts most people skip over.' It's sometimes tough to do, but I try to follow those two rules.
Do you have a favorite among all your novels?
I do. It's a novel called Infamous. It's the story of George 'Machinegun' Kelly. I did enough research to write a non-fiction book, so the novel is based on truth, but has a natural story arc. Parts of the book are almost verbatim renderings of actual events. It's like a Coen Brothers screwball comedy. Let me tell you about an interview I had with a one-hundred-two year old man, who as a bank teller in 1932, was held up by Machinegun Kelly. Kelly held a .38 behind his ear as the teller emptied his cash drawer. I commented, 'You must've been scared to death.' The old gent said, 'No, not at all. Kelly was polite and kept apologizing.' Actually, Kelly's wife was really the mastermind, a Lady Macbeth type, and was almost like a press agent. In fact, she's the one who came up with the moniker, 'Machinegun.'
At some point, I hope to return to writing creative fiction based on fact.
You mean faction?
Yes, I really love it. I love doing the research and writing about historical periods and people. Infamous was the fourth faction book I'd done, and I hope to get back to that kind of writing.
If you weren't a writer, what would you be doing?
I would be unemployed. (Laughter).
I was a journalist. When I left the newspaper business, little did I know it was the final phase of that long and proud tradition.
If I didn't have my writing, I'd probably be working for a magazine. I'd be a reporter in some capacity. I've got no other talents.
What's coming next from Ace Atkins?
Next, is The Redeemers, another Quinn Colson book. It's a darkly funny Southern crime novel.
Congratulations on writing Kickback, another gritty and riveting Spenser novel in the best tradition of Robert B. Parker.
Mark Rubinstein
Author of The Lovers' Tango and Return to Sandara
Related
Popular in the Community