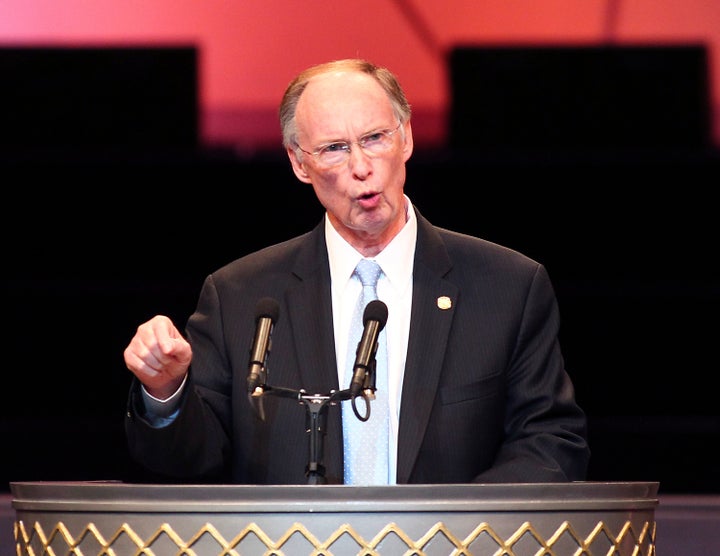 Scandal-plagued Alabama Gov. Robert Bentley (R) is facing a growing chorus of calls for his resignation, including a bold editorial Thursday from a major state publisher declaring him a "costly distraction" to the state. 
"The only action left for Bentley to alleviate this mess is to resign," reads the piece by the editorial board of the Alabama Media Group, which publishes three of the state's major newspapers. The piece comes two days after state lawmakers in Bentley's own party filed articles of impeachment.
The push to remove Bentley is the latest in the ongoing fallout after the state's former top law enforcement official accused Bentley last month of having an affair with his married former senior political adviser. Subsequent reports accused Bentley of trying to conceal the relationship, which he allegedly used state and campaign funds to carry out.
Sponsored by Rep. Ed Henry (R), the impeachment resolution cites willful neglect of duty, corruption in office and incompetence among the reasons Bentley should be ousted. All three qualify as grounds for impeachment, according to the state constitution. 
"We've never done this before," Henry said at a Tuesday press conference. "We've never tried to impeach a governor." 
In a statement, Bentley resisted calls to resign and called Henry's move "political grandstanding." 
"There are no grounds for impeachment, and I will vigorously defend myself and my administration from this political attack," Bentley said. 
Spencer Collier, whom Bentley fired last month from his role as head of the Alabama Law Enforcement Agency, claimed after his ouster that he had discovered evidence in 2014 of an affair between Bentley and staffer Rebekah Caldwell Mason. 
Mason resigned on March 30. 
Bentley has repeatedly denied a sexual affair with Mason, but admitted he "made mistakes" after a recording was published of him making sexually explicit comments to a women identified only as "Rebekah." 
At the time of the alleged affair, Bentley was married to his wife of 50 years, Dianne, who filed for divorce last August citing "an irretrievable breakdown" in their marriage, according to court records.  
The governor addressed the scandal again on Monday during a visit to a local prison. 
"I've asked God to forgive me, but I've asked other people to again forgive me," he said. "I have truly asked the people of this state, that are the most loving and the best people in the world, I have asked them to forgive me."
The Birmingham News editorial board disagreed that Bentley's penance was sufficient.
"The governor seems to think that repentance and asking forgiveness is enough," it wrote. "It might be enough between him and God. But it is not enough for Alabama's top public office holder and the public trust." 
Clarification: This story has been amended to reflect that the article was published by the Alabama Media Group, which is the parent company of several local papers, including the Birmingham News.
REAL LIFE. REAL NEWS. REAL VOICES.
Help us tell more of the stories that matter from voices that too often remain unheard.
BEFORE YOU GO
PHOTO GALLERY
United States Governors