Take a step back in time to 1963... ROBERT BERMAN GALLERY recreates a legendary art event...the long awaited retrospective of the conceptual artist Marcel Duchamp captured by famed photographer Julian Wasser. After a successful show at the San Francisco location of the ROBERT BERMAN Gallery, "Julian Wasser: Duchamp in Pasadena Redux" comes to Bergamot Station, in Santa Monica on Saturday, January 16, 2016.

Image courtesy of ROBERT BERMAN GALLERY: Julian Wasser, Chess Match with Eve Babitz and Marcel Duchamp at the Duchamp Retrospective Pasadena Art Museum, 1963 © Julian Wasser
The exhibition features the photography of Julian Wasser in addition to an installation of appropriations of Duchamp's work from the original exhibition created by LA based artist Gregg Gibbs and other appropriation artists. A centerpiece for the show is a life-sized recreation of the infamous photo...Duchamp and nude, Eve Babitz playing chess. Other known works created by Duchamp that have been appropriated by Gibbs for the exhibit are: Bicycle Wheel; Nude Descending a Staircase; I.H.O.O.Q, 1919; With Hidden Noise, 1916; and (The Large Glass) The Bride Stripped Bare of Her Bachelors, Even, 1915-1923.

"When I first started thinking about this show," recalled Robert Berman, "Gregg (Gibbs) immediately jumped in with ideas of objects that he wanted to make including The Large Glass and Nude Descending the Staircase...both not easy to recreate." The recreation of this historic event features a show within a show...setting a precedent while paying a tribute, exposing the gravitas of a profound art exhibition (in 1963) to an entirely new generation.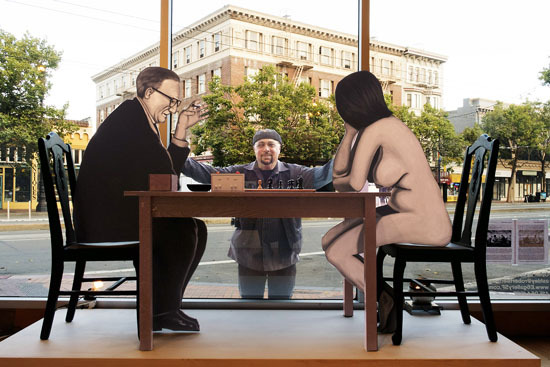 Image courtesy of ROBERT BERMAN GALLERY: Installation view of JULIAN WASSER: DUCHAMP IN PASADENA REVISITED (by Gregg Gibbs) at E-6 Gallery in San Francisco in 2015

As the story goes...news photographer Julian Wasser was sent on assignment by TIME Magazine to cover (what anyone from the press would have classified as)..."just another art event." At first, he was unaware of the relevance of the exhibition curated by the young Walter Hopps, but once Wasser arrived at the museum, he quickly assessed the importance of the event. Perhaps it was a question of fate - being at the right place at the right time - but the fact that the opening reception attracted renowned artists of that day would be the impetus that put Wasser on the map. Well known artists such as Ed Ruscha, Billy Al Bengston, Larry Bell, Dennis Hopper, and a young Andy Warhol all attended the opening reception. These cutting edge artists were Wasser's subjects...fodder for a dream photography shoot. He ran with it and captured the most authentic and compelling photos of revered artists of the time.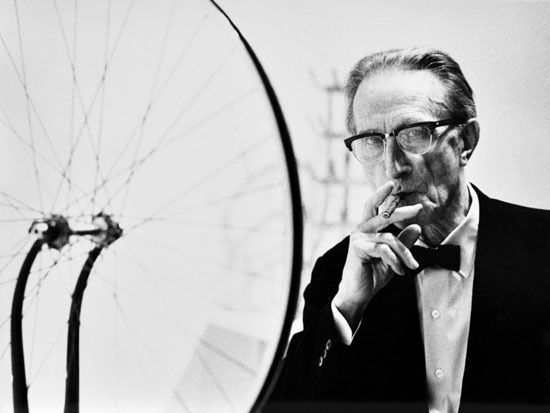 Image courtesy of ROBERT BERMAN GALLERY: Julian Wasser, Duchamp smoking Cigar next to Bicycle Wheel , Duchamp Retrospective, Pasadena Art Museum, 1963, © Julian Wasser
Although TIME Magazine did not publish the now legendary photo, it would eventually find itself in the major retrospective in 1973 organized by Anne d'Harnoncourt for the Philadelphia Museum of Art. d'Harnoncourt put together a catalogue of the retrospective, which featured for the first time the photograph of Duchamp and Eve Babitz (playing chess)...giving credit to Julian Wasser as the photographer. "Up until then," Berman explained, "people thought that the photo was actually thought of and put together by Duchamp. In fact, it was mainly the idea of Julian and it was he who was friends with Eve Babitz who had felt slighted that she was not invited to the opening. On a whim, she went along with the humorous idea of going nude with Duchamp."

Berman has always been a fan of the photography of Wasser, who started his career as a news photographer following in the footsteps of his mentor and photojournalist Weegee (Arthur Fellig).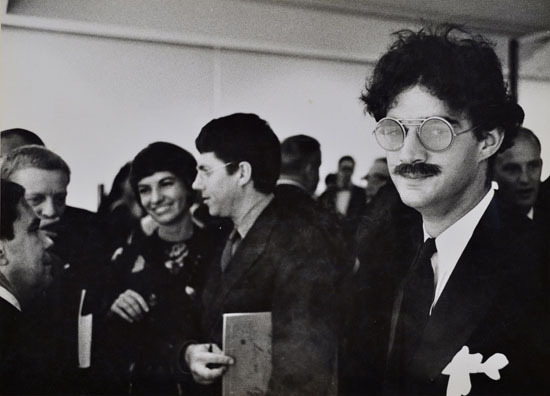 Image courtesy of ROBERT BERMAN GALLERY: Julian Wasser. "Larry Bell at the Opening Reception (Ed Moses and Robert Irwin in background), Duchamp Retrospective, Pasadena Art Museum, 1963." Vintage gelatin silver print. 9.5 x 13.5" © Julian Wasser

"Wasser has a fearless and well trained technique in understanding the importance of light and composition," explained Berman. "His fifty years of spontaneous and set up works resulted in some of the best photography in that genre. However, during the week of Duchamp in Pasadena, he was able to capture the spontaneity of the moments of the most important art party in the history of Southern California."
Berman went on to say that Wasser has a raw and a fresh way of interpreting his subjects. He added, "And I believe that like Weegee, Wasser's work will be appreciated and highly collected in the future, especially these last very rare vintage works as well as the later prints of the elder statesman of contemporary art, Marcel Duchamp." Finally, Berman added "We are showing one-of-a-kind vintage photos...once they are gone, they are gone."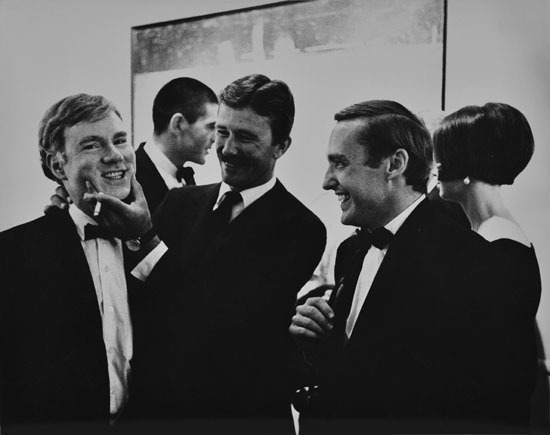 Image courtesy of ROBERT BERMAN GALLERY: Julian Wasser, Andy Warhol, Irving Blum, Billy Al Bengston and Dennis Hopper, at the Opening Reception, Duchamp Retrospective, Pasadena art Museum, 1963, vintage gelatin silver print, 7 1/2 x 9 1/2" © Julian Wasser

This Saturday, January 16, 2016, from 5-8pm, enjoy a retro tribute to an extraordinary moment in time at THE ROBERT BERMAN GALLERY, Bergamot Station, (B-7) 2525 Michigan Ave., Santa Monica, 90404. "Julian Wasser: Duchamp in Pasadena Redux" runs through March 5, 2016. For more information about the exhibition, call the gallery at (310) 315.1937 or visit http://www.robertbermangallery.com/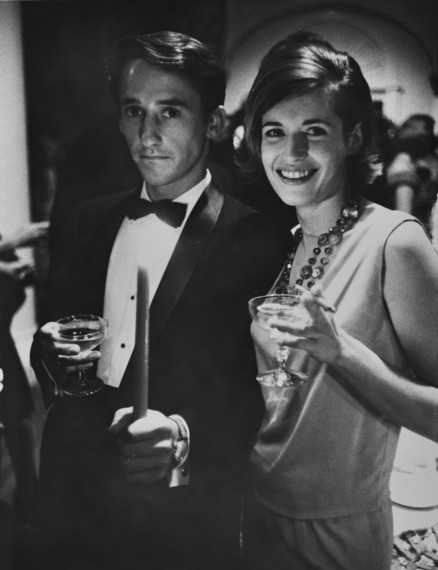 Image courtesy of ROBERT BERMAN GALLERY: Julian Wasser, Ed Ruscha and Patty Callahan at the Opening Reception, Duchamp Retrospective, Pasadena Art Museum, 1963 © Julian Wasser

Popular in the Community