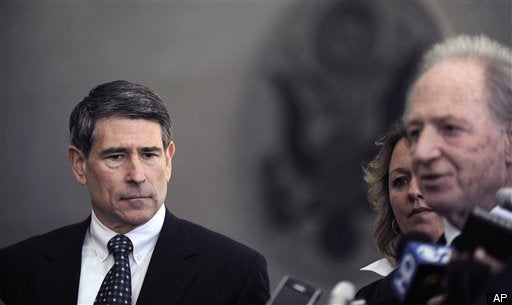 When Robert Blagojevich came to Chicago in the summer of 2008 to help his brother raise campaign funds, conditions were less then ideal.
"Rod's brand was tarnished," he testified. "His standing in the polls was low." And, the presidential election was in its final cycle.
"We got more noes than yeses," he said.
Robert, 54, who took the witness stand in his own defense Monday during his federal corruption trial, insisted that he never sought money from donors who were beneficiaries of state action his brother, Gov. Rod Blagojevich, had taken.
In fact, he said he was completely removed from the political realm and focused only on raising money by contacting previous donors and strategizing with top aides to the governor. Having served in the army after college, Robert Blagojevich went on to become a banker before he started a real estate business, he testified. He had experience fundraising for the Red Cross and the YMCA, but not political fundraising experience, he said. Living in Nashville, he said he had little contact with his brother.
The brothers stand trial on federal corruption charges, accused of conspiring to sell the Senate seat being vacated by President Obama and extort contributions in exchange for state action.
On cross examination, a prosecutor sought to show that Robert's claims of being a political neophyte who said he was instructed to never link state action with requests for money or favors was less than sincere.
Assistant U.S. Atty. Chris Niewoehner brought up a wiretapped conversation that the brothers had about the Senate vacancy a day after Obama was elected in which Robert tells Rod: "It should be about getting [U.S. Atty. Patrick] Fitzgerald out of your f****** life." The "it" was the appointment of Obama's then stated choice for the seat, Valerie Jarrett, Niewoehner said.
But Robert denied that he was linking the two, even though the conversation was in the context of the possibility of appointing Jarrett.
In wiretaps played by the prosecution, Rod Blagojevich is heard angrily complaining about the idea that he would give Obama his choice without getting anything in exchange. He talked about getting a cabinet post, perhaps as the head of the department of Health and Human Services; an ambassadorship; money for a nonprofit that he could head, and, work for his wife, Patti Blagojevich.
On the tape, Robert is heard encouraging his brother to go for the position of head of the Health and Human Services department and getting Fitzgerald off his back. Robert insisted that he was merely talking about political horse-trading --that he had a brotherly concern about the criminal investigation of the governor.
"I did not want him to be politically investigated," Robert said.
The two then began parsing the term "horse-trading," with Niewoehner insisting it meant exchanging things of value and Robert insisting it just meant political jockeying.
Robert admitted that it would be wrong for his brother to take state action in exchange for cash that he could control in the future --an apparent reference to Rod's desire to be appointed the head of a nonprofit with money donated from wealthy friends of Obama.
On direct examination by attorney Michael Ettinger, Robert said he was not involved in politics during his time as chairman of the Friends of Blagojevich campaign fund between August and December of 2008. His goal was to raise $2.5 million and he tackled his job by making calls to past donors and meeting regularly with top aides to the governor, including John Wyma, Lon Monk and John Harris. In the end, Friends of Blagojevich raised on $700,000, Robert testified.
The ex-governor's brother is named in three counts of the prosecution's 24-count indictment. He allegedly tried to shake down the CEO of Children's Memorial Hospital for a donation just three days after his brother had approved an $8 to $10 million increase in Medicaid reimbursements for pediatric doctors. Robert Blagojevich insisted he knew nothing about that increase when he called CEO Patrick Magoon on Oct. 17, 2008, asking him to hold a fundraiser.
"Did you have knowledge that your brother had the intention of giving an $8 to $10 million pediatric rate increase?" defense attorney Michael Ettinger asked.
He learned a week later, he said, that something was happening involving hospitals, including in relation to Children's Memorial Hospital, but he was hazy on the details.
When Magoon testified for the prosecution, he said he refused to take any of Robert Blagojevich's calls after the first one because he believed the request for the fundraiser was linked to the Medicaid reimbursement increases. In his mind, and in the government's, it was a pay-to-play scheme. But Robert said "absolutely not" when asked if there was a link.
"Did you ever tell him [Magoon] 'my brother's done good by you'," so have a fundraiser.
"No," Robert said, adding that Magoon was a previous contributor.
Similarly, Robert testified that he had only a hazy understanding of a bill his brother was set to sign that would help the race track industry when he worked with another of his brother's aides to secure a contribution from John Johnston, the owner of two horse racing tracks in the Chicago area.
As for Gerald Krozel, a road construction executive from whom Robert and his brother were seeking funds, the defense tried to show that Robert was not linking that request with a tollway expansion bill his brother had approved. The defense referred to a wiretap recording in which Monk says to Robert: "And I want to talk to him [Krozel] about timing because there's absolutely no connection between the two but there is a legislative issue."
"He was reassuring me that there was no connection," Robert said.
Regarding the Senate seat, Robert said he believed his brother's first choice was Lisa Madigan because he was in a political stalemate with her father, the powerful Illinois Speaker of the House, Michael Madigan, who was blocking the governor's legislative initiatives.
Later, however, Blagojevich began talking about appointing Jesse Jackson, Jr., as a way to get revenge against the Washington political establishment, which did not favor Jackson. Also, a prominent member of the Indian American business community had offered to raise $1.5 million for Friends of Blagojevich if he would appoint Jackson, according to testimony.
Just a few days before the brothers were arrested, Robert agreed to go meet with the Indian businessman, he testified. He said he was just going to talk about how his brother was now considering Jackson. He denied that he planned on talking about fundraising and said he had absolutely no idea what his brother meant when he told him to be careful and act "like the whole world was listening."
A day later it was reported in the media that Rod Blagojevich's conversations had been recorded by the feds and one of his top aides was cooperating in a criminal investigation of the governor. Rod quickly called his brother and told him to cancel the meeting with the Indian businessman.
The prosecution will continue cross-examining Robert on Tuesday.
Rod Blagojevich is also expected to take the stand this week.
Janan Hanna is a licensed attorney, a lecturer at Northwestern University Medill School of Journalism and a freelance writer.
Calling all HuffPost superfans!
Sign up for membership to become a founding member and help shape HuffPost's next chapter