 A person moves toward poetry out of need, says Robert Bly, when religious instruction perhaps fails to resonate deeply enough, or when trying to get in touch with one's senses. This was certainly true for me, as I faced a devastating medical diagnosis and forged a path back to health. Poetry continues to guide and inspire me, and a few months ago even led to work on Haydn Reiss's new film-in-progress, Robert Bly: News of the Universe.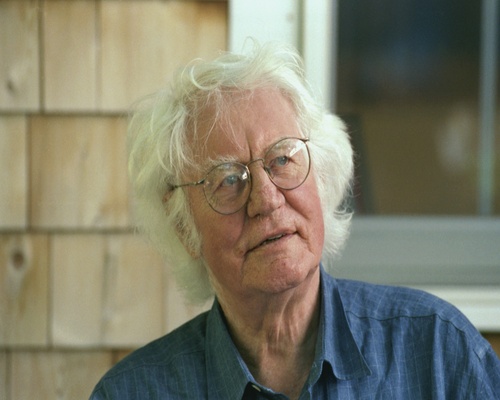 (Photo by Ann Arbor)
Having encountered Bly's work only cursorily prior to Reiss's project, I am now awed by the astonishing breadth and depth of Bly's influence in the spheres of poetry, cultural theory and political activism. This is a man who changed the course of poetry in America by opening it up to the imagination and the deep-image aesthetic, as well as through his generous and tireless translation of poets from other nations. His provocative theories on gender and modern manhood, despite significant controversy, are part of our national psyche. With the election now behind us, I also believe the clarity of Bly's political positions and moral quest, through his poetry and considerable talents for organizing and motivating others, along with his commitment to the interior life and commitment to the community, offers a true north for artists and activists addressing the problems afflicting our country and planet.
As Bly is dedicated to reintegrating poetry with life -- daily life, the life of the body, spiritual and political life -- Reiss's film seeks to portray a life fully and creatively lived, while also suggesting how poetry can invigorate and heal individual and collective wounds that may keep us from the work we must undertake. I spoke to Reiss about his project and, if you like what he says and what you find at the various links included, please join his campaign to fund the final phase of this project. A move toward poetry, as individuals and as a movement, may be just what we need and Robert Bly (who will turn 86 next month) has already lit our way.
Jennifer Nix: Poets in earlier times were central to societies, and Robert Bly's life seems to be one dedicated to restoring some of that traditional energy and vitality to the poet's role in American society. Do you agree?
Haydn Reiss: I think good poets have always been with us, maybe not on the front pages but working on the edges of culture. There is an unbroken line, going back to at least Whitman, of poets who share similar concerns as Bly -- the importance of an interior life as well as being a citizen. Robert is certainly an extraordinary example. He began in the 1950s publishing a host of emerging American poets of the day, along with publishing translations of great poets from around the world. These were often the first English versions available in the U.S. If this is all that Bly did he would have secured his legacy as someone who changed the direction of poetry in the United States, but he also tirelessly wrote his own poems, essays and critiques, and was dedicated to taking his and others' poetry to the people, doing readings and conferences all around the country.
Bly is a controversial figure for some. Why is that?
When you've been outspoken your whole life it comes with the territory. Robert also chose to remain outside of academic circles because, I think, he didn't see poetry as something -- in its most vital aspect -- that could be taught.
Did his political activism affect how his poetry was received, particularly after The Light Around the Body and what happened when he won the National Book Award for that collection in 1968?
There are always those who believe art should exist for art's sake, keep the politics out. Robert is not one of them, and if you were alive then, and of an age to witness it, you saw a country in crisis over what was happening in Vietnam. Bly felt the war was a betrayal. The older men in charge were not telling the truth to young men asked to fight it, and as a citizen and a poet, Bly felt he must speak out. He co-founded American Writers Against the Vietnam War, published books and took part in hundreds of readings. When he won the National Book Award, he used the occasion of the award ceremony to chastise the cultural elites for not doing enough to protest the war. It's a brilliant piece of oratory. By the way, Robert has also been a vocal opponent of the wars in Iraq and Afghanistan.
Tell us about the work with men related to his book, Iron John.
Iron John was a surprise bestseller. It spent over a year on the New York Times best seller list and was translated into 15 languages. It struck a powerful chord among the people, especially men, who read it. It made Robert very well-known and also the subject of a ferocious push-back. This is a complicated piece of Robert's history that my film will unpack and clarify but, basically, when you challenge orthodox views -- such as what makes a man -- you stir up a hornet's nest. Too many people thought they knew what Iron John and the men's conferences were about from reading some snarky piece of journalism. Pick up the book and you'll be startled by how prescient he is about what ails our culture. However, not everyone who knew Robert as "a poet" could follow him on this road.
Can you explain Bly's impact, and the changes in American poetry that stem from his poetic project?
This is one of the themes of my film. Bly's influence can be traced in a variety of realms. There is, of course, his own poetry, and that of all the younger poets he's helped. The importation of world poets to our shores is certainly one of his great gifts. He inspired Coleman Barks to translate Rumi and now everyone knows Rumi. Bly was among the first to recognize the genius of the South American and Spanish poets, and did pioneering translations of Pablo Neruda, Federico García Lorca, Antonio Machado, Juan Ramon Jimenez...the list just keeps going. And there is also his work with German and other northern European poets, such as the Swedish winner of last year's Nobel Prize in Literature, Tomas Tranströmer. Bly also championed the great Indian poets Kabir and Mirabai in the 1970s. He has a tremendous intellect and energy, and seemed to need to do this work for his own sanity. And in doing so, the beauty was shared with all of us. As Jane Hirshfield puts it in the film, "Robert Bly, as few other poets have done, has changed the world for all who now share it."
Tell us about your film and why you chose the title.
News of the Universe is the title of a 1980 anthology edited by Bly. I think it's a great film title, too, as Bly is an extraordinarily curious and brilliant man who has told us so much for so many decades. He's a reporter for the Universe inside us and around us. My hope, and I think Robert's as well, would be that a film like this can help people find messages that resonate with them, that more folks will give poetry a try. If you get lucky and stumble into the right poet for your heart and soul, then the love affair begins.
How can readers here help bring this project to fruition?
I'm trying a crowd-funding campaign on Indiegogo for the first time. We've worked over a year now on News of the Universe and gotten amazing interviews with Gary Snyder, Jane Hirshfield, Donald Hall, Galway Kinnell, John Densmore, Caroline Casey, Philip Levine, Edward Hirsch, Mark Rylance and others. The film explores Robert's inner or soul work, reflected in his love of ecstatic poets like Rumi and Hafez, and his outward engagement with community, whether during the Vietnam War or with men around Iron John. Take a look at the trailer and get a taste of what we're up to. Spending time in the world of Robert Bly has been very good for my heart and mind. I think others will benefit from a generous dose of Bly.
Popular in the Community