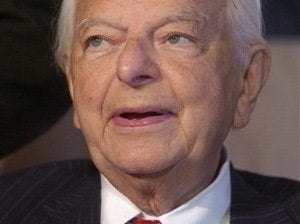 In the wake of the passing of Sen. Robert Byrd, the Ku Klux Klan, an organization Byrd briefly belonged to, is coming to the defense of the West Virginia Democrat who served in the Senate for 51 years.
As politicians and columnists across the country debate the life and legacy of the late Sen. Robert Byrd, the West Virginian's membership in the Ku Klux Klan has been a sticking point for many. Today's KKK, though, says Byrd did nothing to warrant such ire.

"He wasn't a Klansman long enough to get his sheet broke in," said Travis Pierce, national membership director for the Ku Klux Klan, LLC, one of several groups that uses the KKK name. "It's much ado about nothing."
The late Byrd knew that his one-time association with the Klan would remain a part of his life -- even after death: "It will be in every obit," he predicted.
By Byrd's account, opposing civil rights legislation in the '60s was his greatest legislative mistake, and he would say his eyes were opened later upon seeing a father unable to get water for his young son when the "colored" drinking fountain wasn't working. In his later years, he struggled to make amends and getting money to help finish the Martin Luther King Jr. memorial became a passion. And Byrd's famously close relationship with his black Senate driver, Jim Allen, was part of this transition.
"It's impossible for anyone to try to whitewash the KKK and its overall symbolism," said Ken Hechler, a former Democratic congressman from Byrd's home state. "But at the same time... we honor those people who publicly admit the error of their ways."
Support HuffPost
The Stakes Have Never Been Higher
Popular in the Community