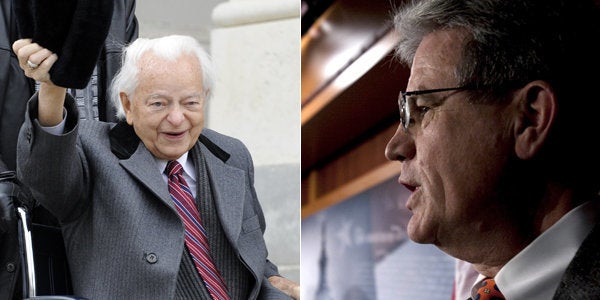 At 4 p.m. Sunday afternoon -- nine hours before the 1 a.m. vote that would effectively clinch the legislation's passage -- Sen. Tom Coburn (R-Okla.) went to the Senate floor to propose a prayer. "What the American people ought to pray is that somebody can't make the vote tonight," he said. "That's what they ought to pray."

It was difficult to escape the conclusion that Coburn was referring to the 92-year-old, wheelchair-bound Sen. Robert Byrd (D-W.V.) who has been in and out of hospitals and lay at home ailing. It would not be easy for Byrd to get out of bed in the wee hours with deep snow on the ground and ice on the roads -- but without his vote, Democrats wouldn't have the 60 they needed.
Sen. Dick Durbin (D-Ill.) took the floor and expressed shock. "This statement goes too far," he said. "We are becoming more coarse and divided here ... When it reaches a point where we're praying, asking people to pray, that senators wouldn't be able to answer the roll call, I think it has crossed the line." He explained that the Democrats were unable to schedule a more reasonably-timed vote because of Republican refusal to negotiate, and he called on Coburn to explain the seemingly malevolent call to prayer.
Calling all HuffPost superfans!
Sign up for membership to become a founding member and help shape HuffPost's next chapter