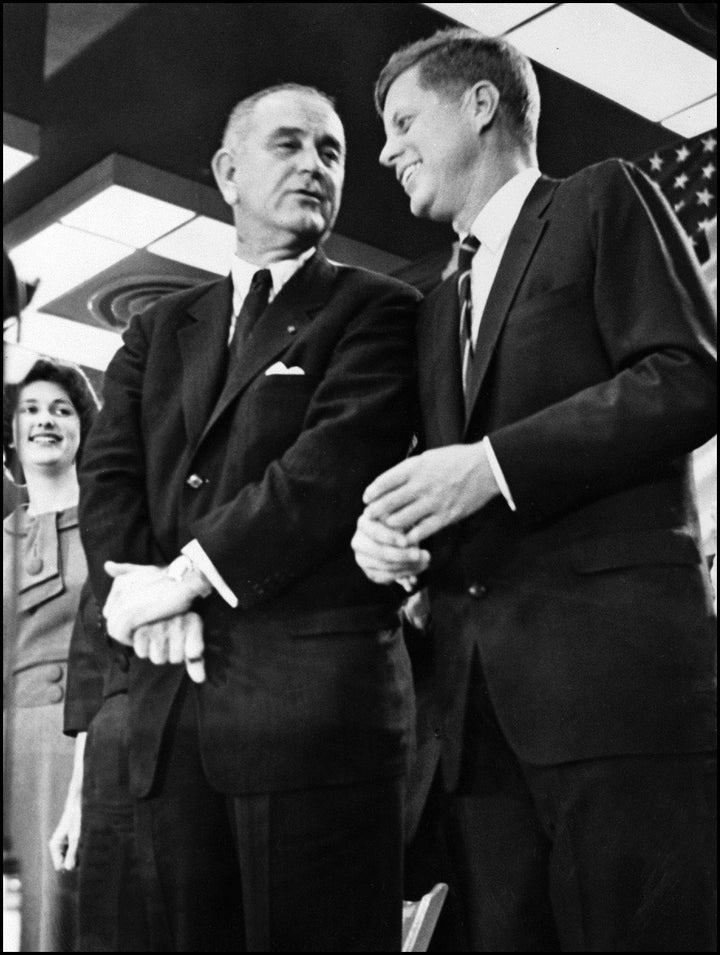 CHICAGO - The popularity of Robert Caro's magisterial new book on Lyndon Johnson is easy to understand. Passage to Power evokes a time when the ability of government to do good was largely unquestioned, and when a gargantuan personality such as LBJ could -- and did -- use government to unite the country in the pursuit of sweeping goals and giant tasks.
As someone who knew most of the principals Caro writes about, I can attest to his portrait of LBJ and to the way LBJ was seen by others, including Jack Kennedy. I was close to Adlai Stevenson, who was a rival of both men. I was chairman of the Federal Communications Commission in the Kennedy Administration.
Simply put, the LBJ I knew hungered for power, and knew he knew how to use it. The Kennedy I knew grudgingly but genuinely admired LBJ's ability. Had Kennedy not put aside his personal animus, the nation might not have had the man best suited to take the reins in the days after the assassination. As Caro amply demonstrates, that man was Johnson, at least in the earlier minutes and months of national crisis, before he created his own by escalating the Vietnam War.
Caro's book reminded me of a sad conversation I had with LBJ during the time he was languishing in the vice presidency.
In 1962, my wife Jo and I were invited to the Johnsons' home in Washington for a small, post-concert reception in honor of Erich Leinsdorf, a famous symphony conductor who was visiting Washington to lead the Washington Symphony Orchestra. As a member of Congress, Johnson helped Leinsdorf escape the Holocaust to come to the United States.
I had known Johnson when he was Senate Majority Leader. Adlai E. Stevenson, then my senior law partner, had asked me to accompany him in 1955 on an overnight visit to the Johnson ranch in Texas where he was recuperating from a serious heart attack. After Kennedy and Johnson were elected in 1960, I became Chairman of the FCC and saw Vice President Johnson and Mrs. Johnson at events and meetings. But this was the first time we had been invited to their home.
We were introduced to Leinsdorf and the few other guests when Liz Carpenter, the Vice President's assistant, guided us to a small table, saying that we were seated with the Vice President in the living room for coffee and dessert. The three of us had a lively conversation in good humor with stories and anecdotes for about a half hour.
When it was time to leave, Johnson took us to see and discuss a number of photographs on the walls. When we reached the front door, he opened it to discover a fierce rainstorm outdoors. He asked if we had a car and driver, and I said we had a small, red Valiant parked on the street. He asked for my keys, and called out as an elderly, handsome African-American man wearing a chauffeur's cap emerged from the shadows under a covered driveway. He gave the keys to the driver and asked me for our car license number, as the driver opened his umbrella and went to bring our car to the door.
As we waited for our car, Vice President Johnson became very animated and said, "Do you know who that driver is? He was my driver when I was Majority Leader -- and he was the driver for every Democratic leader of the Senate going back to the days of Joe Robinson. When I became Vice President, I asked him to be my driver as Vice President. He said, 'Vice President? Vice President? That's a nothing job -- the Majority Leader, that's a real job, a man's job!'" He then went on to say, "I talked him into coming with me to my new job -- but now I think I should have listened to him!"
In months, Lyndon Johnson's job, his life and the country's future were to change.
Caro's book goes on to tell in extraordinary detail the story of President Kennedy's assassination and Johnson's becoming President.

This brought back to me the memory of another conversation on May 29, 1960, which my partner Bill Blair and I had with Jack Kennedy. Bill Blair and I were driving Jack Kennedy from Chicago's O'Hare airport to Adlai Stevenson's farm in Libertyville where Stevenson and Kennedy were to meet. We were trying, unsuccessfully, to persuade Stevenson to endorse Kennedy for the Democratic nomination.
En route, I said, "Jack, (we called him Jack in those days) if you don't get the nomination, who do you think should be nominated?" Bill and I were shocked by his answer, which was, "Lyndon -- he is a son of a bitch but he's got talent." So we were not surprised when Kennedy chose Johnson as his running mate a few months later.

These memories, stirred by Caro's brilliant contribution to history, remind all of us of the fragility of life and how often chance determines what happens. Lyndon Johnson was once sorry he didn't listen to his chauffeur. Would Jack Kennedy have been sorry he picked Lyndon Johnson?
Calling all HuffPost superfans!
Sign up for membership to become a founding member and help shape HuffPost's next chapter