If one were to mount a strong argument in defense of the collapse of the recording industry it would be this: Songwriters and musicians are still going to create and record great music. Better yet, those who once recorded on major labels, made hit records but no longer enjoy full-time music careers have kept up with recording technology and are now recording it themselves -- without the grief of naysayers, critics and music industry blowhards. Some even have day jobs that they enjoy.
"Having another source of income allows me to make records and enjoy the whole of the process," said Robert Crenshaw who spent the lion's share of his teens and twenties parked behind a drum kit in his legendary older brother Marshall's band. "When I'm in the process of record making, I am the happiest Who in Who-Ville."
These days Crenshaw works in the automation industry as a highly specialized curriculum writer and robotics instructor. Music, however, remains an unyielding force, even if he has to catch an early plane to Las Vegas to participate as a Mechatronics instructor at the United Brotherhood of Carpenters International Training Center.
His most recent effort is entitled, Friends, Family, and Neighbors - a fitting title, because Crenshaw enlisted help from his inner-circle of über talented loved ones, including his brothers.
"We're all really good friends as well as obviously being related to each other," said brother John Crenshaw who works a sound mixer for a post-production facility in Manhattan. There is no sibling rivalry. If one of us calls the other to do something we'll say 'sure, this'll be fun.'"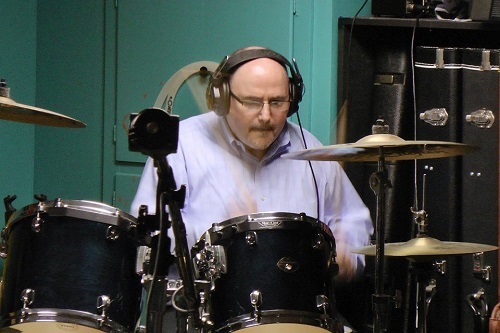 The roster also includes ex-bandmates, lifelong friends and pedigreed rock producers, responsible for some of the most important albums of the past 30 years.
"Whatever is driving us to bother making records is not the same thing that is driving a twenty-two year old Americana band and a girl who just bought her first mandolin," said producer Don Dixon, who mixed the record and played on a few of its tracks. "Robert doesn't have baggage, so he gets to do just what he wants to do; he gets to be funny, he gets to be quirky, eclectic, without worrying about the ramifications of losing his fan base."
Friends, Family, and Neighbors bursts at the seams with the energy of any great pop album. Crenshaw is every bit the craftsman who can nail it in a catchy 3 minutes every time with the kind of lush arrangements out of Spector's "wall of sound." As a songwriter, he has Randy Newman's irreverence and wit, as evident on "Down Here In Heaven," and "The Night the Detroit Lions won the Super Bowl."
"It is really one of his finest moments as a songwriter, said Crenshaw's ex-bandmate, bassist Graham Maby, who'd left Joe Jackson's band to join Marshall's group and plays on the record. "I think 'You're So Hip To Me' is so brilliant, touching and it'd be a hit in another (better) universe."
Crenshaw modestly downplays the fact that he once toured a chunk of the world as part of a major label recording artist, and appeared on countless TV shows, as well as a Francis Ford Coppola film. In other words, he's totally present. There's also a relentless drive to be creative. Even in the most casual conversation Crenshaw is animated and inclined to discuss a song, his all-time favorite albums and movies, or why he's a committed atheist - the subject of an earlier holiday mash-up anthem "Atheist's Christmas."
"Robert and I share much political and religious thinking and he is as mad as he ever was," said Grammy Award winning producer Steve Lillywhite. "He posts some of his latest songs on Facebook and they really make me laugh. He is one of the good guys."

To really know Crenshaw is to understand his family's rich dynamic - the closeness of four music-obsessed siblings and the nurturing parents who raised them in suburban Detroit. Father Howard Crenshaw, a WWII vet and Hospital Administrator at Detroit's Mt. Sinai hospital, was the arbiter of taste when it came to great R&B and country music; a steadfast member of the Columbia record club made sure the household was plied with enough good vinyl, and would regale his boys with impromptu renditions of Hank Williams' "Kawliga."
"My dad was the driving force in the musical part of the family," said Mitchell Crenshaw, who fondly recalls his dad driving him and Marshall to see The Jimi Hendrix Experience, Cream and local heavies the MC5. "I remember The MC5 letting their 'Kick out the Jams motherfucker' fly as loud as they could and if my dad was shocked, he didn't let on."
For his mother, a high school English teacher and arts enthusiast, there was nothing odd about a house full of music. "When I was a kid, I'd sing at weddings,"Jeanne Crenshaw told us."Howard and I were both involved in music in amateur ways; he was a tenor in the Michigan State Choir and the Great Lakes Naval Choir before that. So when the boys became interested in music, I thought it was a totally normal thing. Robert got his first drum set for his ninth birthday. It was a red Trixon set."
The home at 2727 Oakshire doubled as a rehearsal space for a number of the brothers' teenage bands, if not a repository of drum kits, tube amplifiers, mics, Fender guitars, all of which made an indelible impression on the boy drummer.
"Aside from the lingering stale cigarette smoke in the basement there was that unique scent of Tolex vinyl slowly curing from the heat of 12AX7 and 6L6 vacuum tubes," Crenshaw reminisced. "To this day, my heart still warms at that smell of well-worn gear."
Crenshaw's Junior High School band Rasputin, included the little brothers of the guys in Marshall's band Astigafa. By his teens he had joined the musicians union and was playing drums in an oldies bar band called Denny and the Robots, making 300 dollars a week.

"Robert was kind of ahead of the game," Marshall Crenshaw told us. "I was in a band of about a dozen guys and a road crew, and was struggling to survive. When that band broke up Robert did me a huge favor by getting me in his band, and I was finally able to move out of my parents' house."
Recording music was always in the foreground; a quarter-track Sony Superscope (model TC-440) became the boys' mobile recording unit and they regularly used it to write and record songs.

Stewart Simon, a life-long friend and Rasputin and Robots alumnus, shared his bandmate's passion for recording. "If somebody's parents were gone for the weekend we'd move into the basement or living room, and set up a little recording rig," Simon told us. "There wasn't a lot of quality stuff that came out of it but we were obsessed with it."

Crenshaw and Simon took their obsession to another level in 1976 when they went to study recording engineering at the Institute of Audio Research in New York City. Their arrival coincided with the emergence of an explosive downtown rock scene, just blocks away from their Greenwich Village campus.

"Our apartment was up in Spanish Harlem but we hung out in the Village and spent most of our time in the Bowery going to places like CBGB's and the Bottom Line," Simon said. "Since we were on a really tight budget of five or ten dollars a day, we'd look at each other and say, 'hmmm, I'm kind of hungry....should we eat or go see this band? Let's go see the band.'"

When their sojourn ended the two friends returned to Detroit, a little less green and savvier around recording gear.

Just as one Crenshaw was leaving Manhattan another arrived there. Marshall, who'd spent the past few years in the traveling company of Broadway's Beatlemania, decided to endeavor a career of his own. When it was time to find a drummer, his brother was the logical choice (Robert returned to New York half a year later).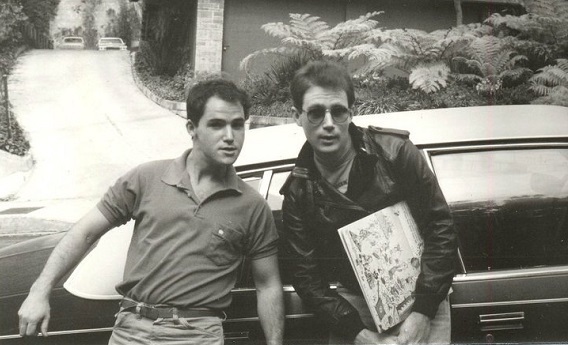 At the Sunset Marquis in Hollywood
"It made perfect sense to work with Robert because he's a great guy and just had a really cool natural style on the drums, said Marshall. "I always had real specific ideas (I was a probably a benevolent dictator) but he could play what I wanted him to play and he was really supportive. Plus he's got this vibrant personality, and lent a lot to the proceedings."

Call it a confluence of Marshall's burning ambition and a heroic dose of talent, but within a relatively short period of time, A&R guys began to circle him with recording contracts. The momentum the band built in just a little more than a year hustling around lower Manhattan and playing places such as CBGB's, The Other End, Folk City, The Mudd Club and the Lone Star Café, culminated in Marshall signing with Warner Brothers in the fall of 1981.

"It was springtime in the Crenshaw camp," reflected the future robotics instructor whose warmest memories of that period were when the out-of-towners Mitchell and John came to visit and celebrate the recent success.

"We hadn't spent much time together since we lived with my folks and had a lot of bonding to do. There's a picture of all four of us in front of a newsstand on St. Marks Place after a triumphant CBGB's gig. Naive as it sounds, I remember thinking 'If we all dropped dead right then and there, it would have been a good life.' I love those guys."
Just after New Year's Day, Marshall, Robert and bassist Chris Donato, filed into studio A of the famed Record Plant to record "Marshall Crenshaw." The debut yielded a breakthrough hit, "Someday, Someway", which reached #36 on the US Billboard Hot 100 and the album spent over six months on the charts.
Marshall's growing fame and cult status (not to mention generosity to include his siblings) wasn't at all lost on his proud parents back in Michigan.

"We always tried to go see the guys whenever they were in Michigan, no matter where it was," recalled Jeanne Crenshaw. "I remember the first time I saw them I really cried, it was such a joyous thing. And then on one tour (Field Day) John did percussion - so we had three of our four guys performing together. It was small miracle and as parents it was a wonderful gift to us."

There's no shortage of footage on YouTube of Marshall and company's early TV appearances on Late Night with David Letterman, American Bandstand, Merv Griffin and more. And, it's impossible to miss the beamish beat keeper, atop the riser, killing it on the drums.
"You could see how much Robert loved playing and singing, and his boundless energy and enthusiasm," said Maby, who met the Crenshaws when they supported Joe Jackson on the pier in Manhattan. "They opened with a Cliff Richard song, 'Move It,' and I thought 'I have to meet these guys, that's so cool!' Their brother John was with them, and I just loved the Crenshaw humor and their vibe right away. Four or five years later I toured with them."

Maby wasn't the only Briton to join the fold. Steve Lillywhite, signed on to produce Marshall's sophomore LP Field Day. Five Grammy Awards, thirty years, countless projects and a CBE later Lillywhite can still speak enthusiastically and wax authoritatively on all things Crenshaw.

"I always remember that Robert's favorite sayings at the time was 'I'm my favorite guy," Lillywhite told us."Very often it is the second youngest child who is the cheeky one, and probably still is, Marshall is the worrier....Robert is the cheeky one and John is the sensible one.....so that happens with the Crenshaw's. We were very good friends."
After amicably parting company with Marshall, Crenshaw made Detroit his home base (with wife Tammy), plotted his life's new course - and, he employed the non-musical side of his brain to make a living, eventually returning to school. After a stint doing field service for a robotics company, he got a job teaching robot programming and electrical troubleshooting at BMW and then at Chrysler plants. As things picked up in the auto industry, he accepted an offer to help teach and write a "mechatronics" curriculum.

Friends, Family, and Neighbors has emerged in a democratized landscape of Kickstarter campaigns and advanced home recording technology. It's also a far cry from the break-neck and finite recording schedules that invariably diminished quality of product, so artists have more control in plotting their own creative destinies.
Crenshaw recruited family and friends like Stewart Simon, who engineered most of the record at his studio Audio Madness and played guitar; his next door neighbor Michelle Wardowski did the CD graphics, and her daughter Veronica played violin(s). Brother in-law Don Jones played Sax and flutes, and a friend's son played trumpet. Producer/musician Don Dixon, who produced Marshall's Mary Jean & 9 Others and has been involved with Crenshaw on various projects, mixed the record and played on "The Night The Detroit Lions Won the Super Bowl and What If I'm Really Dead?," Jamie Hoover lent a hand singing backgrounds on Rock n' Roll Revisited and Bill Lloyd was co-writer on "You're So Hip To Me."

"Robert is clearly the producer on this; I just mixed it," Dixon said. "I think it's wonderful that he'll bring in a lot of instruments, and I love the fact that he's using real horns and real players."

Among the covers is a moving rendition of Hank Williams' "I'm so Lonesome I Could Cry," a favorite of his father, who passed away in 2012.
"Before my dad died he wanted a memorial instead of a funeral, he wanted an open bar and wanted us to play (he requested songs ahead of time). So John, Marshall, Mitchell, my nephew Dean and I got up and played. I came up with that arrangement for the memorial. After we did it I felt that we should make a recording of it."
The best work any artist can muster is the kind that comes from a place where career is never the driving force, age is just a number and one's relevance means little, except to himself. And though Crenshaw is apt to file away the chapter of his earlier life of a rock and roller, it's possible that many exciting chapters lay ahead.

"Under the right conditions I would love to go out and perform, but I see those chances wildly remote. I'm thinking musical director, strings, horns, crew, bus, catering, physical therapist etc. Perhaps if I hit Powerball, we can do that."

Popular in the Community