Robert De Niro has both professional and personal milestones to celebrate this spring.
The two-time Oscar winner returns to the big screen this month in the comedy "About My Father," co-starring Sebastian Maniscalco and Kim Cattrall. The 79-year-old has also become a father for the seventh time, having recently welcomed a new baby.
De Niro announced the arrival of his newborn in an interview with Entertainment Tonight Canada published late Monday. When journalist Brittnee Blair asked a question about his six children, the actor paused to correct her.
"Seven, actually," he said. "I just had a baby."
Representatives for De Niro confirmed the birth to The Associated Press and other outlets early Tuesday, but have not shared other specifics, including the child's mother or a name.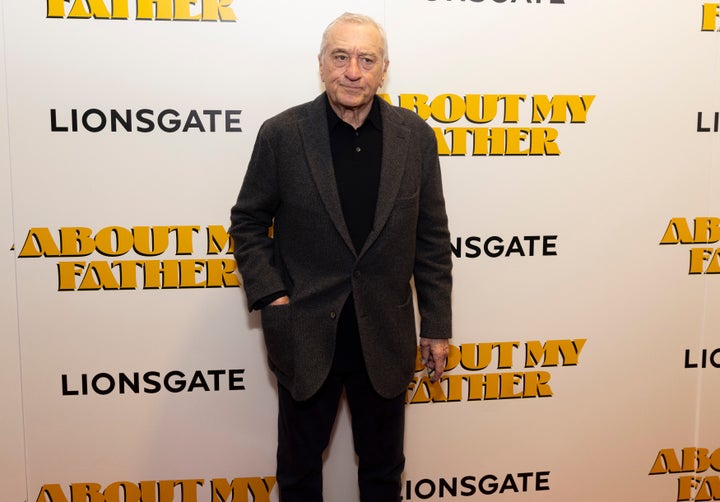 A New York native, De Niro has six other children from previous relationships. He and his first wife Diahnne Abbott share daughter Drena, 51, and son Raphael, 46. He and his second wife Grace Hightower are parents of son Elliot, 24, and daughter Helen Grace, 11. In 1995, he and former girlfriend Toukie Smith welcomed twin sons, Julian and Aaron.
In recent years, De Niro has been romantically linked in the media to Tiffany Chen, a Tai Chi instructor who worked with him on the 2015 movie "The Intern." The pair have not publicly confirmed a relationship.
Elsewhere in his Tuesday interview, De Niro said he didn't regard himself as a "cool dad." He said his kids "disagree with me at times," but are generally "respectful."
"My daughter ― she's 11 ― she gives me grief sometimes and I argue with her," he said. "I adore her, but you know. And my youngest now, that'll be more to come. But that's what it is."
Popular in the Community